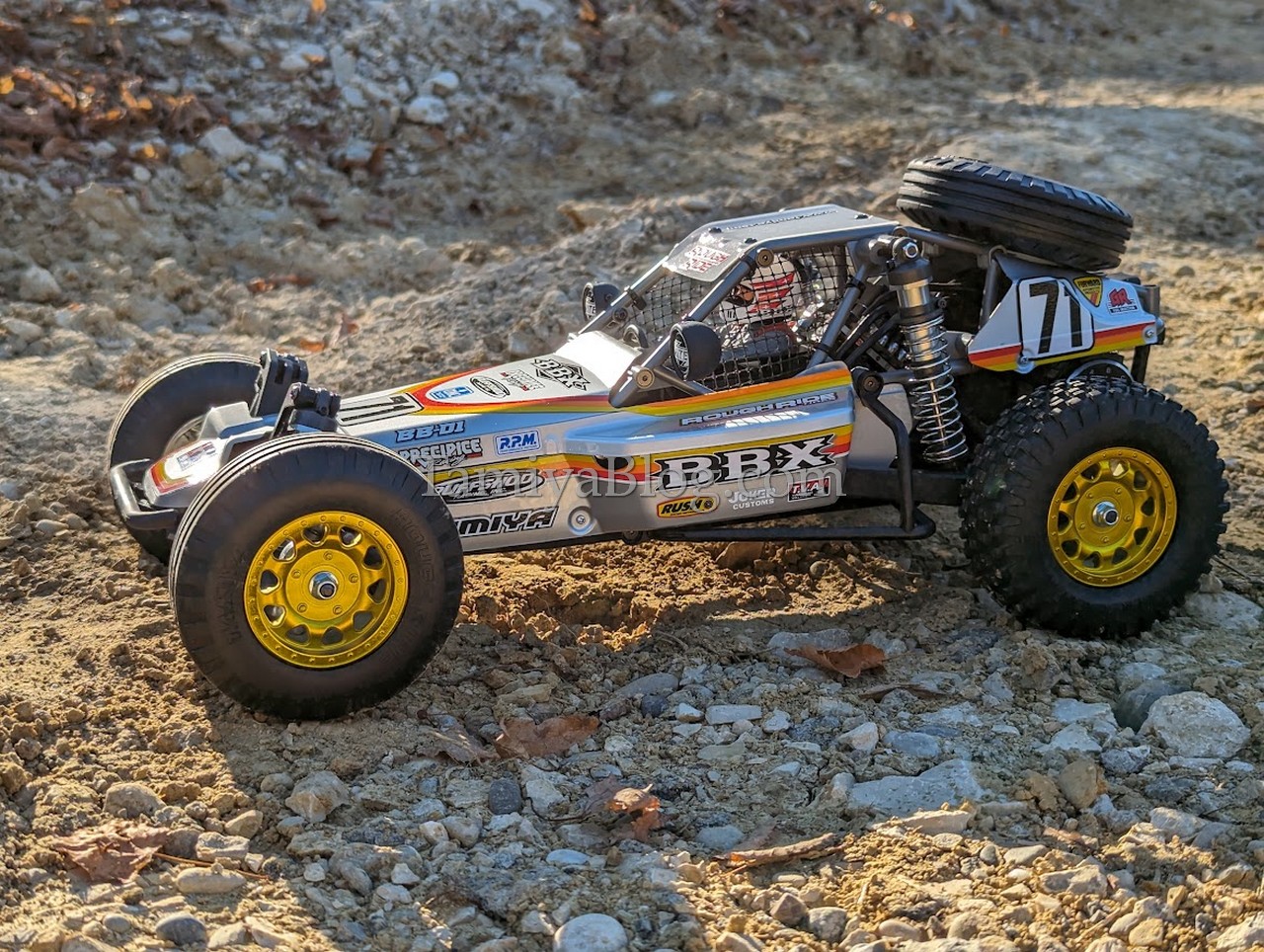 I think the presentation of the new Tamiya BBX buggie at this year's Nuremberg Toy Fair was more than a surprise for so many Tamiya fans worldwide.
It's something that at least I no longer believed in. Especially nowadays, when real innovations are now rarely found, especially from the many other manufacturers in the market.
The new BBX builds a bridge to its legendary role models, such as the "Rough Rider", "Sand Scorcher" and the "Super Champ". The "Super Champ" in particular could almost have served as a visual model for the new BBX. And with this Tamiya once again confirms its number 1 status in the world of RC Cars. That's why I couldn't wait for the BBX kit to arrive. And when he finally got there, things soon started.
I would like to go into the construction a little more, as it is a completely new chassis platform. Even if you come across a few parts every now and then during construction that you also know from many other Tamiya kits. The BBX is the first model based on the new BB-01 chassis. And the kit is already very complete as standard. The BB-01 comes completely with ball bearings, which also includes the extremely play-free steering. CVDs and excellent shock absorbers, including TRF X-rings are already standard from the factory. Another small innovation is that Tamiya almost exclusively uses hex screws on the BBX. Tamiya also recommends using modern brushless motors for the BBX. We did that too and decided on a sensor-controlled 13.5T brushless drive.
To make it short. Building the BBX gave me great pleasure. It actually compares well with building a classic Tamiya SRB buggy kit. The construction of the tubular frame is very well thought out, as is the wonderfully designed body made up of several parts. If the willing builder makes an effort here and also paints the driver figure borrowed from the Tamiya "Fox" nicely, he will be rewarded with a beautiful model that not only looks good but also drives excellently. For our own BBX we chose a classic Tamiya PS-12 Silver. We also painted the original chrome-plated rims with Tamiya LP-69 clear yellow. Technically, only the optionally available 22071 slipper clutch was installed. After completing the model I was really impressed and really had the feeling that I had a very special model standing in front of me.
Our conclusion:
Tamiya is doing everything right with the new BBX. Practically completely new technology in a very well implemented retro design, with classic box art. Tamiya fans worldwide will love this kit.