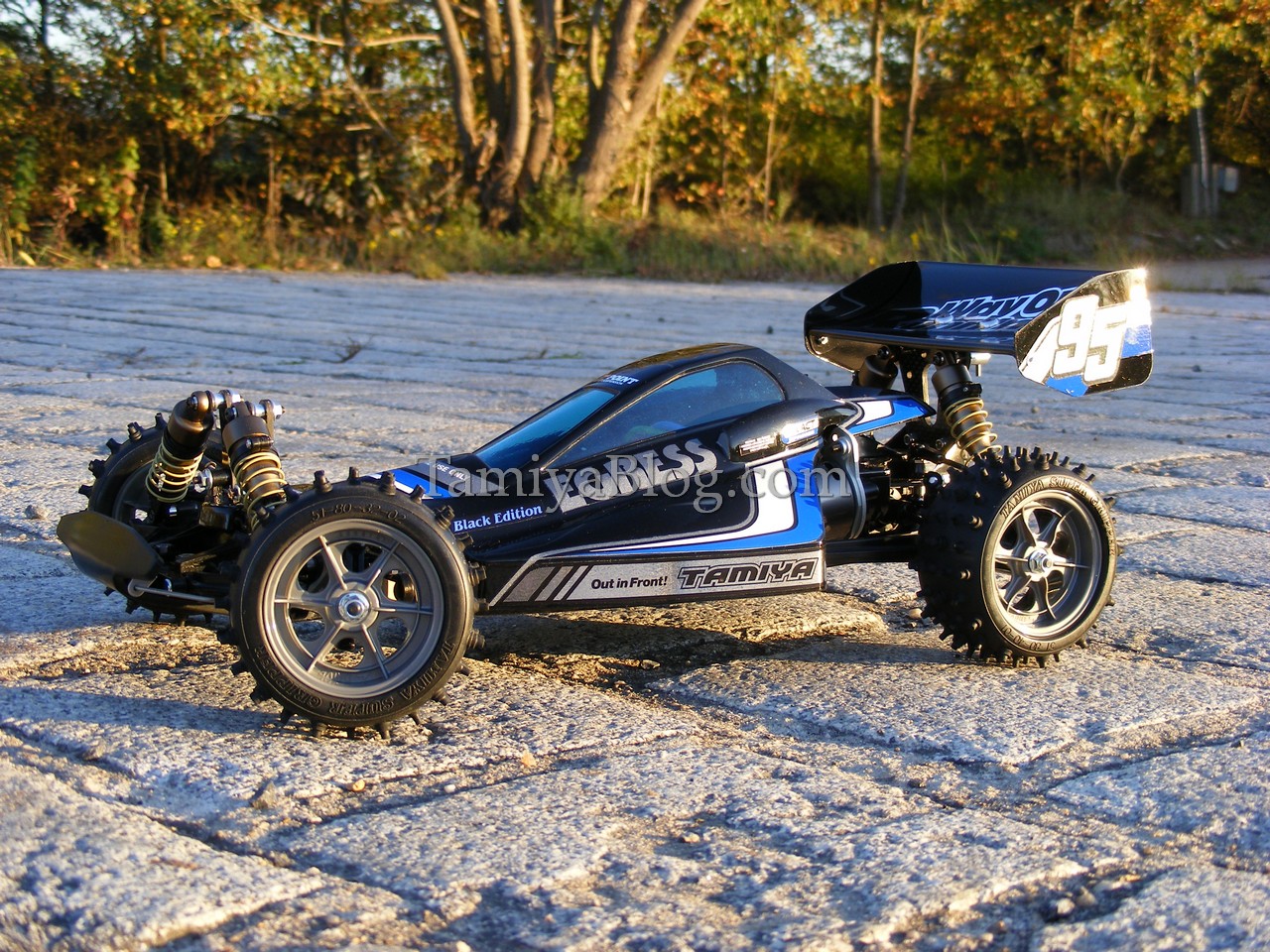 Black special models are now almost a tradition at Tamiya. It all started back in the 1970s with the anniversary model of the first Tamiya RC car, the 58001 Porsche 934 RSR "Vaillant" in 1/12 scale. A real milestone in RC car history.
Many years later followed by the 1/12 TamTechGear Porsche 934 RSR, 1/10 TA02SW Black Porsche 934 RSR, and of course the breathtakingly cool Avante "Black Special" whose color scheme was adapted from the Mini 4WD Avante Black.
And there we are with the Egress "Black Edition" 2022. The box art shows parallels to the Avante "Black Special", which we like very much. This also continues inside. The blister packaging is a dream and takes the viewer straight back to the late 80s. Especially the parts specially anodised in Titanium Gold for the Egress "Black Edition", such as the damper housing and steering knuckles, are a dream in themselves.
From a technical point of view, however, we are dealing with a completely "normal" egress. But that's perfectly fine. At the time, the Egress was considered the pinnacle of Tamiya's competition buggies. Before the Top Force "Evo" hit the market in 1992.
The changes are to be found in the colour design of the Egress "Black Edition". Wheels, damper housings, steering knuckles, and rims have been color-matched.
We especially like the stickers for the blue tinted windows. In combination with the black, this gives the car a particularly cool touch. We would have wished for a little more bold colour on the rims. But that's actually whining at a very high level, and you could easily adjust it yourself.
Building the Egress "Black Edition" was definitely an experience in itself. You can really compare it to opening a good bottle of wine.
The kit will find its fans, and we're already looking forward to the next little sensation from Tamiya. The release of the Hotshot II "Blockhead Motors" in the coming year 2023.
Until then, let's enjoy the beautiful Black Egress.
A big thanks to Tamico and Dickie Tamiya for providing the Egress "Black Edition" kit.