Celebrating 50 Years of Tamiya Military Models!
Tamiya's first plastic tank model, the Panther Tank, was released in 1962 and therefore this year marks the 50th anniversary of Tamiya's military model products. During the course of these 50 years, Tamiya has released over 600 tanks and other military models in a wide variety of scales. These include the international standard 1/35 scale pioneered by the Panther Tank as well as the 1/48 scale, 1/25 scale, and of course the 1/16 scale of Tamiya's famous R/C tanks. Thanks to the generous support of fans around the world, military models have evolved through half a century to become an indispensable hobby genre.
Much of the appeal of military models lies in the episodes and history behind the actual subjects of the models. A detailed investigation which includes visiting museums around the world to research existing vehicles and collecting information from various references and experts is essential for development of the model. In this way, the model that is created becomes the door into this historical world. Through the act of reading the instruction manual, assembling the parts, painting the model, and formulating a diorama, one can cross the boundaries of time and visualize scenes from far away lands. In this way, a Tamiya military model can almost be considered as a piece of history itself.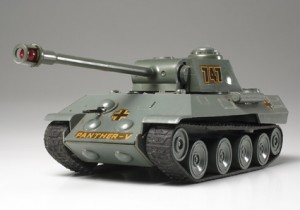 Panther Tank
 Package
The history of Tamiya's military models is also a history of Tamiya as a company. The 1/35 Scale Tank Series was created in the 1960s, when a fledgling Tamiya was switching from producing wooden models to producing plastic models. From these early motorized models, the hobby expanded into the enjoyment of creating displays and dioramas with the 1/35 Scale Military Miniature Series in the late-1960s and 1970s. The late-1970s saw the birth of the radio control hobby genre and the creation of the 1/16 Scale R/C Tank Series. Through the incorporation of the latest technologies and ideas, Tamiya has constantly endeavored to raise the potential of plastic models. Half a century later, Tamiya's line-up is still expanding and you can look forward to many more additions to this military history museum.
What is Your Favorite Tamiya Military Model?
One of the projects to commemorate this 50th anniversary is a survey in which we ask fans from around the world to name their favorite Tamiya military model, as well as name a military model which they would recommend to others. It could be the model which kicked off your modeling career, the first model that you bought with your pocket money, a model with which you won a contest, or a model which you are so fond of that you have built it multiple times. There are as many different reasons and memories as there are people, and Tamiya would love to hear your story!
Please go to the button at the bottom of the page to proceed to the survey form.
You may choose from any military model product that Tamiya has released in the past or is releasing currently.
(※Except for wooden models)
Choose one model product each as your "Favorite Product" and "Recommended Product" and include the reason(s) you have chosen them.
(※1 product each per submission)
Model products which have received a significant number of votes will be announced on Tamiya's homepage and displayed at Tamiya events together with selected comments.
(※Not all comments will be selected for display.)
Survey Submission Period: March 30th to April 30th, 2012 (Japan Time)
Result Announcement (Planned):
May 17th, 2012 (via Tamiya's homepage and at Tamiya's booth during the Shizuoka Hobby Show)
Prize Drawing (Japan Only)
10 people will be chosen by lottery from among the submissions to receive a prize – the new 1/35 Scale Military Miniature Series product which will be displayed at this year's Shizuoka Hobby Show (May 17th-20th).
※A list of new item announcements at this year's Shizuoka Hobby Show will be posted on Tamiya's homepage in mid-April.
※Prize-drawing is only for fans within Japan.
Choose From Over 600 Military Models
You may choose any of the military model products which Tamiya has produced to date. This includes static model kits such as AFVs, soft skin vehicles, figure sets, and accessories as well as R/C models. Which will you choose to be your favorite?
※Please refer to resources such as Tamiya's homepage.
※Note that some series/products may not be listed on Tamiya's homepage.
Notes Regarding Survey Submission
・Each submission may only name 1 Favorite and 1 Recommended Product.
・Your name (a screen name is acceptable), information regarding the product you have chosen (Item Number, Product Series, Product Name), and e-mail address are required.
※If you do not know the Item Number, please leave it blank and provide detailed Product Series/Product Name information.
※Age, Sex, and Shizuoka Hobby Show attendance fields are optional.
・Your comment may be chosen for display on Tamiya's homepage and/or at Tamiya events (Your name will not be publicized).
・Winners of the prize-drawing will be announced when the prizes have been shipped.
・Only winners of the prize drawing will be contacted. Aside from the automated submission confirmation e-mail, other customers will not be notified.
・The submission form is optimized for personal computers. There may be cases where submissions via cellular phone/smart phone cannot be processed.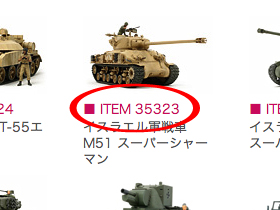 Item Number (Homepage)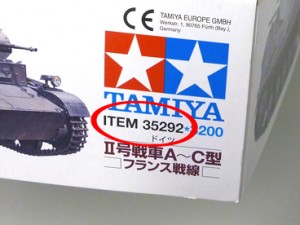 Item Number (Package)