1/32 Racer Mini 4WD Series 18096 Dual Ridge Jr. (VZ chassis)
Sharp "junior" driving
This is a plastic model assembly kit for a high-performance racer that employs shaft drive four-wheel drive. The Dual Ridge Jr. is a machine that reproduces the RC dual buggy " Dual Ridge " by Hyper Designer Kayuki Yamazaki (pdc_designworks representative) with a mini 4WD under the supervision of himself. It features a smooth, futuristic body with a large cockpit and a sharp rear wing that cuts the air. In addition, the 8 vents on the top of the body are original designs only for Mini 4WD. You can expect not only the custom mood up but also the cooling effect of the motor. The chassis is a lightweight and compact VZ with a high degree of freedom in setting. The silver-plated five-spoke wheels are fitted with superhard small diameter low-height tires with a white logo printed on them to ensure high running performance. The blue graphic that makes the silver body look even cooler, the machine name logo, etc. are expressed with metallic stickers. [VZ which evolved VS chassis]
The VZ chassis is a highly refined VS chassis with a small size, light weight, and short wheelbase that is also popular in racing. While maintaining the excellent features of the VS chassis such as small turning performance and high maintainability, the strength of the bumper, rear stay base, propeller shaft bearing, etc. has been improved. The point is also a moderate "bend" that absorbs shock. In addition to the rear roller stay, the front bumper can also be split. The degree of freedom in setting is also greatly improved. And, the bearing of the shaft is 620 plastic bearing made of POM resin with low friction resistance. A parts such as the chassis body and gear cover are made of ABS resin, and the gear ratio is set to 3.5:1.
Basic specifications
● Completed length 158 mm, width 98 mm, height 48 mm
● With motor
● Body = ABS resin (silver)
● VZ chassis body, A parts = ABS resin (black)
● Tire = black superhard small diameter Low height (with white print)
● Wheels = 5 spokes (silver plated)
● Gear ratio =3.5:1
● With metallic stickers
● Can be assembled by fitting and screwing without using an adhesive
Matching list for upgraded parts
Click here for January 2020 version and here for gear ratio list.
1/32 Racer Mini 4WD Series 18097 Toyota GR Yaris (VZ chassis)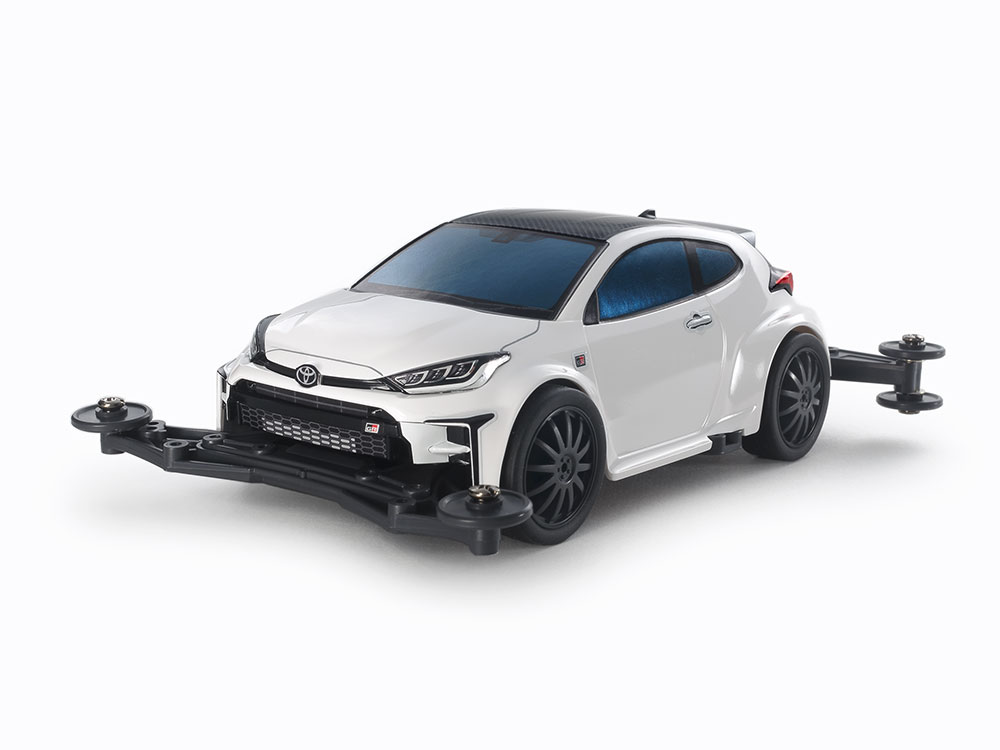 ● Toyota's new sports 4WD, "GR Yaris" has been reproduced with Mini 4WD.
● Realistically modeled powerful wide form.
● Lightweight and compact VZ chassis is gray.
● Small diameter low-height tires are attached to the black fin-type wheel to give the vehicle a real-world finish.
● Comes with stickers such as windows, lights and front grill.