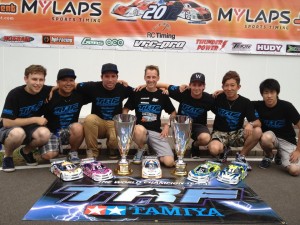 The MACH Circuit in Heemstede, the Netherlands played host to the seventh biennial IFMAR ISTC World Championships from July 26th-28th. Of course, Tamiya Racing Factory (TRF) was in the thick of the action and when all was said and done, TRF driver Jilles Groskamp and his TRF417X was crowned the champion. Not only was this Tamiya's third consecutive victory at this prestigious event, it was also brought its total IFMAR touring car title count to five (2002, 2004, 2008, 2010, 2012).
TRF fielded a strong team including 2008 and 2010 IFMAR World Champion Marc Rheinard (Germany), Viktor Wilck (Sweden), Jilles Groskamp (the Netherlands), Elliot Harper (UK), Satoshi Maezumi (Japan), and Akio Sobue (Japan), and the drivers were under the watchful eye of team leader Kiyokazu Suzuki.
The event began chaotically, as the qualifying schedule was changed from one round on Thursday and five rounds on Friday to having all six rounds on Friday. Furthermore, adverse weather eventually cancelled the fifth qualifying round and caused the sixth round to be run on a wet track, which did not enable the drivers to improve earlier times. As a result, Jilles, Marc, and Viktor qualified in 3rd, 4th, and 5th positions respectfully, with Hot Bodies' Atsushi Hara taking TQ honors ahead of this year's European Touring Car Series champion Ronald Volker.
Saturday (28th) was the finals, which was a best two point results of three rounds affair. In the first round, Hara was put under pressure by Groskamp and Wilck. With 30 seconds to go, Groskamp took the lead at the final corner only for Hara to regain it during the next lap. As time was running out, Groskamp pulled a stunning move to finish just 0.139 seconds ahead of Hara to win the round.
In the second round, Marc got a great start from fourth place on the grid, but Yokomo's Volker and Matsukura were on their game and Volker took the round win. Wilck placed 3rd while Hara placed 4th, so as the final round loomed, Groskamp, Wilck, Hara, Volker, and Matsukura were all within reach of the title.
Groskamp and Hara then fought out a dramatic race in the third round, with Rheinard and Wilck keeping Volker's challenge at bay. Hara eventually finished ahead of Groskamp, which made the two drivers even on points. However Groskamp's superior times proved to be the decider to allow him to claim an emotional championship title in his native country. Hara (2nd) and Volker (3rd) completed the final podium, while Wilck and Rheinard finished 5th and 10th overall respectively.
In addition, the constructors were recognized for the first time in the event's history, so Suzuki also mounted the podium to receive the honors on behalf of Tamiya as the Japanese national anthem was played.
TRF has now won three IFMAR ISTC 1/10 Electric Touring Car World Championships in a row and five in total!
IFMAR ISTC Finals Results
Place Driver Car
1 Jilles Groskamp TRF417X
2 Atsushi Hara HB
3 Ronald Volker Yokomo
4 Naoto Matsukura Yokomo
5 Vicktor Wilck TRF417X
6 Loic Jasmin Yokomo
7 Christopher Krapp Kyosho
8 Andy Moore HB
9 Chris Grainger Schumacher
10 Marc Rheinard TRF417X