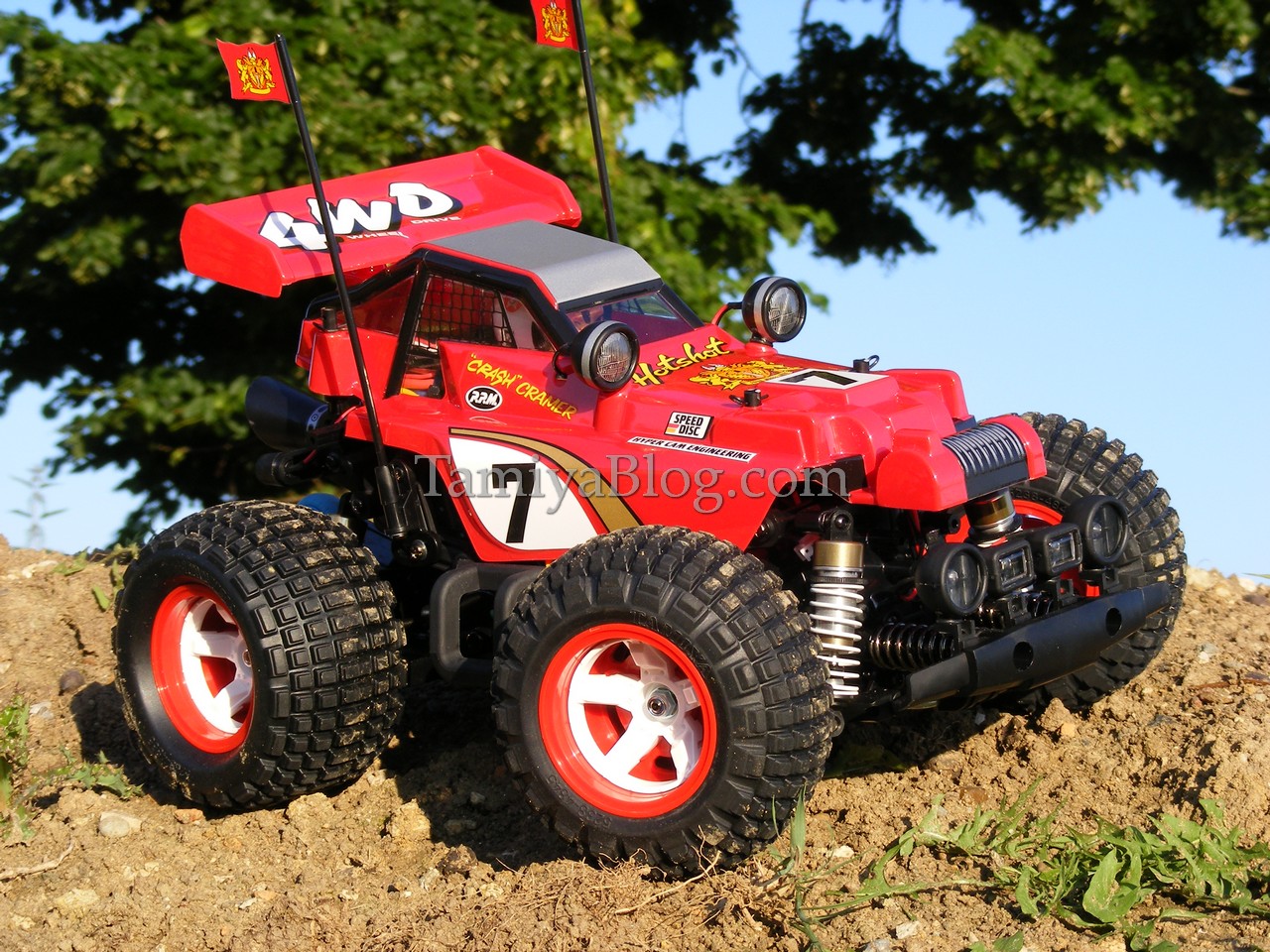 After we were so enthusiastic about the first Tamiya 4WD comical model, the "Comical Avante GF-01CB", it was almost natural to take a closer look at the new "Comical Hotshot". For us, the "Comical Avante" is one of the most beautiful models in the Comical series, along with the "Comical Grasshopper". The original Hotshot, the first Tamiya 4WD buggy ever, is of course more than predestined as a template for the "Comical Series". Especially due to the narrow and flat design of the original classic buggy. As with the Avante, we also customized and tuned the Hotshot a bit, according to our ideas. We stayed original with the body, as it is pre-painted red in the kit, as was previously the case with the Avante. But an unpainted body set is now available from Tamiya, and comes with No. 51657.With this, you can also create your own paint scheme.
Normally we use the excellent Tamiya GF-01 54670 dampers for these fun models. But they are blue anodized, and not really a good match. And in my opinion, the original red CVA dampers are optically not that perfect. That's why I chose the virtually identical Tamiya 54541 CC-01 Hop Up damper set this time. The golden aluminum shock caps make them a perfect match for the bright red of the Hotshot. I´m still not totally happy with the colour of the standard wheels. But that´s complaining on a very high level. A gold plated wheel would be perfect here.
Unfortunately there is no driver figure included with the "Comical Hotshot" kit. Under the relatively narrow Hotshot body there is actually very little space for it. In a supplement, Tamiya explains how you can at least accommodate the head of the beautiful 54864 driver figure which was created by "pdc designworks". With the help of a Lexan bracket. Of course we followed this suggestion, and with it there comes a lot more "life" into our little racer. Oh, and one more thing we left out on "Comical Avante". LED lights on the front of the bumper and on the body. And of course also red taillights. Looks great, and so realistic.
Otherwise, we have relied on the tried and tested parts that we have already used in our "Comical Avante. A complete list can be found at the end of this report. As expected, the little red racer drives just wonderfully. And with a little practice, all kinds of stunts and tricks are no problem. There is hardly a Tamiya RC model that is more fun.
We are already looking forward to the next comical model. Our team would love to see a "Comical Subaru Brat". Let´s go Tamiya. Make it happen!
This is a list of genuine Tamiya Hop Up parts, we´ve used on this car:
54924 GF-01 Ball Bearing Set
50808 TG10 Long Wheel Axle
53509 Hard Flourine Coated 0.6 Aluminum Pinion (20T/F201)
54541 CC-01 Aluminum Oil Damper 4PCS
53974 TRF 501 Front Spring Set
54588 GF-01 Aluminum Steering Arm
54586 Lightweight Gear Shaft 5x50mm For GF-01 WR-02 WT-01
51000 Servo Saver Hi Torque Type (Black)
54473 Aluminum Wheelie Roller Set for WR-02 WR-02G
54587 Aluminum Servo Stay WR-02/GF-01