Monthly Archives:
April 2008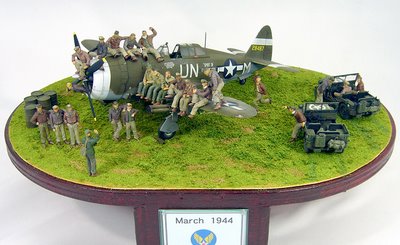 P-47D Razorback, by Hitoshi Kitagawa
The 21st century: insatiable and powerful to further diversification
In the 21st century the battery RC 2400 as a successor to the 3000's finally MH cell Ni-MH pack "V 7.2 Advanced RC3000MH Pack" (Item55075, 7800 yen, released in November 1900) appeared. Consideration of environmental issues from the European NiCD batteries banned the manufacture and sale of the essential use (such as special-purpose cryogenic environment) except that after three to four years and that a total ban was decided in the RC electric car in the world, Ni-MH cell migration and the flow is inevitable.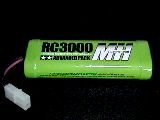 This is however, and the 4000 mAh and 5000 mAh, only five years ago, during the mid-1990s as an unimaginable appearance of a large-capacity battery is held road. In fact, between 2005 to 1906, the cell Ni-MH 4200 to 4300 mAh nominal capacity is reached, the RC-06 electric car for the first time as lithium polymer battery pack (5000 mAh) from the sale of Orion. In addition to 07 from entering or INTEREKUTO GP series from 4500 to 4600 in cell division has been announced. The page first published in 2002 is forecast at the time it is amazing to realize that the pace of development is frighteningly speed is it? High-capacity Ni-MH cell separator is the film is really the limit, but the shape is still lithium polymer is not standardized, so the future of the fluid. Orion standard size is smaller than the size would decrease capacity. Still, it is expected, circa 2010 to about 7,000 in 6000 to expand the capacity or even higher. Runtime race does not change as long as the battery capacity can be expanded, it devours its capacity goal as a new motor is always evolving. Power loss and motor fits into full development, will continue.
Behind these times, and they made tuned motor Tamiya's first century as a "stock Dyna Run" came after the "Super T stock 23" series. "Oak bell for the end and irresolvable by motor type" to "stock motor" defined as the introduction of this site is that to be strange, but "black motor" since it flows from the tuned motor fine also, in that, a series of motor modified lineage included Tamiya.
Now, this "super stock 23 T" came in June 2001. Tamiya motor really is a new product in five years, is also largely inside evolution. The manufacturer has not been revealed, is being used in various parts of it, as long as other OEM manufacturers for many micro-projects in Sagami made that clear. JMRCA rotor is to comply with the provisions of 23 T stock diameter was 0.80 mm 23 T common single winding, 20 advancer in the same degree it is, as the first Tamiya motor adopted Type R (op.476, 2,600 yen), the standard adopted Super Stock Racing Type T (op.477 2600 yen) that is available for innovation.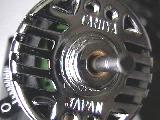 The performance of the motor, motor laboratory already "18" is introduced in detail below. 23 turns is the same over the past 10 years between the "original T 23" RS-540 more than 30 percent more powerful than sport tuned plays. Such performance is up greatly contributed to the recent rapid rate of performance improvement of magnet materials. Magnet material for small motors, such as PC HDD motor for development, with almost every year since the late 1990s as evolution progressed rapidly and, thanks to the magnet for RC, stronger and more heat strong as a year out. In addition, brush and materials from a soft, high-performance, high-current to sink more easily. Instead, the brush is extremely short life, and 5 to 10 packs must be exchanged. Also, a soft brush also increases the amount of friction. Tamiya GP, qualifying only two minutes of time, "Darre heat" in the second half of the qualifying time will never run dry, not once did anyone think that the real problem now. In addition, over 4,000 T stock of batteries in 23 minutes 8 run, the motor is 150 degrees inside often exceed the bell to end shottky diods installed and the guarantee element temperature of 105 degrees and heat damage away from the motor, touring IFMAR rules modified ran 5 minutes 07 TITC's Motor (Thailand international race), Code of solder is melted in the heat of an accident drop out Bell secondary end to your code you had to screw or not, although an extreme example, the recent story is pretty tough to come out to be more. None of this is the amount of current consumption and brush friction caused a sharp increase. Calorific value and durability of high-performance tradeoff is that the relationship is known While it is a mixed blessing.
Now, "Super 23 T stock" has been out of the same end-use Bell Kang possible to disassemble and "11 super modified motor T" (op.485, 5,200 yen, released in October 2001). Bell was 5 × 4mm Super Stock Racing end, the same standard specifications. Roll Double-11T (perhaps unknown wire diameter 0.85 mm) and the high-end model as the "TRF acto power tune" Since the very first time in eight years have become hot model. As a little story, as spare brush, is still a fixture at the time was not part of "round-T" sign brush (op.581 later years as a staple) has been included, and so do nearly 10 percent more powerful.
Was a little disappointing, Ni-MH cells spread in the world touring car no-load 40,000 to 50,000 RPM, 540-size motors to test the physical limits of the mainstream and is thicker motor, which becomes 11T is a pretty half-hearted setting, in the end there was most active in the field. Tamiya GP but only a 1 to 2 times only did I have had the opportunity to participate. And, surprisingly thin and torque, turn 11 and 13 are essentially saying turn much power it was anticlimax. Eventually, 02 H dyna tech exceed "the strongest motor Tamiya" star performer, released in December 2004, "Transpeed MS (9T)," had to wait.
"MS Transpeed" series, in July 1999 Tamiya is "TRF414X" released in America, "the title game of the World Touring Car Abduction" Works goal since returning to work flow, the highest peak pure motor racing. ISTC 2004 "3600 cell battery 5 minutes +6 race, the" single optimized format specifications Item 49347 T 9 is Dec. 14, 1904, 06 experts JMRCA class of "Cell 4 minutes 8" format of more than 4200 Using cell premise that the specifications of the single Item 49386 T 10 is March 29, 1906 has been released. The biggest feature is the Team Orion has developed a "V2 technology" to be known as Bell & brush-end technology to set point.
"Technology V2" is the brush at a 45-degree unsold placed in a V-shaped layout adopted for the brush shape, "cylindrical" adopt an entirely new form of the power and fuel economy, the end of the cooling efficiency Bell raised new dimension to a series of end-handed Bell system technology. It is just a "sham" that is not, Mark Rheinhard players in the 2004 ISTC TRF415MS victory to prove it has been sufficient. However, the actual visibility of the race earlier scene, circa 2003 from Orion already have OEM and the end-V2 is equipped with a bell in a series of motor input, and have become more popular.
04 to finally end of the year "Transpeed" issued Tamiya, motor OEM V2 series as a group in the last rounds. Fixed price of 12,800 yen and the record for one sitting Tamiya motor repainting so expensive, as it was used Tamiya GP because it is not OK. First of all, this motor is premised on a high-end chassis (especially TRF415MSX, including the latest model) is currently active in the field is extremely limited GP Tamiya that it is also the high price of motor supply is also limited because it is being. At this time, GP Tamiya inconsistent with the use and the judge may be. From circa 2006 brushed motor is gradually beginning of the lifting of the ban, since 07 is now completely mainstream brushless with it, now active in the field of MS Transpeed virtually disappeared state.
JMRCA Touring Car in 2006 is a Class 4 cell expert eight minutes to introduce regulations that because, since the use 23T stock motor modified motor sport classes and class expert in the use of the needs of the growing divergence. Tamiya, the HV 3300, and lasted 3600HV "immediately after the release of the latest cell products to" a stream is lost, released in May 2006 by the latest battery pack is a very late second-generation cell technology to the GP3700. Tamiya GP in terms of actual operations as well, since November 2006, a mini-class sports, the traditional "zapping until 2400" to strengthen the regulation of the battery, released in July 2006 SP 1600, specify the battery pack "detune" make up phenomena. Sales in the bold decision, I think, is a user-specified low battery is very welcome. Sport Tuned motor to 540 degrees, in 1600 SP battery performance is sufficient.
Tamiya GP motor to be used as well, "two steps drawn from the high-end" "Super-stock". Since its release Tamiya GP motor used in the highest class of 23 T stock, the style is completely settled. In addition circa 2004 from the fixed-gear ratio rules also phases, and the further condition of equality and promote the entry cost of suppression.
Nevertheless, the battery is more powerful every year, which is the Intermediate class participants in the race's 23 T stock situation is uncontrollable power is out. Still, the "under" and that motor sport tuned only the Kole Kole is involved in the short-lived brush from the performance and roses and with a lot of points from Tamiya fans unpopular it was also a fact. Also, a little away from Tamiya GP light look at the demographics and trends of the recent turn of 25 to 35, rather than the number of low-turn tuned motor (stock motor replaceable brush, etc.) have realized that selling within PHP. Especially noticeable is the "drift" Tamiya motor to buy a multi-user applications rise. These new users because of the spread of the traditional, 540 and Sport Tuned area has been covered 5 × 4mm motor brush opt to release them as there have been.
GT Tuned
Such has emerged from the background of the new turn of the 25-turn made a number of criteria, "GT tune," 5 × 4mm Tamiya Motor 27 specifications of the brush as a primer for the new standards and tuned motor "GT Tuned", Shizuoka Hobby 07 more have been added in the show's 28-turn "Dirt Tuned"
Type BZ
Meanwhile, the stock of the fast-evolving 23 T also update progress on the spot. July 2006 is "Type BZ" appeared. It will continue in 4500 to 4600 and appeared in 07-degree battery JMRCA season from provisions in the revised specifications Super Stock Racing motor advancer stock liberalization is set by the new model has emerged to support it is not a mistake.
That Dirt Tuned both, "Super Stock", "GT tune" "Dirt Tuned" "Light Tuned" a series of line-up completed by the GP Tamiya is quite used to reduce the motor went smoothly. The kit included 540 motor SH/540J as it will remain, for some time now, these motor GP Tamiya "motor control," so as to play an important role.
GP Tamiya standard specification motor as a long-term change is not expected to "tune GT / Dirt Tuned" series and the race scenes to suit changing trends, "Transpeed" and the series "Two polar differentiation" will increasingly it would beat (which is not anything wrong). To fill the gap in the form of "Tamiya GP in the high-end" as a class JMRCA sports consciousness for the needs of people with years of evolution "Super T stock 23" system has expanded in the future to get interesting again feeling . Already former "2 WD acto power" is beyond the power and where it will be up to? And Bell's end advance liberalization and the real difference between the motor is no longer modified (bearing only have different specifications), the specifications of the rotor variations what comes out of deployment?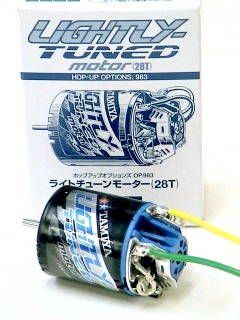 Electronic translation from:
Source
Was held on March, 2nd 2008 at Kakewaga, for an hour (endurance race). This was made possible with the new 2.4 GHz radio control standard.