58412 1/10 R/C 4WD High Performance Racing Car Xanavi NISMO GT-R (R35) (TB-03 Chassis)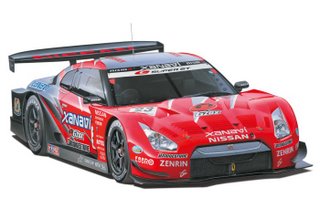 2008 saw the end of the Nissan 350Z and the debut of the rear wheel drive No.23 Nissan Xanavi NISMO GT-R/VK45DE in the Super GT class, which is driven by team drivers Satoshi Motoyama and Benoit Treluyer. The GT-R has a 4,494cc sized motor which thumps out in excess of 500HP. On its debut the No.23 Xanavi GT-R won and team Motul Autech GT-R came second for a well earned one-two finish, and continued its winning ways at the second round with the Xanavi recording back to back wins.
About the Model
New TB-03 chassis follows in the footsteps of the TB-02.
Bathtub frame comes with a motor cooling duct to improve heat dissipation for better performance.
In-board Front Suspension system features horizontally-mounted front dampers to enable a low-nose profile to mount the new-mold aerodynamic polycarbonate body shell. (Body shell is also compatible with TA05-IFS chassis)
Newly-designed one-piece aluminum motor mount makes changing and adjusting gears a breeze.
Equipped with front and rear ball differentials for greater power transmission efficiency.
Race-proven reversible short suspension and TRF416 front and rear knuckles.
PS2 Red, PS23 Gun Metal, PS48 Semi-Gloss Silver Anodized Aluminum, PC-5 Black colors are separately required to recreate the race car's livery.
Includes body, narrow 6-spoke wheels, racing slick tires, and Type 540 motor.
2-channel R/C system, 7.2V battery and charger separately required.
58413 1/10 R/C 4WD High Performance Racing Car Lamborghini countach LP500S (TT-01 Type-E Chassis – yes, 1/10 scale!)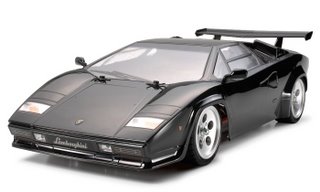 At the 1971 Geneva Motor Show, the Lamborghini Countach prototype was put on show. Three years later in 1974, Lamborghini released the first LP400 model Countach with the LP400S the LP500S models soon following. At the 1982 Geneva Motor Show both the LP400S and LP500S prototypes were showing off their overhanging front and rear fenders and a rear wing option. In 1985, approximately 320 of these vehicles sporting a new 4754cc motor replacing the previous 3929cc motor were manufactured.
About the Model
New polycarbonate body captures the beautiful form of the Countach.
Mirror, rear wing, and metal plated light case are separately-molded parts.
Head lights are in the down position (Can not pop up)
Type 540 motor installed on the impressive shaft-driven 4WD TT-01 (Type-E)
Improved steering linkage design features TA05 steering posts for sharper steering response.
Short wheel base (251mm), Rear wide tread (Uses long wheel axle).
Countach LP500S (TT-01E) wheels. Front offset [+2] Rear offset [+4].
Racing Slicks (Item 50419) provide excellent traction for high speed racing.
LED Lights: Fog lights (5mm white) x 2, Taillights (5mm Red) x 2 are included.
Both front & rear light cases have two 5mm and four 3mm LED Light installation points.
2-channel R/C system, 7.2V battery and charger separately required.
Wide variety of Option Parts are separately available to customize your machine.

58415 1/10 R/C Toyota Tundra Highlift (see previous blog entry)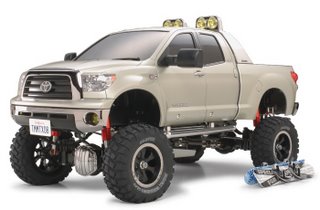 58416 1/10 Rising Fighter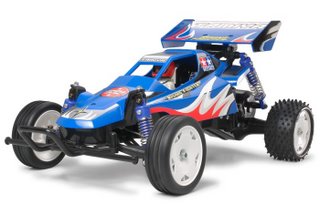 The all terrain 2WD Rising Fighter inherits all its great qualities and excellent performance from its predecessors The Hornet (Item 58336) and The Grasshopper (Item 58346) and also uses a similar body to that of other fighter series R/C cars. (Tamiyablog would however like to point out that Rising Fighter is based on the Grasshopper 2 chassis, and not the Grasshopper (1) chassis, like the above description could otherwise give the impression of. The friction dampers and the gearbox are taken from the DT-01 chassis (Fighter series), whereas the wheels and tires are from the Desert Gator of the DT-02 series. Also, the body is a modified carry-over of the Super Hornet body with the wing of the Mad Fighter.)
About the Model
Length: 418mm, Width: 236mm, Height: 187mm, Wheel base: 268mm, Weight: 1000g.
Independent swing axles for the front suspension, a rolling rigid rear suspension, and large sized friction dampers effectively absorb shocks and bumps.
Bevel type diff gear.
Semi monocoque structure acts as the chassis strengthening part (Screws are used to secure the resin body to the bathtub chassis).
Fully enclosed gearbox preventing dirt and debris from interfering with operation.
Powered by a 540 motor (included).
Grooved front tires and rear spike tires ensure excellent traction for any surface.
Stylish resin molded body.
ESC included.
Running 7.2V battery & charger and Expec 2-channel R/C system separately required.
57779 XB Nissan GT-R (Expert Built TT-01E chassis)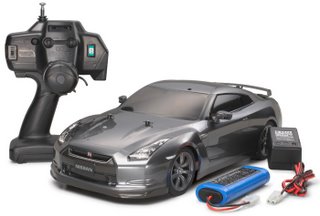 57781 R/C XB Rising Fighter
48207 1/35 R/C M4A3 Sherman Tank (w/4ch Transmitter)