Our personal highlight of the show, fully new design with high specifications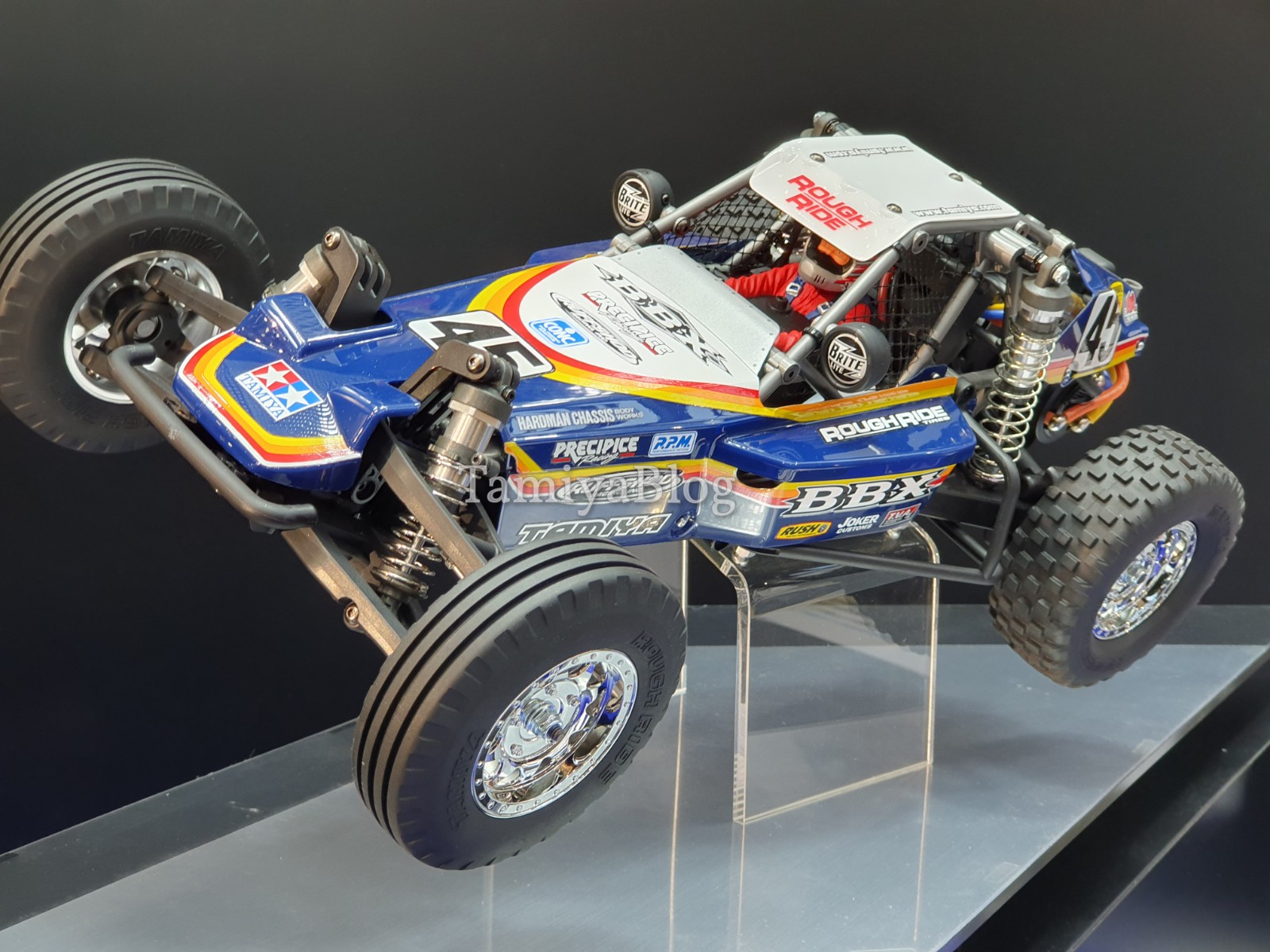 Tamiya's designers have taken inspiration from its back catalog of iconic 2WD off-road buggies to bring fans of radio control the ALL-NEW BBX! This 1/10 R/C 2WD off-road buggy model features a combination of classic design and modern performance. Its brand-new chassis, reminiscent of 1980's sand rail dune buggies, is a hybrid monocoque-roll cage and employs rear trailing arm suspension inspired by full-size UTV's. The new body is designed by famed Japanese artist Atsushi Arino and utilizes a classic 1980's inspired livery with retro wheels and tires to match!
Key Features:
• 1/10 R/C assembly kit. Length: 414mm, height: 136mm, width: 233mm. Wheelbase: 283mm.
• The classically designed 0.7mm thick polycarbonate body is split into three sections to recreate the tapered lower shape of the actual dune buggy.
• NEW: Newly designed 2WD chassis is based on the one-piece monocoque frame and roll cage to allow use of realistic bodies.
• The BB-01 chassis employs new front double wishbone suspension with A-shaped arms and rear trailing arm suspension with long trailing arms which are inspired by UTVs and give impressive performance.
• The 2WD chassis with rear motor features rear-position, inspired by the same layout of the actual vehicles of the era and allows great rear traction.
• The four-wheel double wishbone suspension system uses CVA oil front/rear aluminum aeration dampers for impressive performance and classic look.
• Features full ball bearings and universal drive shafts.
• Rear roll cage can be removed by detaching screws, which ensures ease of maintenance around motor.
• NEW: New metal-plated bead lock type wheels are paired with NEW large-diameter tires.
• Includes driver figure and light cases for extra realism, and 5th spare tire mount adapter. (Spare tire may be purchased separately for added realism)
• Requires 2-channel radio, steering servo, 540 motor, ESC, 7.2-7.4volt battery with compatible charger and Tamiya PS paint to complete.