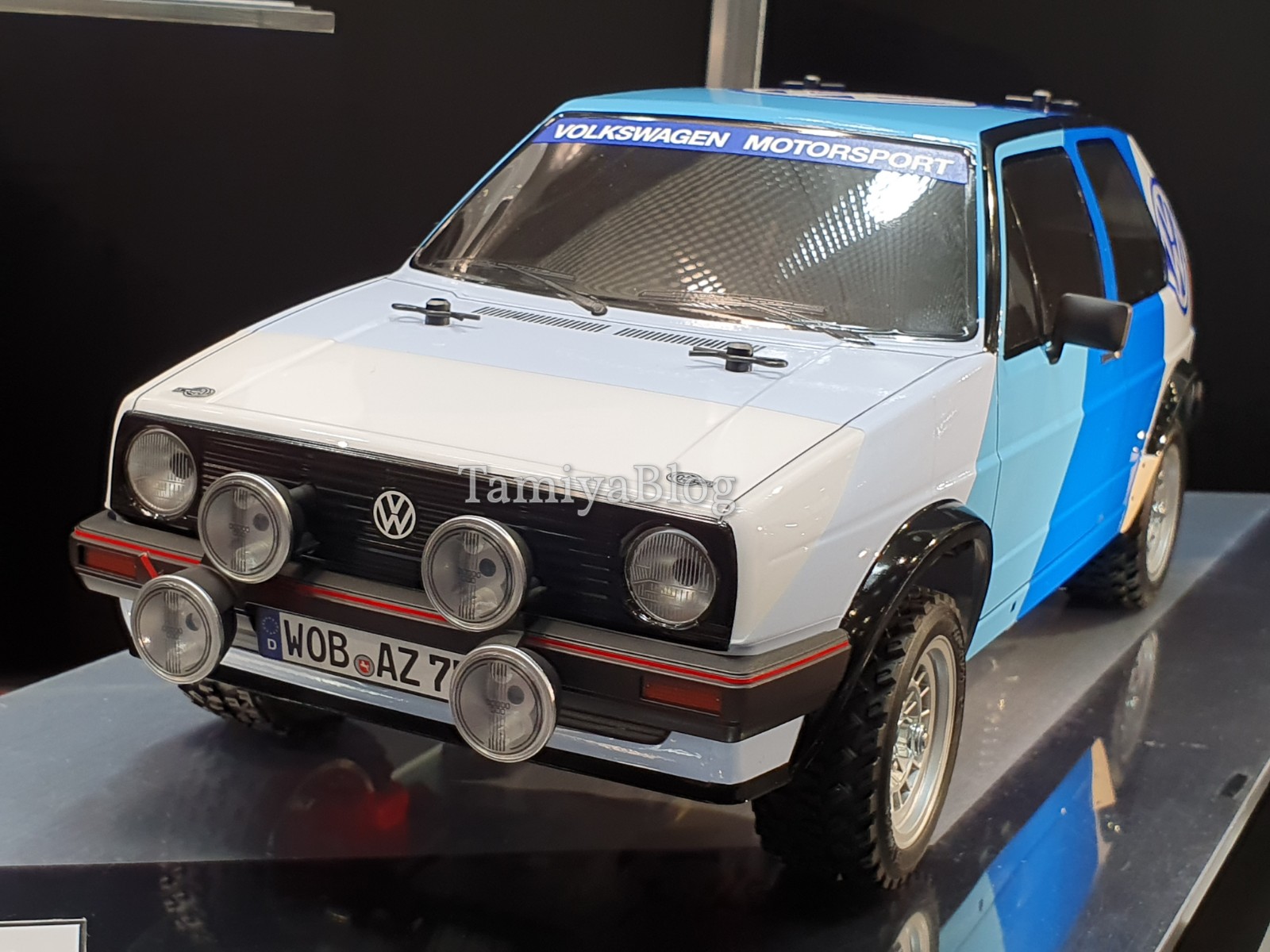 The 1980's was the decade of the hot hatch back in automotive circles! One of the many automakers that made hatchbacks popular was Volkswagen, and their MK2 GTI 16V was a favorite among automotive fans. Tamiya has faithfully recreated the MK2 GTI as a rally race car as seen in A7 class competition. The body is based on the MF-01 chassis as it's at home on both asphalt and flat dirt running!
MF-01X – Compact 4WD At Home on a Range of Surfaces
Based around a tough monocoque frame with integrated gearboxes, this compact 4WD chassis gives a thrilling drive whether you take it on road or flat dirt surfaces. It features a rear-mounted motor, with gear-driven rear wheels and a propeller shaft taking power to the front. Both front and rear gearboxes have differential gears. The battery pack location in the chassis center secures excellent balance, while 4-wheel independent double wishbone suspension employs friction dampers.
• 1/10 scale R/C model assembly kit. Length: 397mm, width: 170mm, height: 142mm. Wheelbase: 239mm (L-size wheelbase spec).
• Lightweight polycarbonate body.
• Separately molded plastic components recreate light cases, bumper, and side mirrors.
• The MF-01X chassis is at home on-road or on flat dirt, thanks to 4-wheel double wishbone suspension.
• Polycarbonate light cases are compatible with separately sold 5mm LEDs.
• Stickers are included to recreate body details.
• A host of Hop-Up Option parts are available to tune the MF-01X chassis.
• Includes 540 Torque Tuned motor and ESC.
• Requires 2-channel radio, steering servo, 7.2volt battery with compatible charger and Tamiya PS paint to complete.