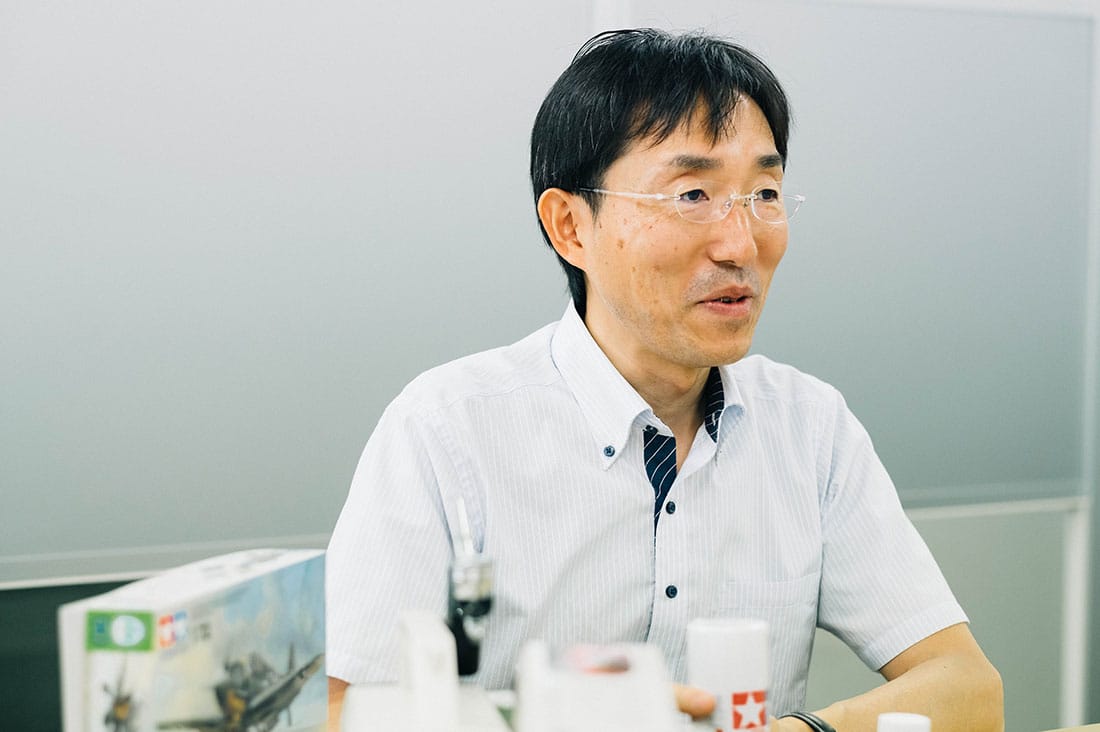 Interview by Yuka Nakamae / Hideyuki Sanada
The official shop " Tamiya Plastic Model Factory Shimbashi " has about 6,000 items of plastic models, RC cars, Mini 4WD, as well as paint, tools, tools, etc., lined up in a row.
We asked Mr. Yamamoto, who is in charge of public relations, for a story.
– After all, is the customer mainly male?
Mr. Yamamoto I agree. Model fans still have many men, but tools and paints seem to be used in various crafts in many cases, and the lineup that is friendly to women, such as the "Tamiya Decoration Series", is also expanding.
– Speaking of "Tamiya's tools", the image of "paint" was strong, but I was surprised at the wide selection. It is a spot that is unbearable for those who like manufacturing.
Mr. Yamamoto All of them are tools for enjoying model work, but it is also very nice as Tamiya to be able to use it widely for those who are making things.
The company, which was founded in 1946 shortly after the end of the war, started working on model teaching materials beside the lumber industry (at that time, the Tamiya Trading Joint Stock Company). After that, they became full-scale models, but it is said that the sale of wooden models was sluggish gradually because "plastic assembly models = plastic models" said to have been born in the United Kingdom began to be imported from overseas.
However, for Tamiya, who has been making wooden models since its inception, it was not an easy task to throw them away and hand out the development of expensive plastic models that are manufactured in completely different ways.
Mr. Yamamoto Still, we started to manufacture plastic models from the 1960s. In Japan, fans began to increase as new hobbies, and compared to wooden models made by shaving wood, plastic models manufactured using molds were still very elaborate in detail.
– I also received that sophistication. Tamiya has also begun selling "plastic models".
Mr. Yamamoto I agree. We began to sell plastic assembly models such as warships and tanks, and at the same time we expanded our tools. At first, I released spray paint to paint the plastic model of the tank.
Mr. Yamamoto Spray is suitable for painting the whole with the same color, but since it is not possible to paint the details, the next step was to sell enamel-type paints that brushed in bottles. Since the beginning of the 80's, water-soluble acrylic paints have also joined the group.
– Is the variation of color gradually increasing once?
Mr. Yamamoto That's right. At first, the colors of military colors and racing cars for painting tanks were mostly. Where there is no perfect color, there is a "color mixing instruction". For example, "If you mix XF-1 and XF-7 in a ratio of 2: 3, it will become pink." Things like the formula of mathematics are in a row.
– It is hard to have to mix it by yourself.
Mr. Yamamoto The color often changes depending on the person, and there were many voices saying "I want a special color", and toning the color "all this color" to match the timing to release the plastic model I came to offer.
– Is there anything involved in the development of the paint itself, such as blending?
Mr. Yamamoto Models are developed in-house, but tools and paints are made by specialized manufacturers. Of course, as "Tamiya specifications", our development staff are also involved in making a model suitable for making plastic models and models. Even with a single paint, development takes time and effort.
– What is your hardship?
Mr. Yamamoto Color is very difficult. For example, even if you say, for example, "a fighter during World War II", the new real thing of that time does not exist of course. Things in the museum are being restored, and even if there are photos from that time, they are monochrome, and I don't know the exact color.
– Well, that's true …. The idea did not go well. In such a case, how is it defined and reproduced?
Mr. Yamamoto We can only collect documents and materials and look for "Perhaps this color was not like this …". For example, in Germany, etc., since the color standard of industrial products has been firmly from old times, things like color chips and color swatches remain well understood. Sometimes I refer to something like that.
– Well, that's where the national character comes out.
Mr. Yamamoto That's right. Another difficulty is that even if it reproduces the exact same color as the real thing, it is not necessarily the case if it is painted on a 1/72 scale model and it looks like the real thing.
– If it is 1/72 size, it also needs to be a figure pulled out from a very long distance.
Mr. Yamamoto That's right, it's also important to do toning based on "reality as a model". There are other cases where special toning is performed. For example, there is a model of Mazda's "Roadster" car. This car has a very complex painting, a silver layer on the primer, a red layer, a clear layer … and technology to control the reflection. I am It is deep because it is colored over many layers. Depending on how the light is hit, it looks different red. Therefore, we can not say the same thing as the real thing, but developed a spray paint called "Pure Metallic Red" that reproduced the atmosphere. If you are not satisfied with that, I think that it will become an even closer image if you can overpaint and polish "Clear" as an overcoat.
– Again, I feel the depth of toning and coloring.
Mr. Yamamoto Although it is not written in the manual, if it is combined with this, it will become this color? It is also one of the pleasures of plastic model production to image it.
– Such, Tamiya full of feelings for plastic models, began to be sold the line of "fake sweets" and "sweets decoration", what was the opportunity?
Mr. Yamamoto This was an interesting thing, and before we proposed "How?", The artists used plastic model paints, tools, etc., and used them for sweets decoration. We knew that later.
– In fact, I was also making a miniature dollhouse when I was in elementary school, and I often stole Tamiya paint from my father's room ….
Mr. Yamamoto Oh really! (laughing). Some of our female staff also like sweets decoration. As I listened to ideas and experiences, I heard a lot of stories like that.
– Naming is good.
Mr. Yamamoto Thank you very much. You did not do difficult things, but you know that you are using it, and it is a place where you have started using devices that are easier to use. The acrylic paint "Desert Yellow" for painting tanks is "Milk tea" in the "Tamiya Decoration Series".
– It's the same color, but it's a big difference (laughs).
Mr. Yamamoto Doesn't it? What used to be an adhesive may be "It looks like a cream when used in sweets decoration". Paint for expressing "snow" of diorama also becomes "sugar". The paint used to "stain" the tanks will also make cookies and tarts look delicious. You can make various expressions just by changing your idea. There are many scissors, tweezers, etc. that are necessary for model work because they are accurate, accurate and stress-free. There are many other crafts that are compatible with model tools.
– Products that are exclusively for sweets have also gradually increased as they have become more sought after.
Mr. Yamamoto I think that it has become possible to provide more convenient products such as "I wanted such tools and materials!".
– Because it is only this lineup, depending on the combination and ingenuity, it seems that you can discover as many ways of enjoying yourself as you like.
Mr. Yamamoto I agree. Every plastic model has an assembly manual, and there is a polite instruction such as "We will assemble No. 1, No. 2 …". Of course, it is fun to make it that way, but the procedure or process is not the only correct answer. In the extreme, it is not necessary to paint. It is good if you can make the person create it, and it will be interesting if you think that it was fun. It means that we were able to provide a satisfying time.
– It's all up to you.
Mr. Yamamoto And furthermore, let's paint different colors, let's change the form using plastic plates and putty … I think that it is the best taste of models and hobbies to increase the way you enjoy yourself with such ingenuity. At that time, if you have various tools, you can support the fun, I can boost.
Mr. Yamamoto I think that the children's childhood experiences will last forever without being overwritten. Even if you fail, do not you want to offer the experience of "being done exactly as you imagined", enjoying the process of making it? Tools and paints are really made with quality. From children to adults, I would like to make every effort to be able to be with such existence, "If the one with the Tamiya mark is attached, I can use it with confidence."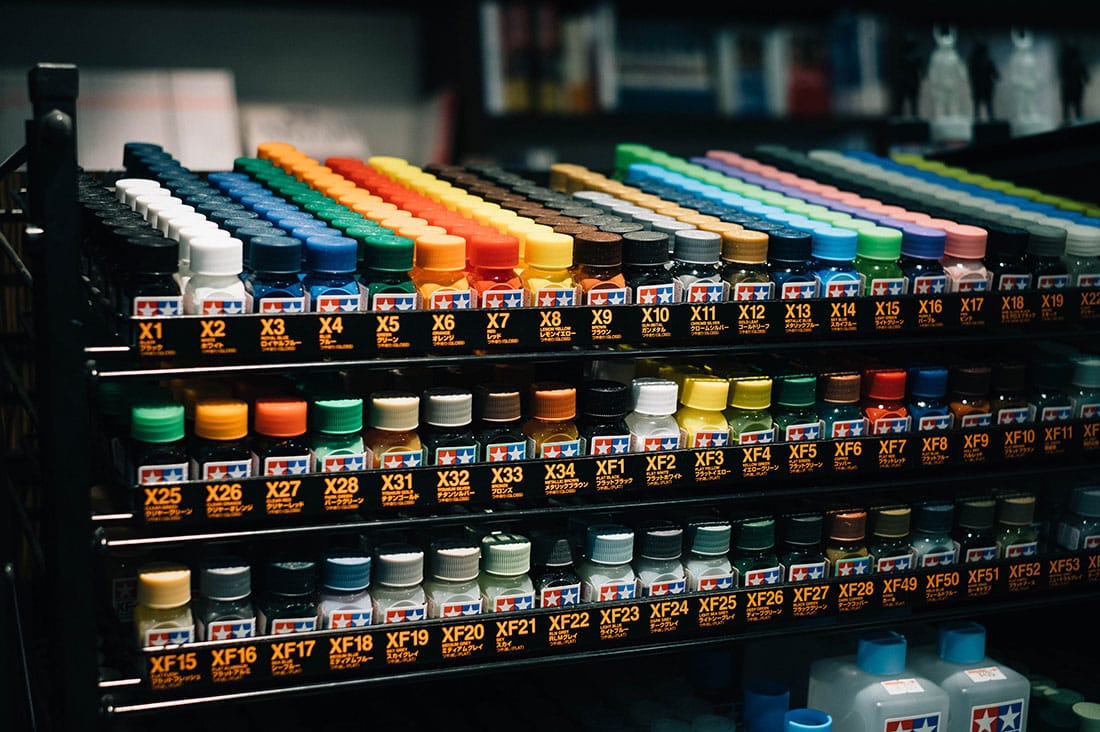 Source in Japanese language: minne