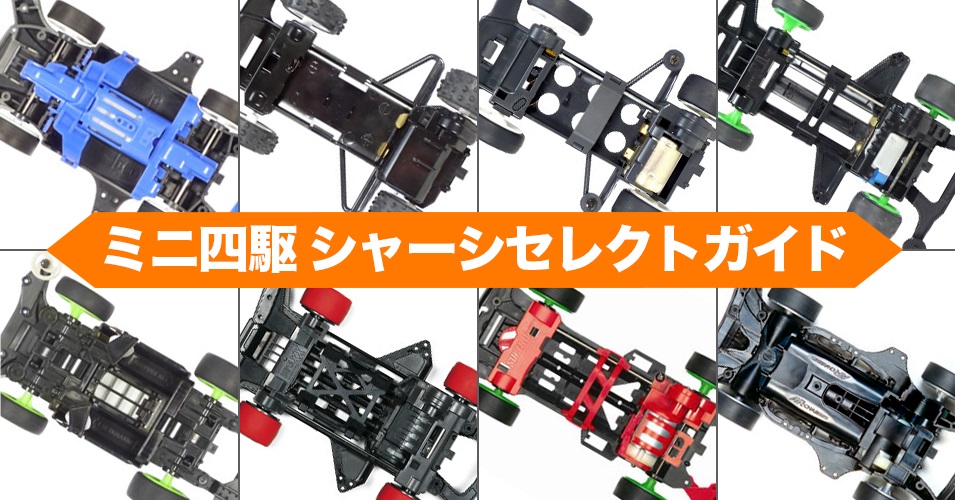 Check the compatible parts and machines for each chassis!
We will introduce in detail each type of mini 4WD chassis that can participate in the Mini 4WD official competition. You can check the information of the corresponding upgrade parts and which chassis is used for which kit. Please help find your new machine and consider your machine settings.
※ Number of published specifications may change by kind of roller or tire.
※ The upgraded parts displayed in "Supported parts" may be limited in usable parts depending on the combination with the chassis (Example: Only pinion gears can be used among gear sets). Please also check the item of "Supported chassis" listed on the explanation page of each upgraded part.
Midship layout chassis with double shaft motor
MA chassis
MS chassis monocoque aero type. In addition to low center of gravity, we adopt chassis design conscious of air flow. High performance chassis equipped with six rollers as standard and with improved side expandability. 

[Specs] 
Total length: 156mm / total width: 97mm / wheel base: 80mm / tread: 59.5mm / weight: 125.9g / ground height: 2.2mm / gear ratio: 3.5 1 
※ When low height tire · alkaline battery mounted

MS chassis
A triple nose / center / tail chassis with direct drive by a double shaft motor. The box structure is strong against twisting and boasts high rigidity. Favorable 80mm wheelbase at the corner. 

[Specs (example of N-02 unit)] 
Total length: 152mm / total width: 92mm / wheel base: 80mm / tread: front 67 / back 69mm / weight: 124.7g / ground height: 4mm / gear ratio: 4: 1 
※ Large When diameter tires and alkaline batteries are installed
Stable driving at the center of gravity forward, front motor chassis
FM-A chassis A chassis
with a front motor layout that incorporates an aero design. Since the center of gravity is located on the front of the vehicle body, it is possible to run with a sense of stability even on a course with many ups and downs. 

[Specs] 
total length: 150mm / full width: 97mm / Wheelbase: 83mm / tread: 60mm / Weight: 117 g / ground clearance: 2.5mm / gear ratio: 3.5: 1 
※ small diameter low-height tire (26mm) · alkaline batteries when worn


Evolution of the super FM chassis FM chassis. In addition to the improved bumper strength, the bottom of the chassis is designed with the aero effect in mind, and it also has a motor cooling duct. Rear roller stay first adopted. 

[Specs] 
Total length: 144mm / total width: 90mm / wheel base: 83mm / tread: 64mm / weight: 117.2g / ground height: 5.5mm / gear ratio: 5: 1, 4: 1 
※ When large diameter tire · alkaline battery mounted

FM chassis
A chassis created from the new concept of mounting a motor on the front. Center of gravity balance from the front demonstrates running stability in the technical course that continues up and down. 

[Specs] 
total length: 132mm / full width: 86mm / Wheelbase: 83mm / tread: 64mm / Weight: 113 g / ground clearance: 7mm / gear ratio: 5: 1,4.2: 1 
※ large-diameter tires, alkaline battery is installed
Mini 4WD standard style, rear motor chassis
AR chassis A
highly rigid chassis with excellent serviceability. Adopted 6 rollers for the first time, and the battery is also low. 82mm wheelbase machine with extensive side expandability. 

[Specs] 
Total length: 155mm / total width: 97mm / wheel base: 82mm / tread: 67mm / weight: 123.5g / ground height: 5mm / gear ratio: 4.2: 1 
※ When large diameter barrel tire · alkaline battery installed

VS Chassis
A matured high-performance chassis of 80 mm short wheelbase type that is lightweight and compact with a small turn. Excellent maintainability with hinged gear cover and battery holder. 

[Specs] 
Total length: 145mm / total width: 90mm / wheel base: 80mm / tread: 64mm / weight: 113.8g / ground height: 5mm / gear ratio: 5: 1, 4.2: 1, 4: 1 
※ large diameter tire · alkaline When the battery is attached

Super TZ-X Chassis
An expanded version of the Super TZ. We adopt screw hole addition of front bumper and 2 point stop type rear stay. Medium wheel-based high-speed stable type. 

[Specs] 
Total length: 148mm / total width: 90mm / wheel base: 82mm / tread: 68mm / weight: 115.4g / ground height: 5mm / gear ratio: 5: 1, 4: 1 
※ When large diameter tire · alkaline battery mounted

Super TZ chassis
82 mm medium wheel base chassis with excellent stability at high speeds. It features a flat chassis underside that lays out the battery at a low position. 

[Specs] 
Total length: 147mm / total width: 90mm / wheel base: 82mm / tread: 68mm / weight: 117.6g / ground height: 5mm / gear ratio: 5: 1, 4: 1 
※ When large diameter tire · alkaline battery installed
Super XX chassis
Super X enhanced and expanded. It features a nose guard that enables a wide range of roller settings. It boasts outstanding stability such as further strengthening of rigidity and functional enhancement of side stays. 

[Specs] 
Total length: 153mm / total width: 98mm / wheel base: 84mm / tread: 70mm / weight: 119g / height above the ground: 1.9mm / gear ratio: 3.51 
※ When equipped with a small diameter wide tire alkaline battery

Super X chassis
A wide tread and long wheel base chassis with a 72 mm shaft. Body rigidity is also high and stability is high. The motor can be attached and removed from the lower surface of the chassis, and the rear stay has two points. 

[Specs] 
Total length: 156mm / total width: 92mm / wheel base: 84mm / tread: 70mm / weight 111.8g / ground height: 5.2mm / gear ratio: 5: 1.4: 1  
※ When small diameter wide tire · alkaline battery installed

Super 2 chassis
Evolution of the super 1 chassis. A chassis with enhanced bumper rigidity and enhanced expandability. Full-featured battle equipment such as turn-type switches, 2-point fixed rear stays, and screw-type covers. 

[Specs] 
Total length: 150mm / total width: 97mm / wheel base: 80mm / tread: 64mm / weight: 115g / ground height: 5.3mm / gear ratio: 4.2: 1 
※ When large diameter tire · alkaline battery mounted


Evolution of Super 1 chassis Zero chassis. Stiffness is improved according to speeding up, and the side stay can be detached. The full cowl type is combined with a small diameter tire to form a low center of gravity chassis with a height of about 3 mm. 

[Specs] 
Total length: 131 mm / total width: 90 mm / wheel base: 80 mm / tread: 64 mm / weight: 111.5 g / ground height: 5 mm / gear ratio: 5: 1, 4: 1 
※ When large diameter tire · alkaline battery mounted
Zero chassis
A low center of gravity chassis that uses a helical crown gear to lower the mounting position of the motor or battery. As the wheel base is short, cornering performance is high. 

[Specs] 
Total length: 131 mm / total width: 86 mm / wheel base: 80 mm / tread: 64 mm / weight: 109 grams / ground height: 5 mm / gear ratio: 5: 1, 4.2: 1 ※ When large diameter tire · alkaline battery mounted

Type 5 chassis The
bottom of the chassis is finished to be flat and the aerodynamic effect is high, and the thickness of the main body is reduced to achieve both strength and weight reduction. Long wheel base specification with excellent running stability. 

[Specs] 
Total length: 132 mm / total width: 86 mm / wheel base: 82 mm / tread: 64 mm / weight: 113 g / ground height: 6 mm / gear ratio: 5: 1, 4.2: 1

Type 4 chassis
Based on the type 2 chassis, the battery mounting position is lowered by 2 mm to lower the center of gravity. As the wheelbase is long and the center of gravity is also backward, it is excellent in high-speed stability on straight. 

[Specs] 
Total length: 128mm / total width: 86mm / wheel base: 82mm / tread: 64mm / weight: 112g / ground height: 7mm / gear ratio: 5: 1, 4.2: 1 ※ When large diameter tire · alkaline battery installed

Type 3 chassis
Type 1 on-road specification chassis. The height of the ground is high, so the range of setting is wide and it can be driven regardless of the road surface. Drilling is added to the motor cover etc. 

[Specs] 
Overall length: 127 mm / Overall width: 86 mm / Wheel base: 80 mm / Tread: 64 mm / Weight: 115 grams / Ground height: 9 mm / Gear ratio: 6.4: 1, 5: 1 * When large diameter tires and alkaline batteries are installed
Type 2 Chassis The
first chassis developed for on-road competition. Large diameter slick tires and guide rollers are standard equipment. The length of the wheel base is straight and advantageous. 

[Specs] 
Total length: 128mm / total width: 86mm / wheel base: 82mm / tread: 64mm / weight: 113g / ground height: 8mm / gear ratio: 5: 1, 4.2: 1 ※ When large diameter tire · alkaline battery installed

Chassis
modeled as a junior version of the Type 1 Chassis RC Off Road Buggy. Tires and gear ratio settings are also suitable for off-road driving. 

[Specs] 
Total length: 127 mm / total width: 80.5 mm / wheel base: 80 mm / tread: 64 mm / weight: 109 grams / ground height: 10 mm / gear ratio: 11.2: 1, 6.4: 1 
※ When large diameter tire · alkaline battery mounted