Products to be displayed at the 2019 Shizuoka Hobby Show
Static Model Products
◇ 1/24 TOYOTA GAZOO Racing TS050 HYBRID
◇ 1/24 LEON CVSTOS AMG
◇ 1/24 Mazda 787B
◇ 1/12 Honda Monkey 125
◇ 1/35 British Tank Destroyer M10 IIC Achilles
◇ 1/35 German Heavy Self-Propelled Howitzer Hummel (Late Production)
◇ 1/35 Scale German Hummel Metal Gun Barrel
◇ 1/350 Scale Japanese Navy Destroyer Yukikaze Detail-Up Set
Mini 4WD & For Kids
◇ TOYOTA GAZOO Racing WRT/Yaris WRC (MA Chassis)
◇ Mach-Bullet Metallic Special (AR Chassis)
◇ Festa Jaune L Green Special (Polycarbonate Body) (MS Chassis)
◇ Baron Viento (FM-A Chassis) Japan Cup 2019
◇ Hyper-Dash 3 Motor J-Cup 2019
◇ Hyper-Dash Motor PRO J-Cup 2019
◇ HG Carbon Multi Roller Setting Stay (1.5mm) J-Cup 2019
◇ HG Carbon Rear Multi Roller Setting Stay (1.5mm) J-Cup 2019
◇ HG Carbon Reinforcing Plate for 13/19mm Roller (1.5mm) J-Cup 2019
◇ Fully Cowled Mini 4WD 25th Anniv. Low Friction Low Profile Tire (Maroon, 2pcs.)
◇ Lightweight 13mm Aluminum Ball-Race Rollers (Ringless/Black)
◇ Mini 4WD HG Aluminum Setting Board (Black)
◇ Japan Cup Junior Circuit Straight Section Set (Black, 4pcs.)
◇ HG 13mm Tapered Aluminum Ball-Race Rollers (Ringless)
◇ DCR-02 Body Parts Set (Light Smoke)
◇ DCR-01/02 Customizing Stickers
◇ Mini 4WD HG Maintenance Base (180x210mm)
◇ MA Fluorescent-Color Chassis Set (Yellow)
◇ FM-A Fluorescent-Color Chassis Set (Yellow)
◇ Lightweight Plastic Spacer Set (12/6.7/6/3/1.5mm) (Fluorescent Yellow)
◇ 19mm Aluminum Rollers (5 Spokes) w/Plastic Rings (Green)
◇ Short Mass Damper Block (6x6x14mm/2pcs.) (Silver)
◇ Short Mass Damper Block (8x8x14mm/2pcs.) (Silver)
R/C Products
◇ 1/10 R/C M-08 Concept Chassis Kit
◇ 1/24 R/C Lunch Box Mini (SW-01)
◇ 1/10 R/C HKS Nissan Skyline GT-R Gr.A (TT-01 Type-E)
◇ 1/12 R/C Lunch Box "Red Edition"
◇ 1/16 R/C U.S. Airborne Tank M551 Sheridan
◇ 1/10 R/C Audi quattro Rallye A2 (TT-02)
◇ 1/10 R/C Volkswagen Type 2 (T1) (M-06)
◇ 1/10 R/C MAZDA3 (TT-02) (Tentative)
◇ 1/8 R/C Dual Rider (Assembled) (T3-01)
◇ M-08 Concept Titanium Screw Set
◇ M-08 Concept Carbon Damper Stay (Front)
◇ M-08 Concept Carbon Damper Stay (Rear)
◇ M-08 Concept Aluminum Steering Arms (L/R)
◇ M-08 Concept Aluminum Steering Bridge
◇ M-08 Concept Aluminum Shaft Set
◇ M-08 Concept Aluminum Front Suspension Mount (0°)
◇ Tamiya Brushless Motor 02 (Sensored) 17.5T (Tentative)
◇ Tamiya Brushless Motor 02 (Sensored) 21.5T (Tentative)
◇ SW-01 Upper Arm Connectors
◇ SW-01 Spring Set (Soft/Hard)
◇ SW-01 Full Ball Bearing Set
◇ TT-02 Adjustable Upper Arm Set
◇ TT-02 Oil Gear Differential Unit
◇ T3-01 Reinforced Differential Joint & Pinion Set
◇ T3-01 Type 370 Sport-Tuned Motor
◇ T3-01 Aluminum Motor Mount
◇ Aluminum TRF Tool Stand
◇ Setting Board
◇ R/C Trolley Pit Bag
Tools & Paints
◇ Microcomputer Robot (Crawler Type)
◇ Twist Crawler (2-Channel Remote Control)
◇ Amphibious Vehicle Set (Blue & Yellow)
◇ Centipede Robot (Clear Orange)
◇ Quick Hose Joint
◇ Quick Hose Joint Plugs (2pcs.)
◇ Modeling Template (Round, 1-12.5mm)
◇ LP-64 Olive drab (JGSDF)
◇ LP-65 Rubber black
◇ LP-66 Flat flesh
◇ LP-67 Smoke
◇ LP-68 Clear Blue
◇ LP-69 Clear Yellow
◇ Figure Accent Color (Pink-Brown)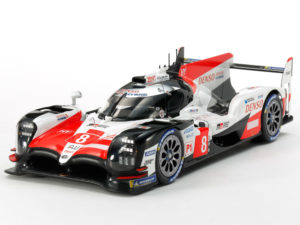 1/24 TOYOTA GAZOO Racing TS050 HYBRID
The 2018-2019 TS050 HYBRID is to make an appearance as an astounding 1/24 scale static model assembly kit! ★Length: 194mm, width: 80mm, height: 58mm. ★The honed form with multiple aero parts is recreated with great accuracy. ★Metal-plated cockpit roof. ★Comprehensive decal sheet allows creation of No.7 or No.8 car. ★Metal transfers depict headlight LEDs and side mirror surfaces. ★Masking stickers included to aid with the paint job.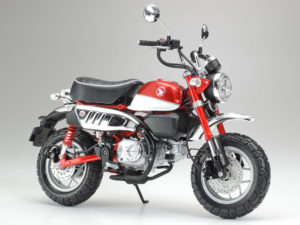 1/12 Honda Monkey 125
The small but perfectly formed Monkey 125 is the latest Tamiya 1/12 scale motorcycle model assembly kit. ★Length: 143mm, width: 63mm, height: 101mm. ★Detailed 4-stroke engine with cooling fins. ★Engine, swing arm, front fork and rear fender are screw-attached to the frame. ★Features metal-plated light case, fenders, muffler cover and more. ★Synthetic rubber tires have realistic tread. ★Vinyl tubing is included to recreate various lines and cables.
1/35 German Heavy Self-Propelled Howitzer Hummel (Late Production)
The next subject for the famed 1/35 Military Miniature Series is this assembly kit of the German Hummel. ★The model authentically captures the Hummel's form with thin fighting compartment armor and late production integrated driving compartment. ★Features coordinated sight and 15cm howitzer elevation. ★Assembly type late production tracks feature one-piece straight sections. ★Includes three figures and two marking options. ★Length: 190mm.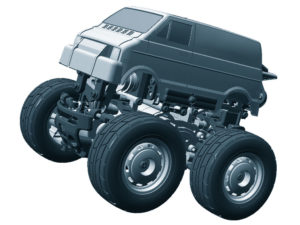 R/C Lunch Box Mini (SW-01 Chassis) (Tentative)
This 1/24 scale version of the famed Lunch Box is a unique, supremely fun 4WD R/C model. ★The body uses magnets for easy attachment and removal. ★The SW-01 chassis features a centrally-positioned motor which uses gears to provide power to front and rear wheels. ★Enjoy super-fun wheelies! ★Length: 190mm.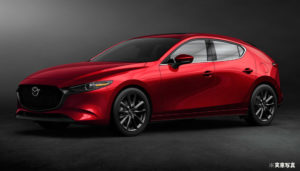 1/10 R/C MAZDA3 (TT-02) (Tentative)
Unveiled to the public at the 2018 LA Auto Show, the elegant MAZDA3 form is a new addition to the Tamiya R/C model line-up. Its sleek form is captured realistically by a polycarbonate body, and mounted on the user-friendly TT-02 chassis for controllable, reliable 4-wheel drive. The kit features a special color version of the TT-02 chassis lower deck (hard).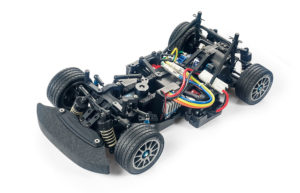 1/10 R/C M-08 Concept Chassis Kit
This brand new RWD chassis offers an alluring mix of traction and balance, using an MR setup with midship motor. A new gear setup and motor position allow harvesting of inverse torque from motor rotation to boost rear traction. A combination of 0-degree front suspension mount and 2-degree hub carriers gives linear steering response.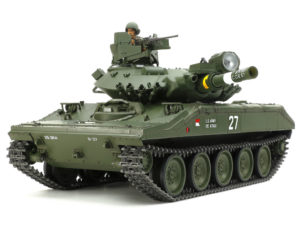 1/16 R/C U.S. Airborne Tank M551 Sheridan
The Sheridan is to become a breathtaking 1/16 scale R/C model! Its distinctive form with 152mm gun/launcher is captured in style, and with actions accompanied by sounds and lights, this kit promises to be a fully immersive scale R/C experience. ★Length: 408mm.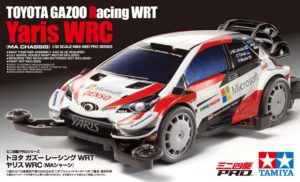 TOYOTA GAZOO Racing WRT/Yaris WRC (MA Chassis)
This is a Mini 4WD racer model of the 2019 Yaris WRC, a car developed for rally racing by TOYOTA GAZOO Racing WRT. ★Its aerodynamically honed body with front canards, 2-level rear wing and more is recreated in style. ★Stickers are included to depict markings and logos. ★The model runs on the aerodynamically-efficient MA Chassis.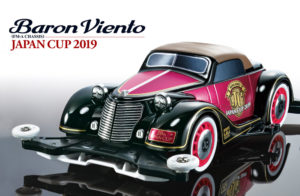 Baron Viento (FM-A Chassis) Japan Cup 2019
The Japan Cup 2019 gets an air of nobility with this special version of the Baron Viento on the FM-A Chassis! The body is molded in black ABS resin, with red dish wheels, and striking whitewall super hard low-profile tires. Dedicated stickers are included in the kit for decoration.
Microcomputer Robot (Crawler Type)
This assembly kit creates a crawler robot that runs using a BBC micro:bit microcomputer, ultrasonic sensor and motor driver circuit. When the ultrasonic sensor identifies an obstacle ahead, it transmits that information to the BBC micro:bit, which uses a pre-installed program to give the motors commands to avoid the obstacle. Separately sold parts can be used to control the robot remotely, and BBC micro:bits can be coded with original programs via computer, too. ★Requires two R6/AA/UM3 batteries (sold separately)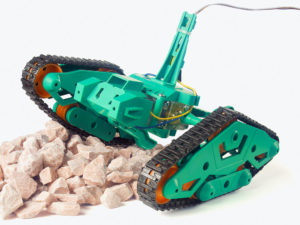 Twist Crawler (2-Channel Remote Control)
★This assembly kit creates the Twist Crawler, a model with 2-channel remote control that bests tough obstacles with the use of its dual crawlers. ★At either end of the connecting twist bar, the crawlers move in opposite directions, and each features a moving roller unit at the bottom for supreme grip. ★Kit offers 2 crawler motion ranges, and 3 positions for the stabilizing rear stay. ★Length: 168mm.