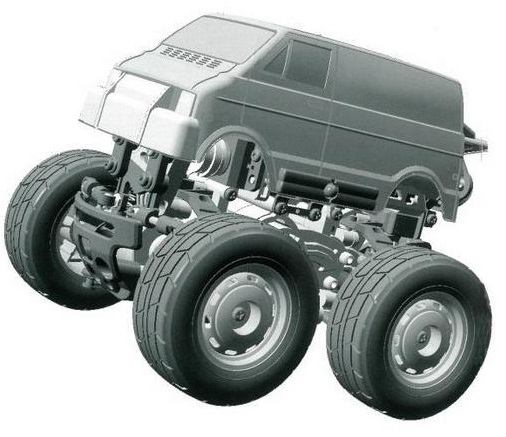 Compact size that does not choose play place!
4WD comical RC with fun wheelie driving!
Four wheels! Wheelie! !
Turn well with big tires! ! !
● Compact design that fits in both hands of
an adult The machine which condensed various mechanisms carefully is
a compact design that fits in the palm of the extended adult .
You can enjoy travelling regardless of the play place.
● Can run even with AA batteries!
Ideal as an RC entry model!
It is the appearance of a new RC car of compact size that can be enjoyed indoors and outdoors.
Looks equipped with a big tire in a tall body,
comical style to predict a healthy running.
You can easily enjoy the spectacular wheelie driving.
The chassis uses a powerful gear drive 4WD, and
is equipped with a mechanism that allows the vehicle to lean substantially in conjunction with the steering link.
It is a machine that can realize the fun of controlling the machine.
A dedicated battery box is also included to set 4 AA batteries.
If combined with Finespec 2.4G Proposet (with TRE-01), it
is possible to run without a dedicated battery.
● Reproduce the popular "Lunch box" body with polycarbonate!
The body is a square box that reminds you of a lunch box and a
popular lunch box for 1/10 RC cars.
I reproduced the funny style with polycarbonate.
In addition, adoption of magnet type one-touch body mount
makes it easy to attach and detach the body.
● NEW chassis chassis packed with various mechanisms in a compact size
Newly designed chassis for achieving the fun of driving is condensed various mechanisms.
Including a 4WD system that produces easy maneuverability and high runnability,
a steering-linked upper arm that reduces side-turning and looks when cornering, and a 4WS mechanism that can be easily upgraded
simply by installing optional parts. Furthermore, it is the point which can not overlook generality with the layout which can mount a normal size servo and RC mechanism .
● Realize amazing turning performance
Just new sense cornering!
Employs an upper arm that works in conjunction with steering.
Holds the roll of the body at the time of
cornering, and reduces the rollover during cornering that is likely to occur with big tire machines with height.
Total length: 190mm Total width: 146mm Total height: 140mm