Otomotifnet.com
– Each modified contest has regulations that must be followed by participants.
If you follow it, it could be the key for the motorbike to qualify as a winner, like this Yamaha Aerox 155 owned by Andri Pradita Djaya.
His Yamaha Aerox 155 carries a simple concept with the Tamiya livery being a champion.
Namely in the class Daily Use Modification Yamaha Customaxi 2018 in Bekasi (11/17/2018).
Even if it is hand made, the modified spec is more powerful for daily use.
"Initially I was insecure with other contestants who had changed a lot and used a decent part."
"But after I read and carefully regulated, I was optimistic to become a champion," said Andri.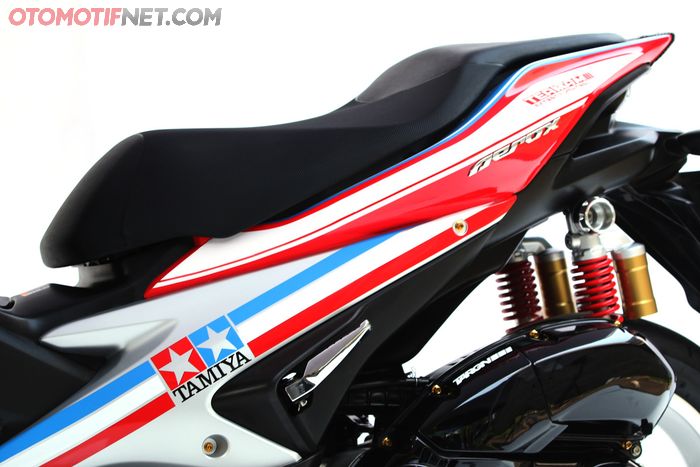 With a racing theme combined with strong concepts such as Aerox livery Tamiya, Andri's steps are certainly easier.
To make Aerox like this Andri needs a budget of Rp 6 million with the modification process carried out for 3 months.
"The difficulty is to determine the mature concept and make this modification myself at home," explained Andri.
Basically the body of Aerox has already been painted in red Ferrari.
Then just given blue, red and white graphics and added a logo of typical Japanese cars, namely Tamiya .
So that this Aerox modification will be more complete, some modified parts are also installed.
Just mention the use of Black Devil exhaust , Black Diamond radiator cover , rear shock absorber Aerox Type R milk tube models and other parts.
Not only that the visor of the Yamaha Genuine Accessories made a chrome-plated luxury.
Mix and match simply with the quality of detailed workmanship successfully bringing this bike to the championship.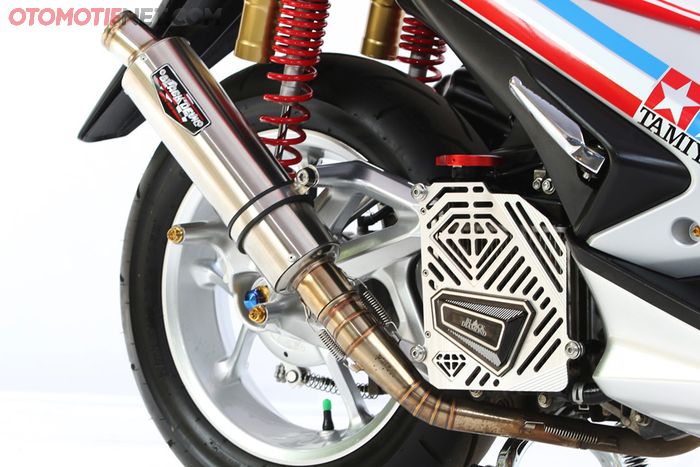 Modification data
Board: IRC
Rim: Repaint
Front shock: YSS Fork kit
Rear shock: Type R
Muffler: Black Devil
Cover radiator : Black Diamond
Author Irsyaad Wijaya, Source Otomotifnet.com in Indonesian language