Tamiya 57407 1/8 RC Dual Rider Trike T3-01 Chassis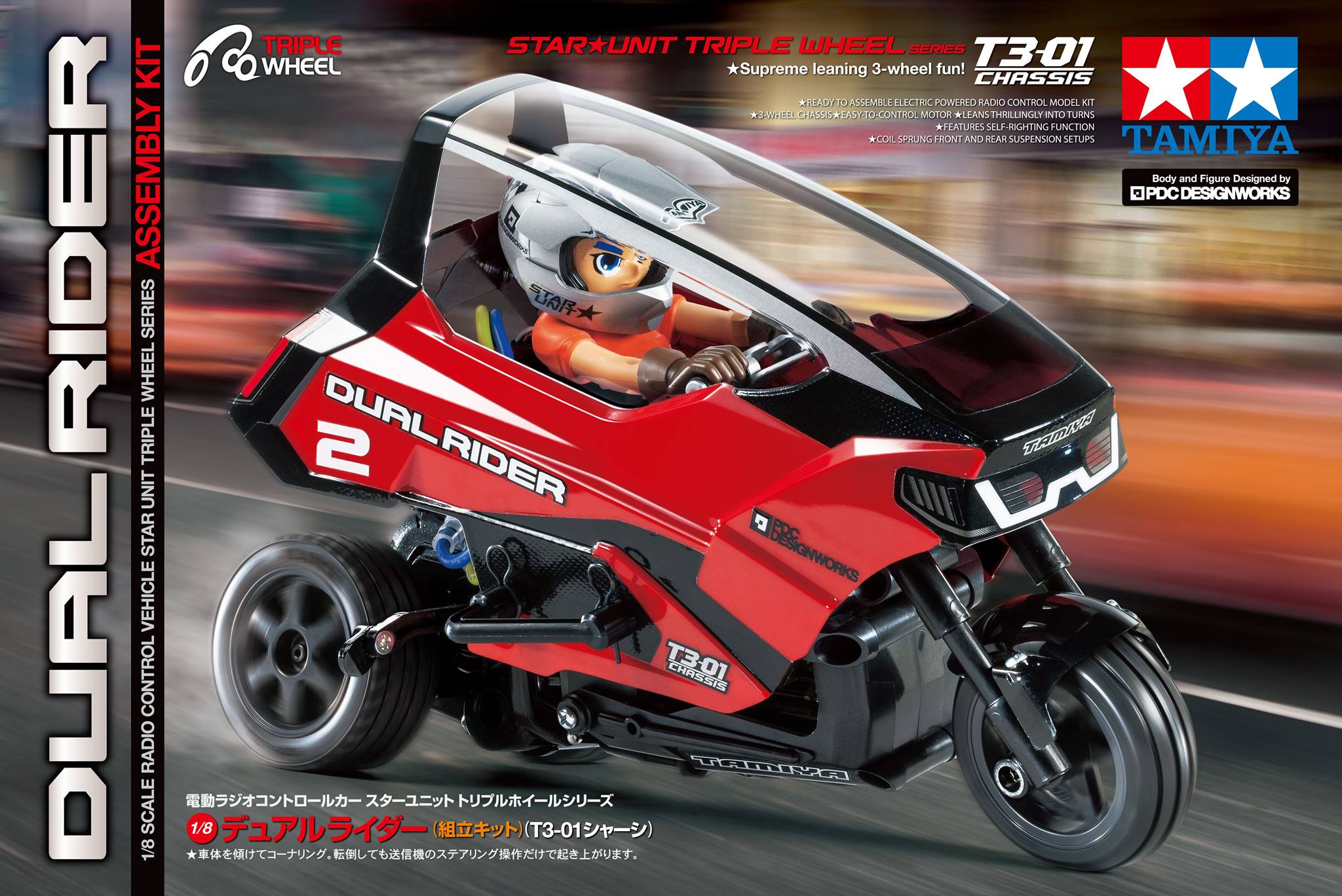 Here comes the second new model on the fun T3-01 chassis, a three-wheel drive unit designed for easy to learn driving with high fun factor and tight corners.
The Dual Rider is a model with a brand new bodywork, slim, futuristic styled, with a matching brand new rider figure.
About the model:
This is a 1/8 scale R/C model kit. Length: 260mm, Width: 135mm, Height: 185mm, Wheelbase: 196mm.
The brand new one-piece Lexan body is characterized by a slim, science fiction-like design.
Includes a brand new driver figure with parts representing the handlebar (and steering wheel). The figure has movable hands (that fit the handlebar or steering wheel) and a selection of headgear.
The T3-01 chassis consists of the front (with RC equipment and power source) and rear sections. The servo movement tilts the front so that the model can lie in curves.
A planetary gear is integrated in the rear axle for smooth running.
Equipped with a telescopic front fork suspension and a rear cam suspension for a smooth ride.
The support arms move with the steering servo and help the model to self-right when it tips over.
Stickers are included in the kit to decorate the model and include carbon-look sections.
The export version is compatible with the 55105 Tamiya LF Battery LF1100-6.6V Racing Pack (M-Size). Please note that square battery packs over 66x36x15mm may not fit.
The separately available T3-01 battery box (51610) allows the use of 4pcs AA batteries to power the trike.