25186 1/35 JGSDF Type90 Tank & Type73 Light Truck Set


– 90 Tank (ITEM: 35208) realistically reproduces a linear silhouette.
– 73 Model A small truck is modeled in a state where the hood is expanded. It is a delicate finish up to the suspension of four wheel drive.
– Also looking forward to making scenes combining the two cars.
– 73 Formula The small truck is manufactured by FineMold.
25187 1/35 Imperial Japanese Army Type1 75mm Self Propelled Gun & Kurogane 4×4 Set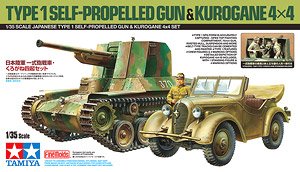 – Dummy cannon tank (ITEM: 35095) models open top fighting rooms with high texture.
– Kurogane four ridges realistically reproduce round body and four wheel drive suspension.
– I am looking forward to the scenery production combining the two cars.
– Two crew members of a cannonball tank and one standing doll.
– Kurogane 4 rise is made by FineMold company.
25188 1/35 JGSDF Recon. Motorcycle & HMV Set


– Scouting motorcycle (ITEM: 35245) precisely reproduces spoke wheels and engines.
– High mobility vehicles richly model realistically full of powerful style.
– I am looking forward to making a scene combining the two cars.
– High mobility vehicles are manufactured by FineMold company