The 57th All Japan Model & Hobby Show
Tamiya is delighted to once again be attending the All Japan Model & Hobby Show at the Big Sight venue in Tokyo, open to the public on September 30 and October 1, 2017.
■Trade Day ※Not open to the public.
September 29th (Fri.) 9:00~17:00
■Consumer Days
September 30th (Sat.) 9:30~17:00
October 1st (Sun.) 9:30~16:30
■Venue: Tokyo Big Sight East Hall 7,8
■Entrance Fee: 1,000 yen
(※Children 15 and under: free)
Be among the first to set eyes upon new and recent releases in all of the Tamiya product ranges by visiting the show! From completed versions of model kits to rare sights such as items still under development, the All Japan Model & Hobby Show is a great chance to see what wonders Tamiya has in store. What's more, development staff will be on hand to explain their products and answer any questions you might have. Add to that the shopping corner which will have Tamiya products on sale including limited edition event items, and this is a chance not to be missed. We look forward to seeing you at the show!
Click here to be taken to the official event homepage (contents are in Japanese)
A Closer Look at some of the Tamiya products on display
A provisional list of products on display was uploaded on August 30. Click on this link to jump to the page!
■1/24 Mercedes-AMG GT3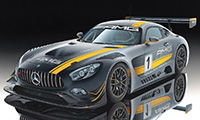 A familiar face to race fans across the world, the Mercedes-AMG GT3 production racecar now appears in the 1/24 Sports Car series! The imposing long nose, short deck form of the car is captured with aplomb, featuring realistic depictions of air outlets, suspension, cockpit and more. ★Length:198mm. ★Metal transfer side mirror and emblem parts. ★Metal-plated front grille. Markings included.
■1/48 U.S. Main Battle Tank M1A2 Abrams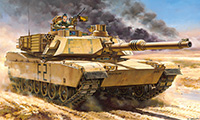 Since its adoption in the 1980s, the M1 Abrams has remained a relevant option for the U.S. military. The M1A2 variant first appeared in 1992, and now joins Tamiya's 1/48 scale Military Miniature series! The angular form of the M1A2 is captured, with a realistic depiction of the L/44 120mm smoothbore gun. ★Length: 205mm. ★Hull and turret surfaces have authentic renderings of anti-slip surfaces. ★Assembly type tracks utilize single-piece straight sections. ★Comes with 1 torso figure and 2 Iraq War marking options.
■1/35 British Self-Propelled Anti-Tank Gun Archer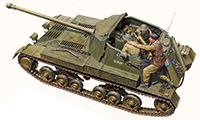 The latest addition to the long-running 1/35 scale Military Miniature Series depicts a rather unique subject – the Archer. Based upon the Valentine tank chassis, space concerns and lack of time led to an eccentric layout with the 17 pounder gun pointing rearwards. Tamiya designers pored over a real Archer to make this model a highly accurate depiction. ★Length: 191mm. ★Hull weld lines are realistically captured. ★Open top fighting compartment allows appreciation of interior details like gun breech. ★Comes with 3 figures and 2 marking options.
■1/16 R/C U.S. Main Battle Tank M1A2 Abrams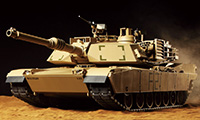 This awe-inspiringly huge R/C model joins its 1/48 scale static counterpart for a little-and-large Abrams combination in the Tamiya booth! The big scale really shows off the accuracy of the Tamiya design, and the L/44 120mm gun is depicted by a realistic metal part. Metal lower hull and suspension components combine with pre-assembled resin tracks for superlative durability. Included control units recreate sounds and control lights for unparalleled authenticity. ★Length: 615mm. ★Gun Barrel Control System can keep the main gun targeted in a set direction as the model moves.
■1/10 R/C TRF419XR Chassis Kit


The thoroughbred 2 belt-driven 4WD TRF419 chassis series makes another evolutionary leap with the TRF419XR, designed for enhanced cornering speed and steering response. Refined carbon fiber lower (2.25mm thick) and upper (2mm thick) decks optimize the roll point, while a new center pitch stiffener allows adjustment of pitch rigidity. Front and rear stabilizer bars are secured with ball bearings for precise, repeatable setup changes. Comes with carbon fiber damper stays for TRF dampers and the included TRF super short big bore dampers, plus an LF battery ballast weight.
■R/C Trike (product name is tentative)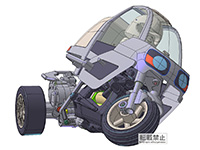 Prepare for a whole new world of Tamiya R/C fun with this all-action, lean-turn trike model! The rear section is comprised of a motor and gear case, and the front section houses the R/C equipment and battery. The polycarbonate body is inspired by trikes such as those used for everyday deliveries in Japan. ★Features a link between servo and support arms to ensure that the model can right itself in the event it overturns.
■Cannon D Ball (MA Chassis)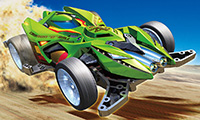 The Cannon D Ball can trace its heritage back to the original Cannonball models, and this latest model has also appeared in the popular Japanese Mini 4WD manga "Hyper Dash! Yonkuro" in the comic Coro Coro Aniki, as the car of Pankuro. With design features inspired by its predecessors, innovated for the modern Mini 4WD scene, this model is bound to catch the eye! ★White 4-spoke wheels are paired with slick tires. ★The MA Chassis is molded in Gray, with Red A parts. ★Comes with dedicated metallic stickers and 4:1 gears.
Click here to see the item information page (Item 18649) on this website.
■Mad Laser (MA Chassis)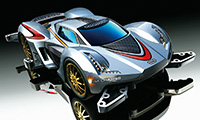 Also appearing in the Mini 4WD PRO series is this new model – the Mad Laser! The thoroughly modern design sees the rear fenders bridged by a rear spoiler. The midship-aero MA Chassis is molded in Gray, wihle A parts such as rollers are a low-friction Light Gray plastic. ★Fin type wheels have a stunning matte gold color plated finish, and are paired with low-profile tires. ★Stickers are included to apply markings, in addition to depicting carbon fiber pattern areas and LED-look headlights. ★Gear ratio = 3.5:1.
Click here to see the item information page (Item 18648) on this website.
■Tamiya Decoration Series Event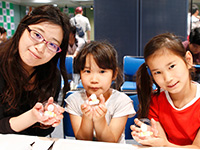 Come along to the Tamiya booth to check out what the Tamiya Decoration Series is about! This hobby enjoys great popularity among all ages, regardless of gender. We will be running an event teaching how to make delectable-looking depictions of sweets from dedicated modeling clay.
Dates: September 30th & October 1st
Event Theme: Making panda magnets (see image to the left)
Fee: 300 yen
※Participation is limited to once per person, and one creation.
Participation: Apply at the Tamiya Booth on the day.
■Get Some Shopping Done!
Don't forget to stop by the Tamiya Shop which will be set up in the Tamiya booth, and take a look at the exciting products on sale!