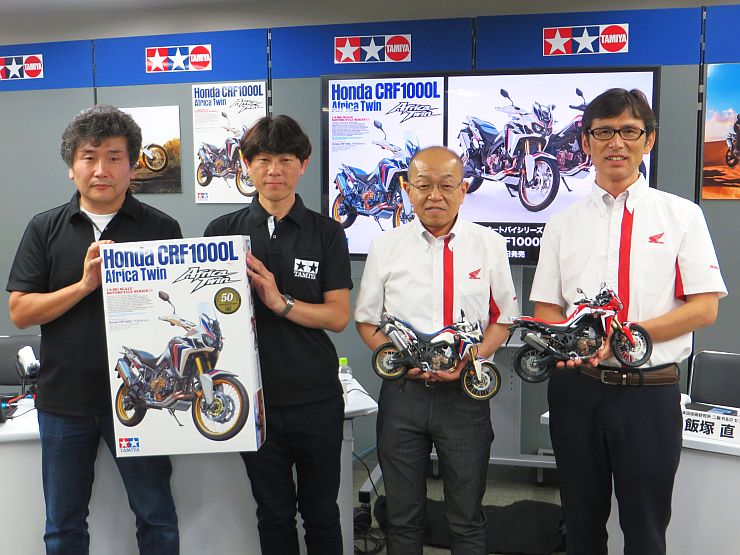 CRF 1000 L Actual car of Africa Twin, people who commercialized models. (From left) Mr. Takehiro Ueno, Tamiya Planning and Development Department, Mr. Takahisa Furuya, Mr. Nao Iizuka and Mr. Akihiro Komatsu of Honda R & D Center, Honda R & D Center.
There were a lot of fans, we met various difficulties to meet that expectation, people gathered up a great product. Based on the theme of a motorcycle named "CRF 1000 L Africa Twin".
 "Ride Africa Twin Meeting" held at Tamiya Plastic Model Factory in Shinbashi, Tokyo on 24th June was done as a commemoration of the launch of Tamiya's 1/6 scale model "Honda CRF 1000 L Africa Twin" . Part 1 involved in the development of real cars of Africa twin, the second part told the guests about the staff involved in developing models of Africa twin, their births, the world view, commitment as a developer. The venue will be filled with real fans, model fans, and both fans.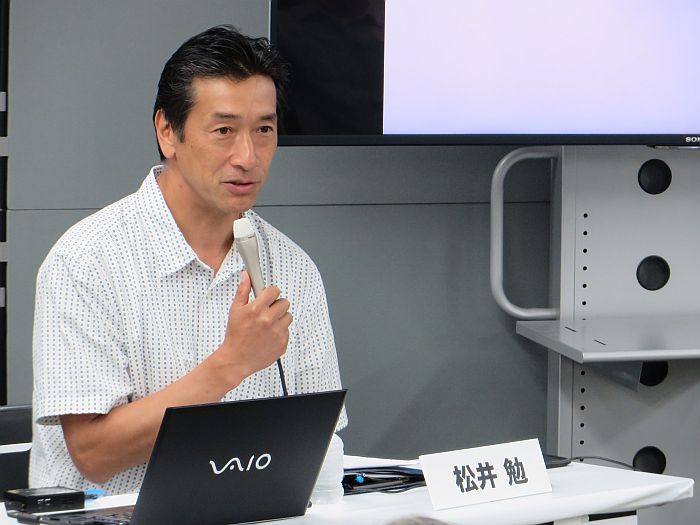 As I once owned, Motorcycle Journalist Ms. Tsutomu Matsui who is familiar with African twin, such as trying the new model at South Africa's global test ride, route 66, Baba 1000 course also appeared in the guest.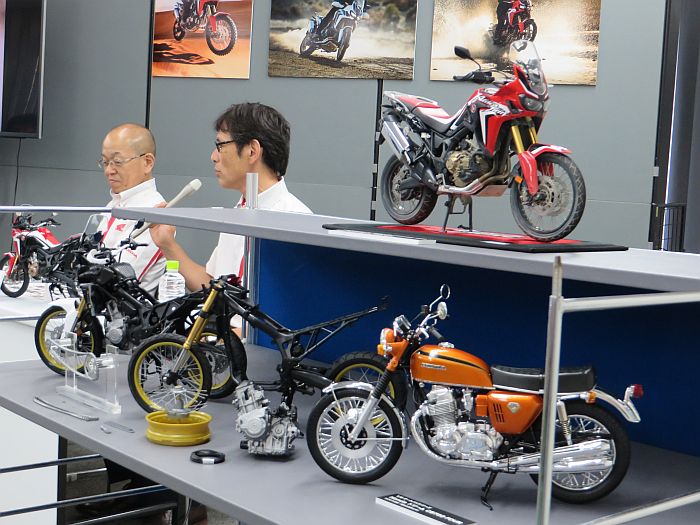 Like "CB 750 Four" which became the first work of Tamiya 1/6 scale model, the 42th work "CRF 1000 L Africa Twin" also has depth feeling headlights, emblem without using decals, metal parts and screws for rigidity of the car body We reproduce the precision just like actual vehicle, such as securing.
With the "Go anywhere" as a keyword, the motorcycle that can travel the world · CRF 1000 L The development of the real car of the Africa twin started in 2013 when Honda began returning to the Dakar Rally and participating in the war. Demand for adventure models globally has increased, but the model that the new African twin modeled was a former model . Developers of the Honda R & D Center two-wheel R & D center, since the first model appeared in 1988, there are people who have a feeling for the same car all over the world, considerable hardship to reach the performance, design which such people can convince there was.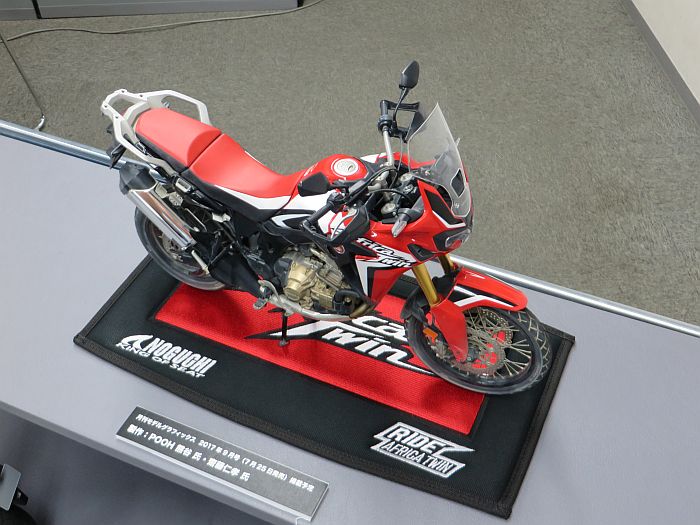 For those who took part in this meeting, the Rigid Africa Twin Meeting Secretary prepared specially prepared replica of Noguchi seats and bivouac mat (not for sale). It is a motif of what HRC's works machine CRF 450 RALLY fighting the Dakar Rally will use when parking, making it ideal for 1/6 African twin display. Of the 7 pieces produced, 6 pieces were offered to the competition.
 Meanwhile, one of the models of 1/6 scale just released on the day of the meeting on the day of the meeting, talked about sticking to this product again, hardships and so on. Among them, the pleasure to assemble is being scattered everywhere, such as putting a force on the slide mold to unitize the parts of the crankcase, and reproducing the spoke wheel with four parts. "Chain Assembly chain set" prepared as an option for detail upgrade is a part that will be the first edition of "CB 750 Four" released in 1970 as the first work of Tamiya 1/6 scale model. Because it is the same structure as the real chain, at the time it was said that the trouble of assembling one frame per frame was unpopular, but indeed this one can be connected using a special jig.
 About this passion for making products, this time the developers of both Honda and Tamiya saw the finish and saw scenes that honored each other. On July 22nd and 23rd, there will be events hosted by actual cars in Gunma Prefecture · Kita Karuizawa , but I would like to set up a place to show off the work of people who made 1/6 scale model.
The engine is a DCT specification, and a shift switch pedal which is prepared as an option in a real car is also made into a part. The center stand, which is also an option here in a real car, reproduces the elongation of suspension like a real car when it is on. In a wheel made of four parts, he said he wanted to make the spokes thicker for strength and mass production at the production site, but the developer said that he did not yield 0.7 mm thinness. It is easy to assemble, has elasticity by using ABS, it is hard to break. Suspension is movable back and forth, and you can enjoy sagging / tightening just like an actual car by assembling an assembled chain set prepared as detail up parts.
Source of original article in Japanese language: Mr. Bike Web