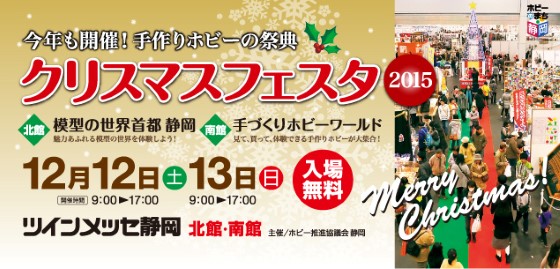 Handmade hobby large set twin Messe Shizuoka!
Also to enjoy together in your friends and family at Christmas Festa of different hobbies, will be on display is divided into model makers and handmade zone this year. Exhibition of Shizuoka model maker of interest from all over the world impressive enough! It provides the joy of play to make the model, such as handmade classroom. ⇒ Christmas Festa official site is here.
– North Building Tamiya booth ~
Mini 4WD fan Thanksgiving 2015, Saturday 12, Sunday 13
2015 last Tamiya certified four wheel drive mini event will be "Fan Thanksgiving". The housed this year of running, please enjoy free travel.
Use Circuit appeared "Champions Road 2015" is the tournament official course (12 June 13 both become any under consideration), and 13 January 2015 one of the rest is served up to the day.
Others, also will be held, such as large lottery fun exhibition space and us as a people of four wheel drive mini gallery. "Four wheel drive mini fan Thanksgiving 2015" information is here
Mini 4WD Championship 2015 Saturday, 12
will be held "mini four wheel drive championship," which determines the four wheel drive mini apex this year! Battle of the stage "Champions Road 2015" is studded section of last year as well each tournament official courses, courses were up the difficulty level. This every one of the difficult course Champions is how to clear! ? (※ championship you can participate only Champions Qualified Person) "mini four wheel drive championship 2015" information is here
Tamiya product sales corner, Saturday 12, Sunday 13
Popularity of mini four wheel drive (Kit, parts etc.), it was perfect and original goods around the craft tool or the like. Please come to the souvenir of your souvenir
Mini 4WD Workshop, Saturday 12, Sunday 13
at any time accepted! Finished machine, you can run at the circuit that was installed at the venue. Popular MA chassis this time, mini 4WD PRO "spark Rouge", "Tri-Gail," we've prepared three types of "blast Arrow". Locate the favorite machine, let's challenge to the Workshop! ※ pay 972 yen (including tax)
1/1 Aero Avante exhibition
Avante has been completed in the big project of the dream of a four wheel drive mini "Aero Avante" to the actual vehicle. Please use all means close the force of style! ⇒ 1/1 mini four wheel drive vehicle projects special website – South Building Tamiya booth ~ [Suites decoration experience corner] 12 (Sat), 13 (Sunday) ※ day reception. Ticket distribution. Exit as soon as capacity.
★ brooch of glittering Prabang (1 months)
400 yen (including tax, material cost included) Duration: 30 minutes
★ Christmas bread cake
900 yen (including tax, material cost included) Duration: 50 minutes