Koshien model contest
Tobu Tamiya Modeler's contest kicked off!
Koshien model fan has also done this year. Not only scale models, from mini four wheel drive to Suites decoration, a wide range of genres Why do not you apply for the Modeler's contest of charm. Summer of big events, in Tobu Tamiya Modeler's gallery we have held a model contest every year. Each publisher Award and Tobu Award, your masterpiece yelling make a Shoten number! Diligently such as Tamiya Award, please by all means show off free work of unique ideas.
Check past Contest Winners 2010 2011 2012 2013 2014
Challenges Award's theme is "the UK"
challenge department of making a particular theme, in the Tobu Tamiya Modeler's contest is the first held. It determines each is only one, anything as long as it related to the theme with OK! It does not have any limit to the genre such as cars and airplanes. To make with straightforward also good, also I think interesting poke a surprise. Please enjoy in the wisdom of someone can come up with. The theme is fittingly to be the first "British"! The item also please enjoy history also a rich British wind model. ★ challenge in addition to award wax Guns Award and Suites Decoration Award , each cooperation publisher Prize has award a total of 11 and the like. Please join with sieved everyone. It also offers prize for participation in the contest all participants. "For more info please refer to the Application Guidelines (PDF)
Movies Application Guidelines (PDF)
※ Please use it to print out.
★ work applicants accepted
July 12 (Sun) – July 20 (Mon) 10:00 to 19:00
Tobu Department Store Ikebukuro 8F fairground special counter "Tobu Tamiya Modeler Contest" clerk
please bring directly. ※ can not be accepted by mail.
★ exhibitions
Tamiya Modelers Gallery
Venue: Tobu Department Store Ikebukuro-Main Building 8F fairground
held Period: July 23 (Thursday) – July 28 (Tuesday) each business hours ※ last day closing time 17:00
★ product, Contact of work applicants
Co. Tamiya "Tobu Tamiya Modeler Contest" engagement
TEL 054-281-2866 ★ work accepted inquiry Tobu Department Store Ikebukuro children kimono books stationery section office in charge: Takeuma (Buma) Sato TEL 03-5951-8664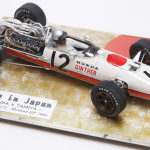 "2014 Tamiya Award-single item department"
[work's] Naoki Hamada
[Title] Made in Japan