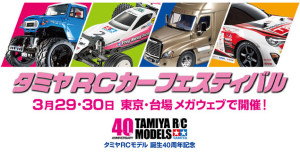 ★ Dates
(March 29 Sat ) 11:00 to 17:00
(March 30 Sun ) 11:00 ~ 17:00
★ Venue
(Koto-ku, Tokyo) MEGA WEB
Held in MEGA WEB 40 anniversary events Tamiya RC model born!
Tamiya RC model was born in 1974 celebrated its 40th anniversary this year, the product of more than 800 has been released so far. 2014 to become the memorial this year, Tamiya will continue to expand the memory model and a variety of events.
Will be held "MEGA WEB (Mega Web" in the theme park the car in Tokyo's Odaiba the "Tamiya RC Car Festival" as a first step the 40th anniversary of the event. "Try! Tamiya RC experience run meeting of the electric RC car can ride a large RC and trailers "" trailer riding experience Corner ", to run the RC car a rocky mountain and" rock crawling field "is an event that can be enjoyed with all one's might the RC Hobby Tamiya.
course RC car race of spectacular full of "Tamiya pattern. race held, will be recording the event to be delivered at a later date YOUTUBE also RC Car Grand Prix. "the venue creator of Tamiya RC model, TRF works driver waterfalls and Dr. is also. then coming popular to" four wheel drive mini tool classroom "(fee required) will also enjoy an electric RC car of Tamiya weekend of Spring Break held at the same time.!
At the venue "child Motor Show Event Dates: 3/21 (Fri) – 30 (Sun)" . be held in a children of course, Please come by all means an adult can enjoy the "MEGA WEB".
Incidentally at the same venue this time followed by, "Tamiya RC Car Festival" five times in the year 2014 in June, August, October, and December It is scheduled to be held., please stay tuned. ⇒ 1st Tamiya Grand Prix in MEGA WEB race report is here.
40th Anniversary exhibition Tamiya RC model
is the exhibition corner look back on the history of Tamiya RC model, which celebrated its 40th anniversary this year. The products are exhibited in the 1970s decorated with the early days of the RC model This was the first time. Please see tanks, F1, racing cars, such as off-road buggy, a model who full of personality.
(Even RC car festival in the future, make the 40th anniversary exhibition in a different theme each time)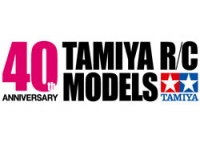 Held talk show creator of the Tamiya RC car by the "Waterfall Doctor" and "RC Car birth secret story"! (Only March 30)
the finest cars of yesteryear No. 1 RC car electric Tamiya and "Porsche RSR 934 Racing" and "Avante", a large number held a talk show "Dr. Waterfall" was designed and the design of RC car is attended. Will lecture on "RC Car birth secret story". (Sun) 2:00 p.m. to 2:30 p.m. scheduled March 30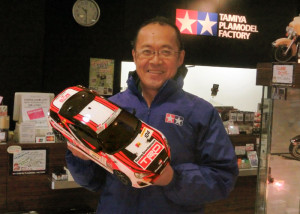 Tamiya electric RC car race " Tamiya RC Car Grand Prix (only March 30) "holding
recruiting large participants first! Let appeared to WEB video with races!
The best part of the RC car race to run at the same time in a multi-volume, even if I say anything. for those who were previously thought to have a high threshold race events recommended is the "Tamiya RC Car Grand Prix". (Held in all five classes will be running the new car and "Junior Grand Prix" of elementary and junior high school students only and women only "Neo Frog," "Buggy Grand Prix", the unique MEGAWEB such as "Toyota Grand Prix 86" entry is here ). In addition, the pattern of competition, will be published at a later date YouTube. !, Please join us
(Sun) 13:00 – 16:00 – qualifying race race 30 May ★ 3
"Try! Tamiya RC" electric RC car experience run society (Join 29th of March, held on the 30th)
and! "try with all one's might try to run the RC car of Tamiya! I can challenge the RC maneuvering with a simple mini game Tamiya RC ". Machine ready Tamiya course. Participation is free of course. Please join us and invite your friends.
★ (Sun) 11:00 to 17:00 scheduled March 29 (Sat), the 30th
RC trailer passenger experience corner (Only 29th of March)
Let's ride the 1/14 scale RC trailer. I will conduct the trailer riding experience that targets elementary school age or younger.
★ (Sat) 11:00 to 17:00 scheduled March 29
The challenge to Rock Crawling! (Only 29th of March)
Let's beyond an electric RC car a rocky artificial!
challenge difficult course in the crawling machines, such as "Toyota Land Cruiser 40"!
machine ready Tamiya course . I enjoy free anyone.
★ (Sat) 11:00 to 17:00 scheduled March 29
Four wheel drive mini classroom work (Only 29th of March)
I made ​​on the spot, Let play! ! Accepted at any time! The vehicle can travel on a dedicated course the machine was completed. This time the popular "mini 4WD PRO Heat edge" I will hold the tool in the classroom. Upon assembly, the staff will teach you gently.
(900 yen tax included two AA batteries included)
Saturday, 11:00 to 17:00 schedule 29 ★ March
Tamiya RC Car Festival will be held
(Sun) June 28, 2014 (Saturday), the 29th
(Sunday) August 23, 2014 (Saturday), the 24th
October 4, 2014 (Saturday), the 5th Sunday
December 13, 2014 (Saturday), the 14th (Sunday)
★ There is a pattern that the event is taking still images, or videos, and is published in various media such as print and website, Tamiya is involved. On your note, please join us. ★ The organizers will pay the best attention to accident prevention as possible, we do not accept any responsibility in the case of damage, such as accident, theft or injury has occurred. ★ Please refrain from drinking in the venue. And also people who have an act to be a nuisance to other customers, the person who can not follow the instructions of the staff, if you are asked to leave, too. Please be forewarned.