【 Relive The Fun! 】  The 2WD R/C off-road car Holiday Buggy made its debut in 1980 and attracted many R/C fans due to its sprightly handling characteristics. Now, Tamiya is proud to release the updated Holiday Buggy (2010), which comes mounted on the proven DT-02 chassis. It features a 4-wheel double wishbone suspension, and its simple, durable construction makes for easy assembly. The durable soft resin body features a pre-painted driver figure wearing a cowboy hat for enhanced realism.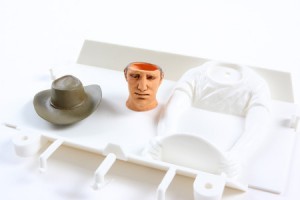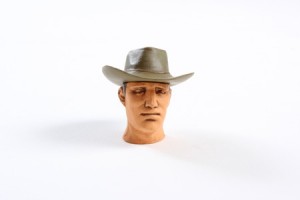 【 Fun-to-Drive DT-02 Chassis 】  The bathtub type frame chassis features a longitudinal battery layout for lower center of gravity and optimum weight distribution. 4-wheel double wishbone suspension is equipped with coil spring damped units to provide superb off-road traction. A sealed gearbox protects against sand and debris and is equipped with differential gears to efficiently transmit the power from the type 380 motor. By installing separately available Type 540 motor and corresponding pinion gear, more powerful driving can be enjoyed.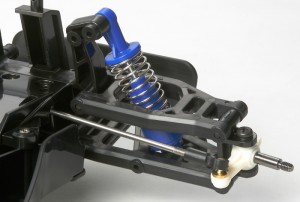 Durable front double wishbone suspension offers smooth movement. Grooved front tires enable superb handling.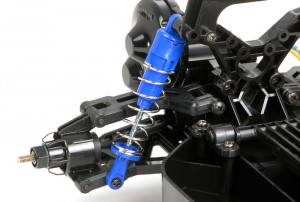 Rear double wishbone suspension is equipped with spike tires to provide the car with an ample amount of traction.
Rear mounted type 380 motor offers a manageable power output. The sealed gearbox is equipped with differential gears.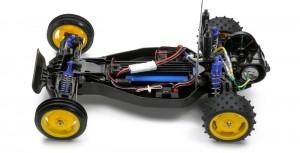 【 Specifications 】  ★Length: 390mm, Width: 240mm, Height: 164mm ★Wheelbase: 260mm ★Ground Clearance: 26mm ★Weight: 1250g ★Type 380 Motor Included ★Rear Wheel Drive 2WD ★Tire Width/Diameter: F=22/81mm, R=39/86mm ★Tread: F/R=217mm/208mm ★3-Bevel Differential Gear ★2-Piece Steering Tie-Rod ★F/R Double Wishbone Suspension ★Gear Ratio=15.77:1
【 Separately Required Items 】  ★Finespec FM Radio Control System w/ESC  ★R6/AA/UM3 Batteries (x8) for Transmitter
Admin comment: The promotion and meeting show that in Japan a quite important role is expected for this model as a new beginners entry kit: 😎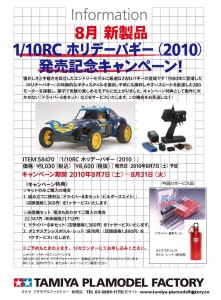 Electronic translation:
1 / 10 RC Holiday Buggy (2010) Release Information Campaign
August 07 (Saturday) will debut a new product "1/10RC Holiday Buggy (2010)," done to celebrate the launch of the campaign.
2-wheel drive buggy to enjoy off-road driving feel from the road, "Holiday Buggy" Why not start life in RC.
Please please take this opportunity to purchase.
Campaign Awards ★ ☆
[If you purchased kit only]
Assembly – Convenient
This set of eight screwdrivers will be given for one month
[If you purchased the radio, together with the kit]
– Assembling a useful set of screwdrivers and
a Stainless steel bottle – Red Tamiya (for cold) will be given for one month
– Eight AA alkaline batteries for transmitter.
Campaign period ★ ☆
August 07, 2010 (Saturday) – August 31 (Tue)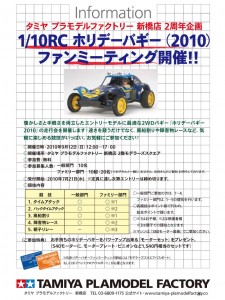 1  / 10 RC Holiday Buggy (2010) Fan Meeting Information
Ideal entry-level models of both the convenience and nostalgia 2WD buggy "2010 Holiday Buggy" (to be released August 07) in our shop for you to enjoy the charm of the division balloons and Time Attack, fun and obstacle race. Holiday Buggy fan meeting we planned.
Customers can participate in the Holiday Buggy power motor set for free!
We offer you the General Division and Family Division.
Please feel free to join us in like family in person!
Conference on ★ ☆: September 12 (Sunday)
12 ★ ☆ ~ at 17:00
Entries ★ ☆: Pre-Application (s)
※ ★ ☆ reception is July 21 (Wednesday) to accept.
Number Wanted ★ ☆
General Division ★ ☆: 10
Family Division ★ ☆: 10 pairs (20)
Deadline ★ ☆: Please let me Once it's closed capacity.
Competition details ★ ☆
1 ★ ☆. Time Attack
2 ★ ☆. Bakkutaimuatakku
3 ★ ☆. Balloon split
4 ★ ☆. Steeplechase
5 ★ ☆. Family Relay
Benefits Join ★ ☆: Holiday Buggy can power up your existing set "motor" will be to award.
(540 motor, motor plate and pinion set worth 1,540 yen)
Join ★ ☆ machine event the "380 motor mounted" thank you on.
Source: Tamiya, INC.