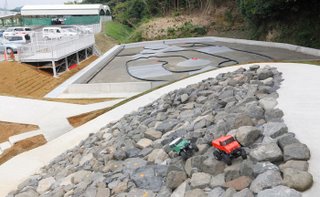 Without rocky road to ride the full Fields enjoy the charm of the birth of the circuit is Kakegawa Tamiya. Thousands of stones placed in the difference in height 3.5m, average 17 ° oblique degree, a large section area of 110 square meters, an event held rock crawling, of course, a charms and many plan to disseminate information.
– Course Overview
Width of 13m, depth 8.5m, difference in height 3.5m, average inclination 17 °
Expert challenging, of course, is the first time rock crawling for beginners and offers from multiple lines to be run on natural stone is placed in a fine. Also in the field using the stairs as embedded stones, along with the driver of the car can go up. In addition, the concrete pavement in the field of outer charity, after climbing for a safe return to the consideration.
– About the machine running
Toyota Land Cruiser 40 and CR-01 chassis, Tamiya, such as the Ford F-350 can be made of driving the car.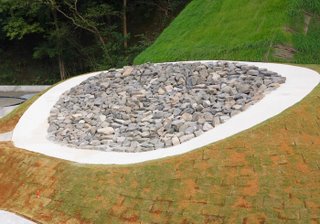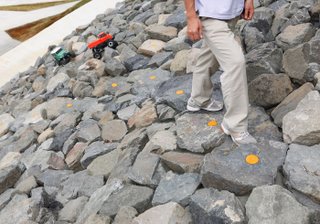 – Opening
Saturday, October 4, 2008 5 (Sun), this "Kakegawa rock crawling Tamiya" commemorate the opening of the meeting's running. Shizuoka locals, of course, heard of the course is open to entries from afar, with a set of 26 players. Mini-grade technology to compete in the event, also watched a number of galleries. Choose a line and running safely, to reach the summit, and other players, of course, a big applause from the gallery was awarded.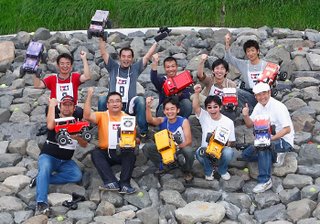 Source:
Tamiya, INC.