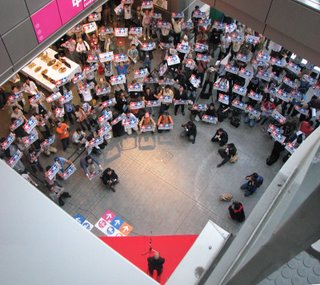 This year also safely to the 47th Tokyo Game Show was over.
Shiyunsaku Tamiya In fact, the president is on June 1, 2008, will be chairman. The new president is currently senior managing director Masayuki Tamiya. This year, the president of the Tamiya Shiyunsaku Tamiya joined exactly 50 years to become a milestone in a year.
So everyone's president "Thank you! president" is trying to think, is pressing ahead with operations fans.
Every year, the first day of public open day on Saturday evening in the country has been gathered from all over the modeler party exchanges in a joint exhibition venue. Therefore, organizers of the party's Shizuoka Shiyunsaku Tamiya cooperative model as chairman after the speech, all of a sudden the message posters.
The posters were prepared by the official 1,000. good sense of the president should not advance. So just before 20 minutes before the party, just 10 minutes in 1000 to distribute the posters off the one-time rehearsing the production that immediately. During this time, the president of the venue Shiyunsaku Tamiya Tamiya Sone not like to ask the executive director Tamiya booth in the meeting room to get off your shirt.
In fact, unforeseen circumstances and there are many fine episodes in the result was a complete success! In general, only 10 minutes in 1000 to distribute posters off the description of the spot, then only one rehearsal are going well, with normal circumstances. Formed in the last minute on the day of the surprise operation with more than 30 staff, and above all participants Shiyunsaku Tamiya, president of the feeling that there is a great success!
By the way, and I once wrote in rehearsal, but also people in the front row of the excitement and hoist high the man behind the posters on the stage too difficult to see from the other places time. Looking at this picture production, but will be in the front row of people with low Thank you well. And the president just before noticing a two-fold in the concealed, even if you do not, I try upside down when some people have said to me before and what people are talking about, or if, but such How many people who come from an image. But the excitement is back well.
From what I hear, chairman said it is "retirement" is not mind.
"Thank you! Shiyunsaku Tamiya president!"
Electronic translation
from