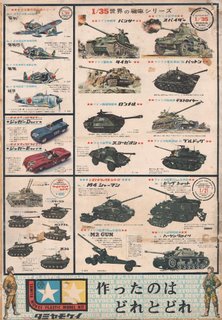 Tamiya's current confidence is not just a model not only the body but it's good, and not in the building. After-sales service, public relations, market research, study and try to look astonishingly dense activities. It also turned as a manufacturer of plastic model from the beginning. This is our laboratory's oldest save the poster to the public.
1 / 35 Panther tank's success since its sold-selling lineup of tanks, 1 / 21, 1 / 35, World Series and the tank is divided into three classes done. Experts also rating higher than 1 / 50 series and Japan Aircraft moving gimmick combined sum of imposing automatic Jaguar lineup.
A highlight is 1 / 35 series of new products as "light tank American Destroyer" is being introduced. Carefully 1 / 35 as a model dimensions and "TKK25 motors, C battery x2" written in so far as the model of apparently was trying to file. In fact, this comprehensive catalog describing the 1964 version of it. However instead of being released, and the blank kit No. 10 has a speed contest M41 is a last minute as previously reported. New collection of the museum will be a huge problem, pocket Destroyer T92 series are utilized. It is not just a typographic error in the World Series of Stalin tanks and Crusader's name is printed on the coming and going wrong.
It is difficult to understand in this photo, but Patton bulldog and as far away as polychlorinated caterpillar! (Of course the original rubber caterpillar). By the way, the bottom of the illustration is Japan's Shigeru Komatsuzaki soldiers artist, but the ride is the right person in a stream that had been released, but this person is left after a 10-year wait for further vehicles.