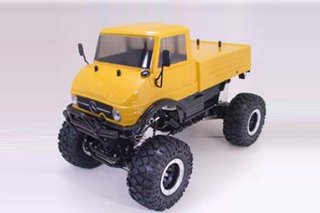 Tamiya 58414 Mercedes-Benz Unimog 406 U900
It is interesting and very pleasing to see that Tamiya again used a vintage classic for the body of their second CR-01 kit, will be interesting to watch if this series will also in the future bring more classics, the team of tamiyablog.com hopes so. The chassis and technical specifications are the same as at the Tamiya Toyota Land Cruiser 40 – CR01 so details won't be repeated here, except some facts about the Mercedes Unimog:
Unimog designates a range of multi purpose four wheel drive medium trucks produced by Mercedes-Benz, a division of Daimler AG. The name Unimog is an acronym for the German "UNIversal-MOtor-Gerät", Gerät being the German word for machine or device. They are built in the Mercedes truck plant in Wörth am Rhein in Germany.
New Unimogs can be purchased in either of three series.
1. Medium series 405, also known as the UGN ("Geräteträger" or equipment carrier), is available in the U300-U500 model.
2. Heavy series 437, also known as the UHN ("Hochgeländegängig" or highly mobile cross country), is available as the U3000-U5000 model.
3. U20 is the smallest Unimog. It is based on a shortened U300 frame and has a cab over engine compartment from the Brazilian Accelo light truck (Caminhões Leves) series.
The first model was designed shortly after World War II to be used in agriculture as a self-propelled machine providing a power take-off to operate saws in forests or harvesting machines on fields. It was designed with permanent 4WD with equal size wheels in order to be driven on roads at higher speeds than standard farm tractors. With their very high ground clearance and a flexible frame that is essentially a part of the suspension, Unimogs are not designed to carry as much load as regular trucks. Unimog series is improved constantly and still produced, that is now already 61 years!
Due to their off-road capabilities, Unimogs can be found in jungles, mountains and deserts as military vehicles, fire fighters, expedition campers, and even in competitions like truck trials and Dakar Rallye rally raids. In Western Europe, they are commonly used as snowplows, municipal equipment carriers, agricultural implements, construction equipment and road-rail vehicles.
The Tamiya kit includes a 406 body and the 406/416 middle series production started in 1963. They were equipped with a six cylinder diesel (OM312) producing 65 hp (48 kW). The 406 and 416 are similar, The 416 having a longer 2,900 mm (110 in) wheelbase compared to 2,380 mm (94 in) for the 406. Later models were equipped with the direct injection OM352 diesel engines starting with 80 hp (59 kW) and going up to 110 hp (80 kW). Production of the 406 and 416 series ceased in 1988, that is a production run of 25 years for this series!
Unimog series numbers like 401, 406, or 425 in this article are the factory numerical designation ("Baumuster" in German). Unimogs also have a sales model number like U80, U120, or U1350. Each series can have several model numbers, as they are equipped with different engines.
The "U" model numbers were roughly equivalent to the horsepower of the engine. A 424.121 with a 2,630 mm (104 in) wheelbase equipped with the 100 hp (75 kW) OM 352 engine is a U1000. A 427.100 with a 2,650 mm (104 in) wheelbase and the 100-hp 366 engines is also a U1000. Starting in 1976, model numbers have an extra 0 at the end, which would mean that the Tamiya one is an after 1976 80/84 hp version. However, more recent models like the U5000 are really only rated at 218 hp (163 kW).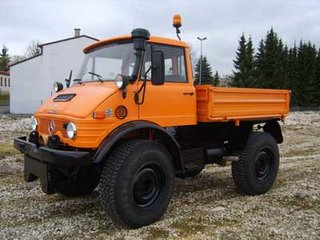 Real 1986 Mercedes-Benz Unimog 406 U900
Tamiya will also release a special lexan colour for it, 86056 PS-56 Mustard Yellow.
As a visitor has correctly commented, did Tamiya release so to speak the "Junior" version of the new Unimog in the mid eighties (item number 19009). Though the early Mini 4WD models from Tamiya were mostly "Junior" versions of already existing RC-models, there are quite a few body designs that were first released as Mini 4WD models and then later as RC-models. However, the Unimog is quite unique as it took Tamiya more than 20 years to release a "big brother" for their Unimog "Junior"! It's a "late", but very welcome release indeed!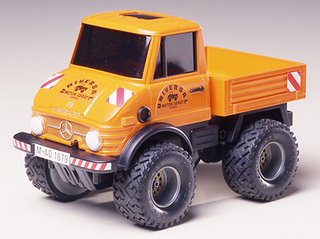 Update 01.08.2008: Release date in Japan is September 20th 2008.