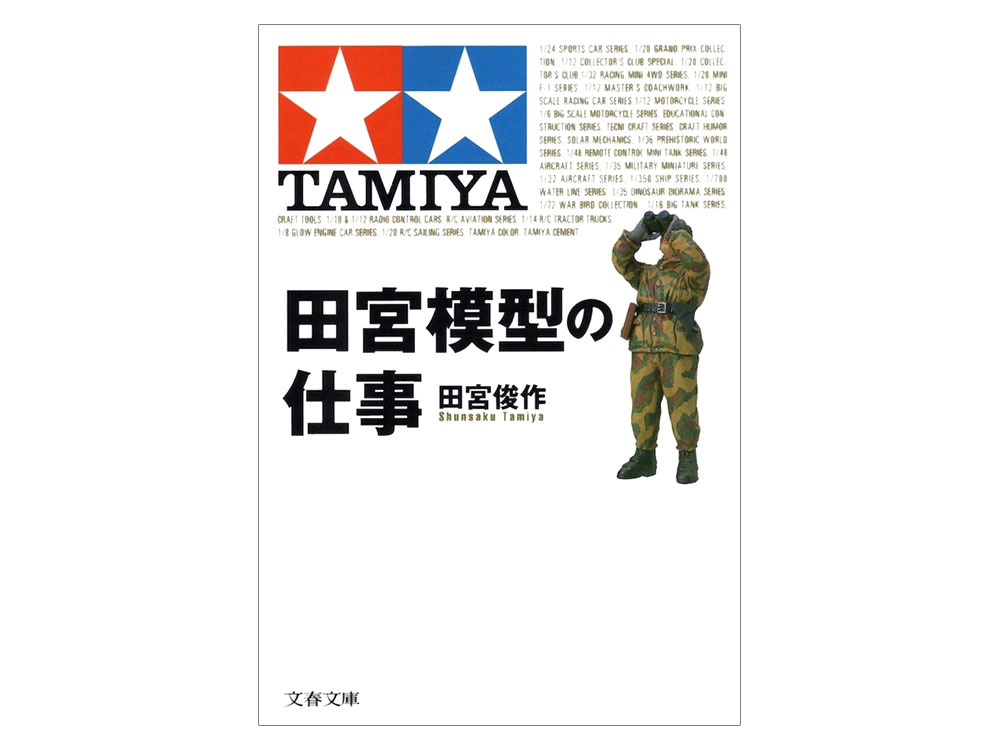 From wooden models to plastic models, RC models and mini 4WD, Tamiya Models' Work, which describes the path taken by Tamiya Models through numerous interesting episodes, is now available in a paperback edition of a reasonable size and price. In addition to the contents of the long-selling hardcover edition, the book also contains secret stories about the development of aircraft models, waterlines and F1 models, as well as a large number of valuable photographs. (A paperback and e-book edition are now available.)
Contents
Chapter 1: A happy encounter with wooden models
This is how I met models. Is that the inverted gull-shaped wing?
Chapter 2: Turning to plastic modelling in tears
The first model "Battleship Musashi" suffered a huge deficit and made me hungry.
Chapter 3: The Mold is the Life of Plastic Models
The arrogant mould maker, but we have no choice but to endure. Why? The rapid decline of the slot car boom
Chapter 4: Research is the basis of model making
The Aberdeen Tank Museum: a series of discoveries ●The Tamiya Hall completed at the Bovington Museum ●Participation in the restoration of the "Seiran" at the Smithsonian Air and Space Museum ●Flying to Israel to cover Soviet tanks ●Covering snow at the Patton Museum at seven degrees below zero ●The wonderful staff who will never be forgotten ●The rival is "Air"! Fix Magazine"? The first issue of "Tamiya News" ●The launch of "Soldier Dolls" greatly expanded modeling expression ●"Pose before two frames", a secret of Yasuo Otsuka ●Modelling the Schwimmwgen, a famous supporting character on the battlefield ●The joy of dioramas is to weave stories ●Why are tank models so popular ●The birth of unique water lines ●Take Ueda Meeting Hachiro-san
Chapter 5: Going all out is the world of the hobby
The only way is to buy a real Porsche 911 and take it apart ●Former accounting department employee who developed a "quiet RC car" ●Electric RC cars are developed through education that respects employee autonomy Tamiya's RC cars kick up sand in California. Solar-powered cars – The face of Tamiya in the world, created by F1
Chapter 6: 18 Years of Mini 4WD with its peaks and valleys
The first Mini 4WD failed to win the hearts and minds of children ●The Mini-4WD developed as the younger brother of the Wild Wheelis ●Let's completely change the design to the speed type ●Children are geniuses at modification and inventors ●Popularity plummets! The Mini 4WD boom is back with a full cowl ●Ingenuity and determination are the real appeal of Mini 4WD racing ●Tamiya's "Seriousness" is packed into the Mini 4WD.
Last Chapter: A Foreigner's View of Tamiya Models
Memories of Shunsaku Tamiya Towards Tamiya's 21st Century
Commentary by Richard Koo (Economist, Nomura Research Institute)
Shunsaku Tamiya, Bunshun Bunko
An e-book version of The Work of Tamiya is also available. Please use the electronic version, which can be easily read on a variety of devices. (Contents are the same as the paperback version.)
To purchase the e-book version, please click here.
Bungeishunju BOOKS e-book 'The Work of Tamiya Models'