Some of the scale models and new RC products that are being developed for sale are released. The 1/35 MM series and the 1/12 motorcycle series have two completely newly designed items, the 1/35 RC tank series M4 Sherman, which has been renewed with realistic connected movable tracks, and the 1/10 electric RC car series. Introducing the "McLaren Senna" machine named after the legendary F1 driver Ayrton Senna.
We will inform you as soon as the product release date and detailed information are decided.
Scale models
35380 1/35 British Cruiser Tank Comet
Comet that appeared at the end of World War II as a British tank that can compete with powerful German tanks such as Tiger and Panther. The basic structure of the car body is based on Cromwell, and the large turret is equipped with a powerful QF77mm gun. It received high praise from crew and infantry as a tank with a well-balanced running offense and defense. The comet, which has changed to a more modern appearance, has been modeled on a 1/35 scale with a rich sense of reality based on actual vehicle coverage.

14140 1/12 Ducati Super Leggera V4
Was announced in February 2020 as the best model that can run on public roads in the history of Ducati, is assembled by skilled workers with generous pouring of Ducati's technology. It is a world limited 500 premium bikes. The characteristic modeling is realistically reproduced, such as the V-type 4-cylinder engine, the four wings mounted on the front cowl, the seat cowl with tunnel-shaped openings on the left and right, and the two silencers integrated with the under cowl shape. Did.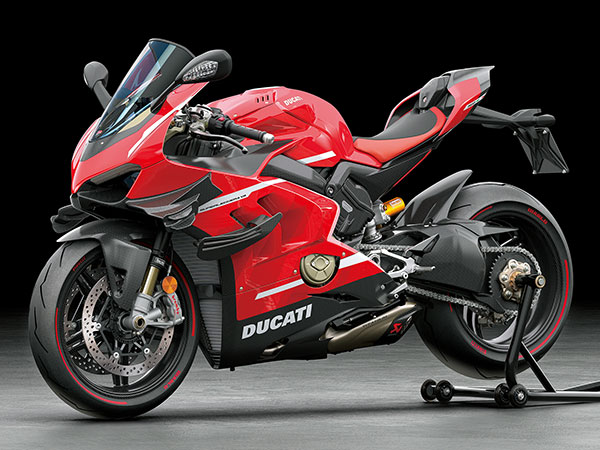 RC models
58711 1/10 RC McLaren Senna (TT-02 chassis)
McLaren's super sports car announced at the 2018 Geneva show. Named after the legendary F1 driver Ayrton Senna, it is equipped with a 4-liter V8 twin-turbo engine that delivers 800 horsepower in a lightweight body that uses a lot of carbon fiber. The body has a functional shape that thoroughly pursues cooling and aerodynamics of each part. Although it is a limited production car of 500 units, the McLaren Senna, which attracted attention because it was already sold out at the time of announcement, was modeled with a 1/10 electric RC car. Shaft drive 4WD "TT-02 chassis" which is most suitable as an entry model is adopted for the chassis. The polycarbonate body is painted white and black, the window part is painted with smoke, the wheel arch is cut, and the body catch is drilled.

48217 1/35 RC M4A3 Sherman tank (with dedicated radio)
50,000 units were produced during World War II, winning the Allied Forces The main battle tank Sherman who led. We modeled the representative M4A3 among many variations as a 1/35 radio control assembly kit with a dedicated radio. In addition to forward / backward movement and left / right turning, the tank's unique super-credit turning, turret turning, and barrel up / down can be operated with the transmitter. The maximum speed can be switched in 4 steps with the touch of a button. In addition, a movable track that can be assembled by connecting is adopted. Not only does it produce a heavy movement even at low speeds, but it also has an exceptional scale feeling when combined with the same precision plastic body as the 1 / 35MM series. I'm also looking forward to waving my arms for painting and weathering.