18658 Chevalier (MA chassis)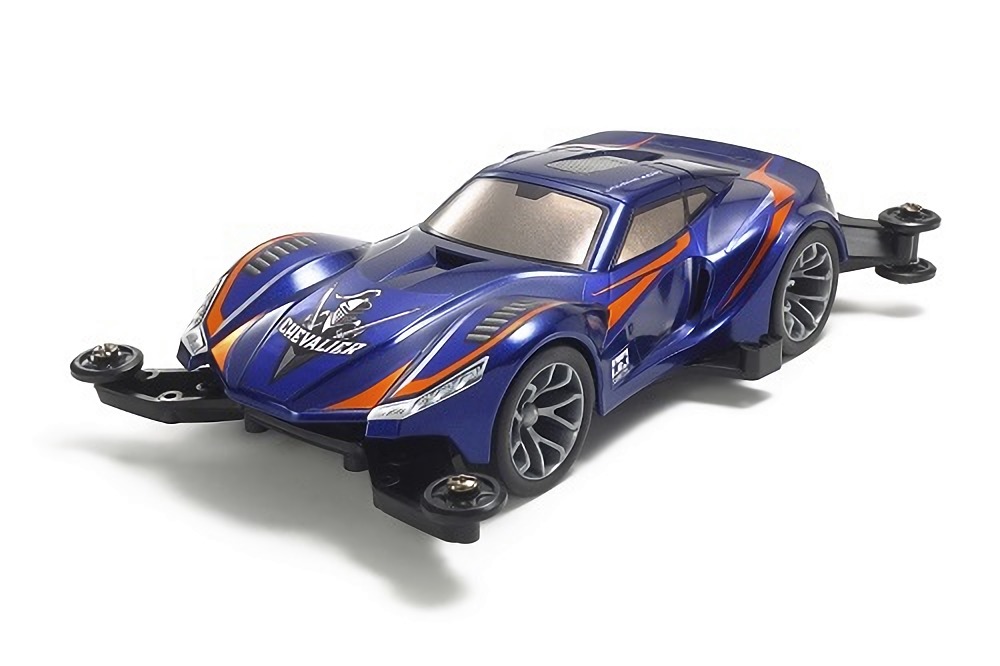 The design of this model is inspired by a sports car with a colour combination of dark blue (bodywork) and black (chassis and A-parts).
The model name is the French word "chevalier", which means knight in Italian.
Model features:
– This is a mini4WD assembly kit from the PRO line. Length: 156mm, width: 97mm, height: 38mm.
– The MA chassis is molded in black ABS and combined with black molded A-parts.
– The dark blue ABS body features a sports car design and a three-part design for easy assembly.
– The silver Y-pattern spoked wheels are matched with black low-profile small-diameter tyres.
– Dedicated metal effect stickers are included to decorate the model.
– Motor type 130 included. The model uses a 3.5:1 gear ratio.
– A wide range of accessories allows customisation of the model.
19803 Lord Knight (VZ chassis)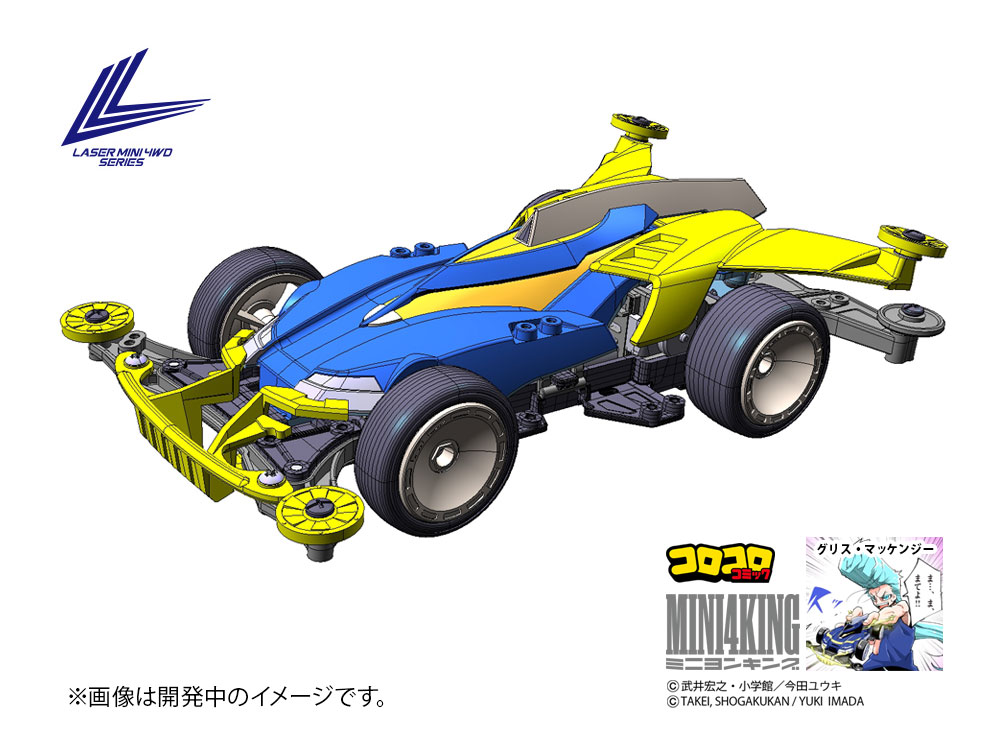 Strong and noble night driving Shaft drive A plastic model assembly kit for high-performance racers that uses four-wheel drive. Rhodonite is a machine driven by Gris McKenzie, the main character's classmate who appears in the manga serialized in CoroCoro Comic, "MINI 4 KING". The sharp styling accents are the canopy guard frame and the rear-extending comb-like air intake. It is one of the characteristic ones with a graceful atmosphere reminiscent of the armor worn by Western knights (knights). In addition, there are three types of special parts that greatly enhance driving performance: a rear high mount roller with a side guard stabilizer function, a front under guard, and a height roller. Not only does it prevent the course from going off and improve driving stability, but the contrast between the blue body and clear yellow is also attractive. The chassis is lightweight, compact and adopts VZ suitable for actual battles, and large diameter slick tires are set on white dish type wheels. The logo on the front with a strong presence is expressed with metallic stickers.
VZ chassis in pursuit of strength and expandability The VZ chassis is a further refinement of the performance of the compact, lightweight, short wheelbase VS chassis that is also popular in racing. While maintaining the excellent features of the VS chassis such as small turning performance and high maintainability, the strength of the bumper, rear stay base, propeller shaft bearing, etc. has been improved. The point is the appropriate "bending" that absorbs the impact. In addition to the rear roller stay, the front bumper can also be split. The degree of freedom of setting is also greatly improved. And the bearing of the shaft adopts 620 plastic bearing made of POM resin with low frictional resistance. A parts such as chassis body and gear cover, and special parts are made of ABS resin. The gear ratio is set to 4.2: 1.
Basic specifications ● Overall length 158 mm, overall width 98 mm, overall height 45 mm ● With motor ● Can be assembled by fitting and screwing without using adhesive