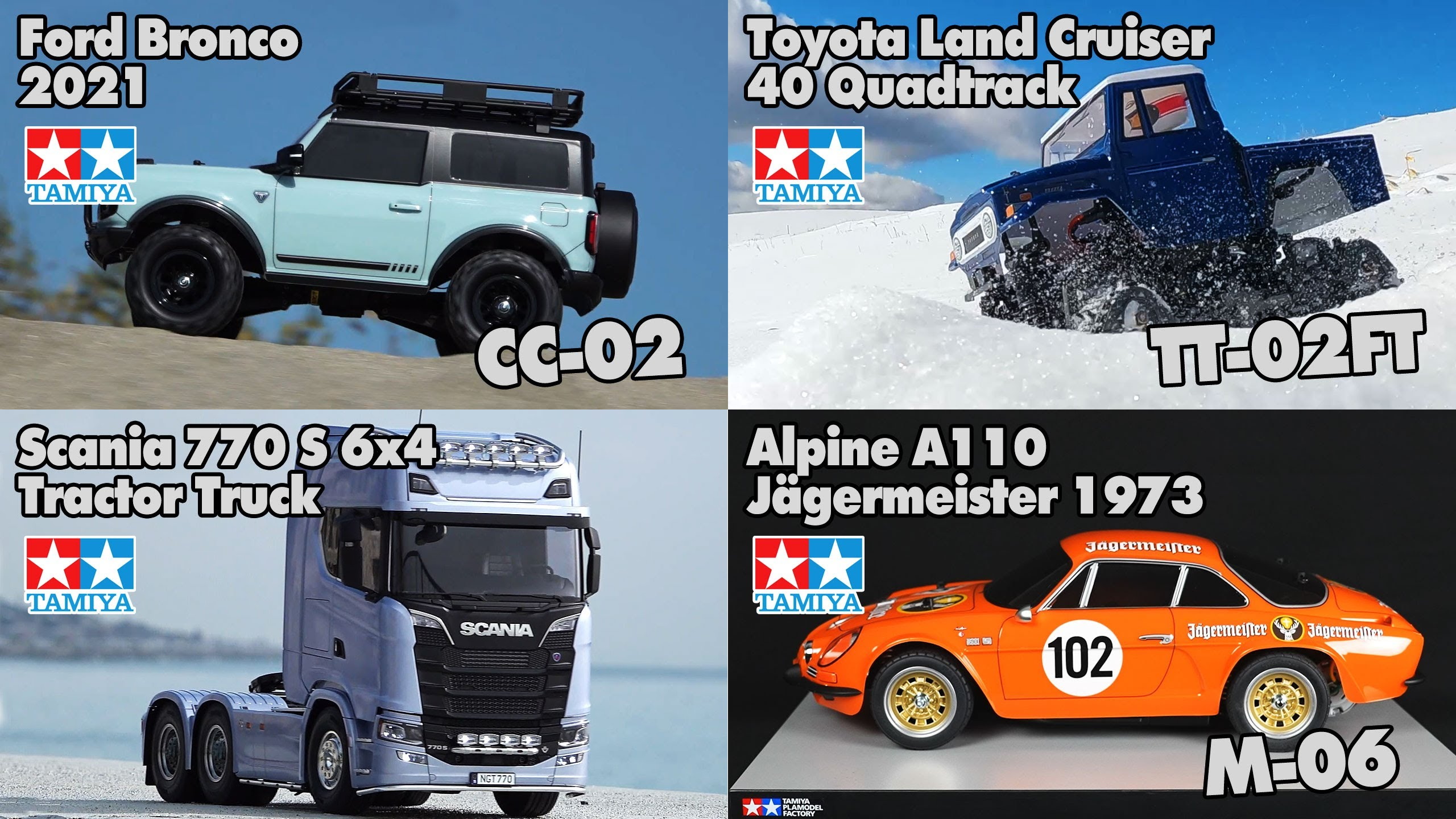 Tamiya 56368 1/14 Scania 770 S 6X4 Semi Truck
Without question, our vast line-up of 1/14 scale radio controlled trucks have captured hobbyists' attention since the early 1990s! We now welcome a new addition to 1/14 Tractor Truck Series – this time, the Scania 770 S 6×4 produced by the Swedish manufacturer Scania. The Scania 770 S 6×4 is one of the trailer heads in the Scania's top-grade S Series – which had undergone a full model change in 2016. This trailer head features a double rear-axle drive 6×4 chassis equipped with a 16.4-liter V8 diesel turbo engine capable of 770hp which was the most powerful in the industry as of 2020.

Tamiya 58704 Toyota Land Cruiser 40 Pick-Up Quadtrack (GF-01FT)
Toyota's Land Cruiser is one of the most recognizable 4WD vehicles in the world, especially the 40, a series which was sold from 1960 to 1984. Now, Tamiya is delighted to announce a new addition – an R/C model featuring the combination of the "square" layout 4WD GF-01FT chassis and track units – as first seen in our RC Landfreeder Quadtrack TT-02FT kit.

Tamiya 58705 Ford Bronco 2021 (CC-02)
Tamiya is proud to announce the release of the Ford Bronco 2021 as our new R/C model on the cross-country CC-02 chassis. The Ford Bronco has been sold since 1966, and the Ford Bronco 2021 was announced as the sixth-generation model in 2021, 25 years since the last generation's release.
Detail Specifics of the Tamiya R/C version:
Tamiya's design team have chosen to give R/C enthusiasts a replica of the best full-size Bronco variant. The R/C model assembly kit depicts the 2-door type's top grade First Edition model. The First Edition Bronco SUV is built for those who have waited patiently for the legend's return. The First Edition is a loaded Bronco combining the best parts of all Bronco series. First Edition Broncos use the mechanicals of a Badlands, the interior of an Outer Banks and the exterior of a Wildtrak to create the ultimate Bronco! Our designers have captured the very essence of the First Edition Bronco in every way possible!

Tamiya 58708 Alpine A110 Jägermeister 1973 (M-06)
Tamiya is proud to add a new version of the Alpine A110 with an orange Jägermeister livery to our M-06 chassis series. The Alpine A110 was a French compact coupe featuring a lightweight FRP body based upon a steel backbone, rear-wheel drive chassis with the rear-mounted inline-4 engine positioned longitudinally. Production continued from its debut year 1963 until 1977, and the A110 attained fame after victory in the 1971 rally in Monte Carlo. In 1973, this car become the first World Rally champion and its Jägermeister orange livery version achieved a class victory in German circuit races.