Winning the MotoGP Champion in the year of the 100th anniversary of the founding
Suzuki, which celebrated the 100th anniversary of the company's founding and the 60th anniversary of racing activities in 2020, will introduce two machines to the highest peak MotoGP class of the road racing world championship. bottom. Team Suzuki GSX-RR, which bears the name of Suzuki's genuine high-performance engine oil brand "Exter", is equipped with a 4-stroke water-cooled in-line 4-cylinder engine and has been making steady progress every year since its debut in 2015. rice field. In addition, the coloring has been renewed from the previous year's blue-based coloring. It has been changed to blue and silver coloring reminiscent of GP racers who were active in the 1960s. The GSX-RR entrusted to Joan Mir and Alex Rins met expectations brilliantly, J. Mill climbed the podium seven times including the 13th European GP victory and became the rider's champion, and A. Rins also won the 11th. Contributed to winning the team title by earning points throughout the season, such as winning the Aragon GP. It was a feat suitable for a memorable milestone year.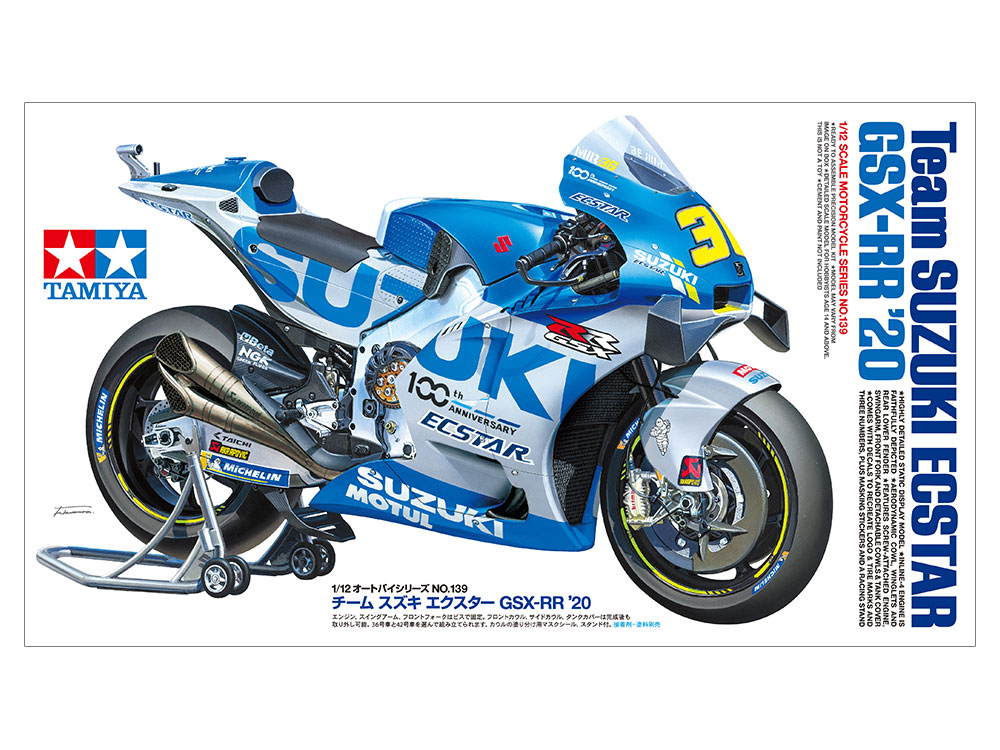 Model outline
★ This is a plastic model assembly kit that reproduces the 2020 MotoGP champion machine, Team Suzuki GSX-RR, on a 1/12 scale. ★ Overall length 178 mm, overall width 62 mm, overall height 100 mm. ★ Precisely reproduces the 1000cc in-line 4-cylinder engine mounted with a large forward tilt. ★ The cowls that pursue aerodynamics are also faithfully modeled. The characteristic winglets and lower fenders are also highlights. ★ In addition to the slide marks No. 36 and No. 42, the number "1" for the champion number and "50" for the test rider Sylvain Guintoli are also available. ★ The tires are made of solid rubber with a rich texture. Michelin tire marks are also included. ★ The engine, swing arm, and front fork are fixed with screws. The front cowl, side cowl, and tank cover can be removed even after completion. ★ Cars 36 and 42 can be selected and assembled. ★ Comes with a mask sticker for coloring the cowl and a stand.