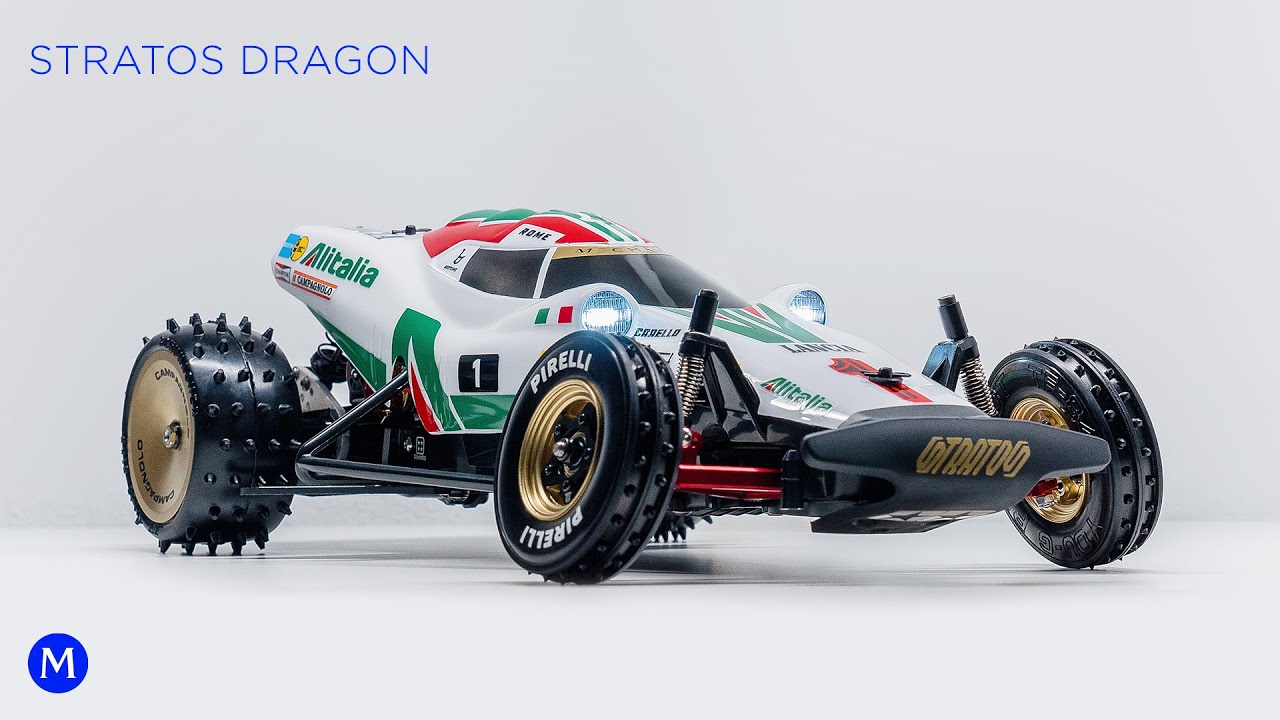 Click on the link to watch the build video in YouTube.
This is a time lapse build of a custom Tamiya Super Storm Dragon adapted into a Lancia Stratos Rally buggy concept. At the end of the video I show the complete results. Of the Tamiya Grasshopper chassis, the Super Storm Dragon (SSD) body in it's box art form is my least favorite—but I'm sure it's relevant and admirable to fans of the '80s Japanese manga/anime RC series where the Storm Dragon originated from. I also feel the body is too long for the chassis but perhaps that was the intent. It's probably supposed to represent a slender mythological Eastern Asian dragon but all I can see is Falkor from the Neverending Story. However, I do like the greenhouse (windshield). Whenever I see it one thing comes to mind—the Lancia Stratos HF from the 1970s.
I wonder if the illustrators of the SSD got inspiration from the Stratos, if they did I wouldn't be surprised. The Italian Stratos came out in the '70s and was purely developed and designed for the World Rally Championship. Designed at Bertone by Marcello Gandini (he also did the Lamborghini Miura and Countach, Ferrari Dino 308 GT4, and De Tomaso Pantera to name a few). Timeline wise, the SSD came out in the early '80s and that Stratos' greenhouse was already an iconic thing. I always thought if an SSD fell on my lap I would frankenstein it into a buggy version of the Stratos. And so over a year ago I came across an SSD on sale for about $86 USD and I couldn't pass it up.
I didn't want to slap stickers and call it a day. I wanted to at least have a little effort in translating it. The SSD body was trimmed and shortened (the Stratos has a relatively short body/wheelbase). I wanted to stay within the rally Stratos color palette and that also meant a careful selection of the parts and electronics color.
Since I don't have any off-road track in my area I knew this would run on tarmac or very abrasive surfaces. I installed a Tamiya Super Stock RZ (on-road 23T, 27k RPM) and at least had to upgrade the stock rear dampers with big bore ones (plus 500 damper oil and hard springs) and compress the front springs for a stiffer ride. The rear suspension axle mount was replaced with an aluminum one that can accommodate the beefier dampers. In addition, a longer 8mm T4 Works rear billet aluminum hanger was added with a makeshift mount/brace to lock the rear suspension in place—just like the Grasshopper's. I feel the Grasshopper performs better on flat surfaces vs the Hornet due to the rear suspension design—the SSD has the Hornet's. The front arms and suspension brace were upgraded to aluminum, the servo saver/steering rod was replaced with T4works aluminum servo saver and steel turnbuckles. Of course the plastic bushings were all replaced with metal ball bearings. The result is very apparent when running it. It's quite stable, runs straight and fast, and the suspension just right (not as bouncy). A few caveats: because the front suspension is set very low and the aluminum arms/knuckles are not adjustable, it has more negative camber than I would like. That would probably be an area I would fine tune in the future. The aluminum arms creates some rattling noise as it doesn't have a snug fit. I think adding rubber sleeves on the connection points to the chassis might solve it. To further improve handling, I need to replace the tires (didn't have the right ones when I did a test run). And for the first time I tried a Dynamite ESC and I think it's a tad glitchy. With some more fine tuning work, this setup can be quite a serious basher.
All this work and parts are not to just add bling. I genuinely wanted to find out what the potential of this iconic beginner chassis is. Ironically, I think it's not worth it if you just want a simple basher (at least on tarmac/flat surfaces). If you're going to "casually" run this on flat hard surfaces, I wouldn't bother with this Hornet/Storm Dragon chassis. I highly recommend going a step down and getting a Grasshopper instead. I've built a Grasshopper for someone and tried a variety of motors in it (380, Sport Tuned 380, 540 silver can, and Torque Tuned 540) and once we got to the Torque Tuned motor, it was lively, fun, just right, and relatively precise. In fact, I love how the Torque Tuned Grasshopper drives that I can't wait to drive it again. However, this Stratos Dragon evolution definitely has more potential.
Parts:
Tamiya Super Stock RZ Motor
KO Propo KR-212FHG receiver
Dynamite DYNS2210 ESC
AGFRC B44LS low profile servo
Metal ball bearings
Robinson Racing steel pinion gear
T4 Works: aluminum servo saver, steel turnbuckles, aluminum motor mount, 8mm billet aluminum hanger, aluminum wheel star disk
YR Big Bore rear dampers
Generic rear aluminum suspension mount
Avante front bumper
M&M rear bumper
Associated rear wheels
Schumacher rear tires
You-G Japan front tires
Tamiya Black DT02 front and rear wheels
Tamiya DT02 front tires
Tamiya Dual Block rear tires
Tamiya rear hex adapter
GPM alloy parts (front arms and brace)
Custom decals
Source: Mechanic After Hours