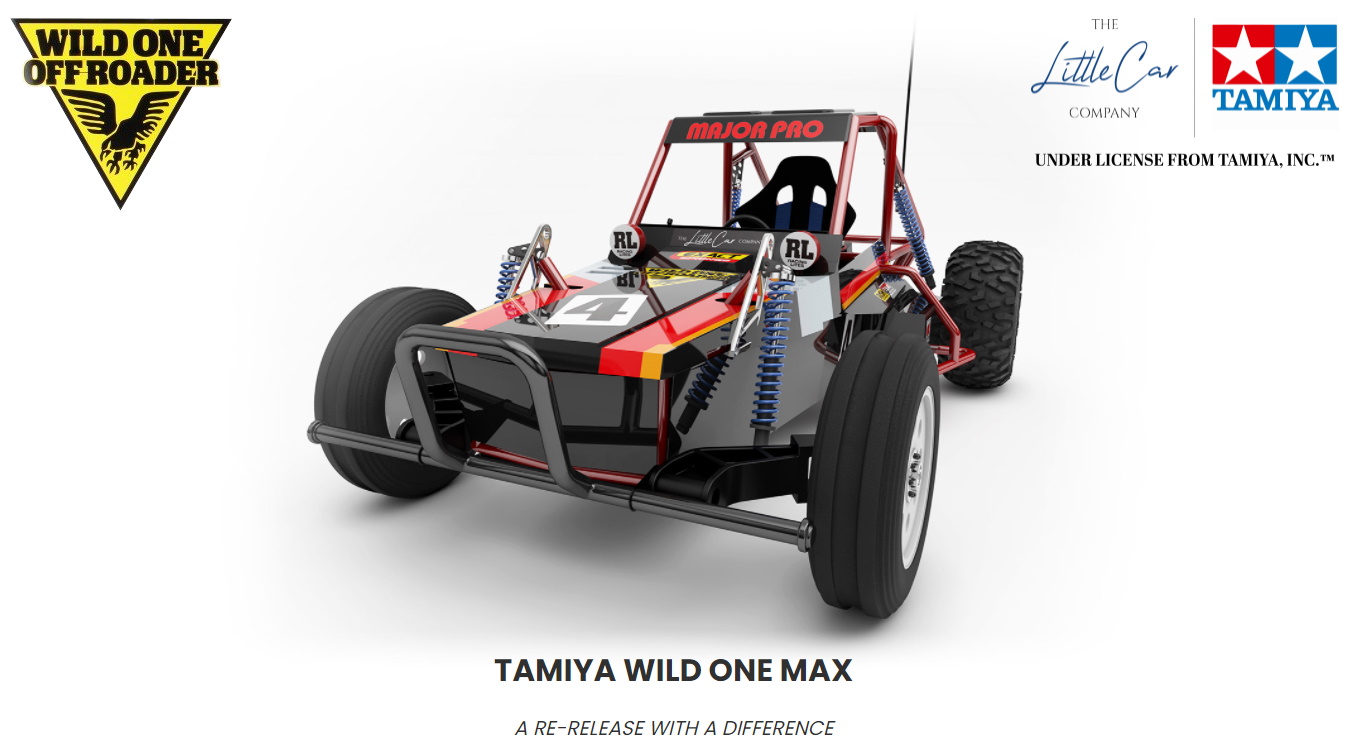 THE TAMIYA WILD ONE IS MAKING A COMEBACK IN 2022
Ask any child of the 1980s what names like the Hornet, Lunchbox, Sand Scorcher & Avante meant to them, and they will likely reminisce about the joys of building and driving the 1/10th scale Radio Controlled cars of their childhood.
The original Tamiya Wild One (58050) was released in 1985 and became one of the brand's most iconic models. Such was the popularity of the model it was even re-released in 2012 (58525) to further acclaim.
Now, we are delighted to announce that the Wild One will make its return a decade later – only this time, with a difference.
BUILT FOR ADVENTURE
The Little Car Company are developing the Wild One MAX for release in 2022 under Licence from Tamiya. Rather than being 1/10th scale, the Wild One MAX will be an impressive 8/10th scale, and you will not need an R/C controller, because it is big enough to drive yourself!
Yes, that's right, developed in partnership with the company behind the Bugatti Baby II and Aston Martin DB5 Junior, the Wild One MAX will be a rear-wheel drive, off road electric buggy. At approximately 3.5m long, 1.8m wide and weighing around 250kg, the Wild One MAX will take up a bit more space than the R/C kits of the past. But just like the original, you get the opportunity to assemble these models at home.
SPECIFICATIONS
Rear wheel drive
Top speed from 48 km/h (30mph)
Peak power from 4kW (5.5 bhp), with a range starting at 40km (25 miles)
15" off road tyres
Hydraulic Brembo disc brakes with regenerative braking
Adjustable driving seat
Racing steering wheel and digital gauges
Multiple driving modes to suit all types of drivers
Lots of Hop-Ups including faster top speeds, more power and even the opportunity to convert your Wild One MAX to be road legal in some countries!
YOUR WILD ONE MAX
Be the first to receive a Wild One MAX when the project is launched in 2022. Prices are expected to start from £6,000.
Pre-order today by placing a fully-refundable deposit of £100.
We will email you with exciting updates as the project develops.

Source and preorder:
The Little Car Company