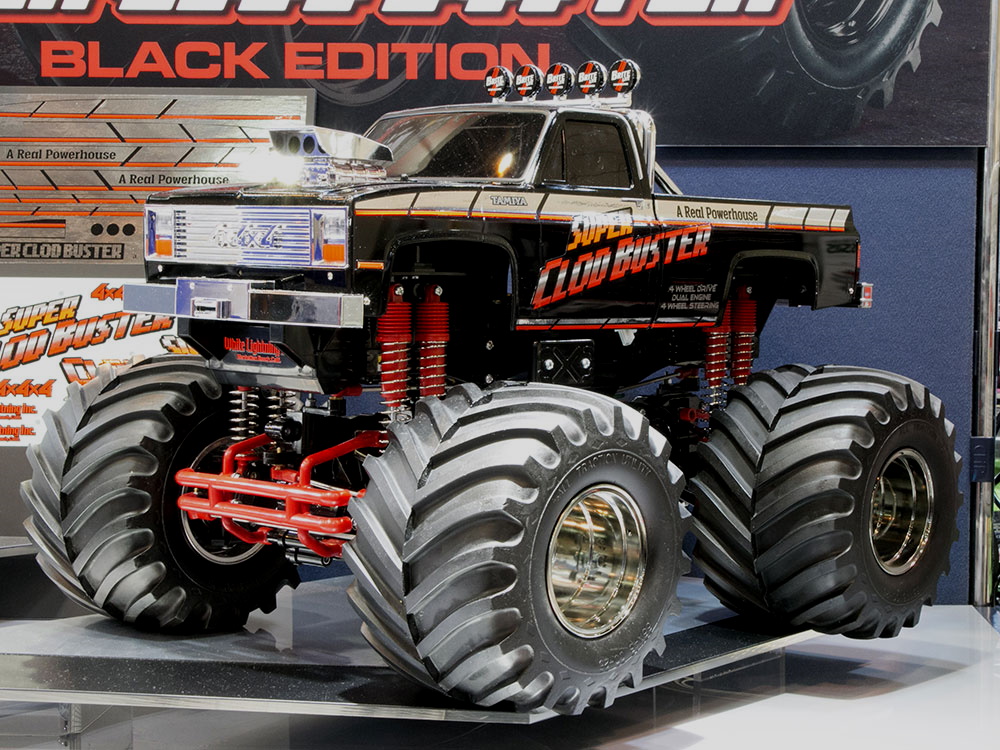 It's back, and ready to obliterate unfriendly terrain just like before! This time, the Tamiya Super Clod Buster appears as a special Black Edition, with new colors for the body and components, a brand-new sticker design and more!
Two motors and 4WS system
The Super Clod Buster is equipped with two motors and tightly sealed gearboxes that have been molded as one piece with axle housing. Minimum power loss and smooth cornering are obtained thanks to a gear train transmission and differentials. The included Dual Motor ESC provides ample power to get your truck over obstacles. Furthermore, this monster truck is also equipped with a 4WS system for 4-wheel drive steering. This feature makes tight cornering with such a big machine easy!
• 1/10 scale R/C model assembly kit. Length: 480mm, width: 380mm, height: 340mm.
• Truck body is injection molded in black plastic, with great detail and realism. Metal- plated parts are included to depict front grille, supercharger air intakes and roll bars.
• Red plastic bumper and damper components.
• The model is based around a bathtub chassis frame, endowed with rigid link suspension and two springs on each wheel that provide ground clearance of 55mm and a superb off-road drive.
• Four-wheel steering.
• Two Type 540 motors included.
• Included: Twin motor TEU106BK ESC give ample power via front and rear differential gears.
• New Sticker design.
• Requires: 2 or 3 channel radio, steering servo, 7.2volt battery & compatible charger, and TS paint.