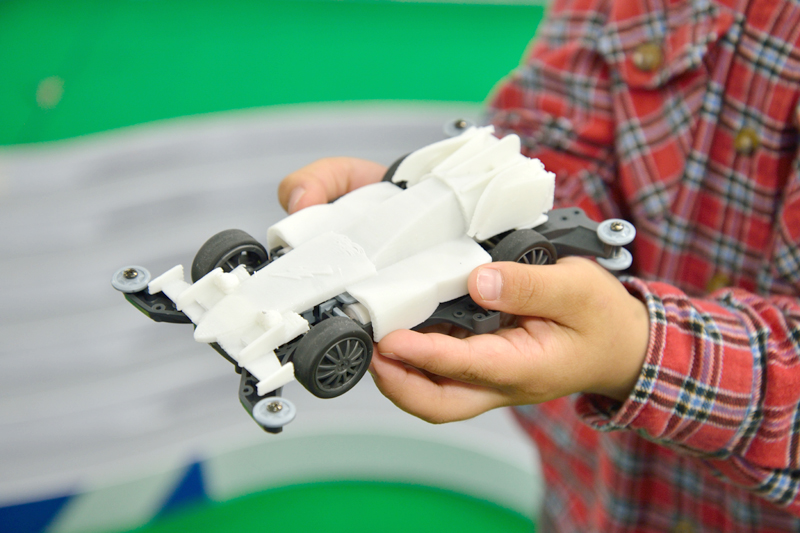 On 19th and 20th March 2016, a work experience class for parents and children using 3D printers was held at Tamiya's official shop, Tamiya Plastic Model Factory Shimbashi. What you make is a mini 4WD body. Create 3D data using modeling tool and output with 3D printer. In the end it is to install the completed body on the chassis (chassis) and run the circuit. Organizer sponsored by 3D data · 3D-GAN. It is a so-called industry organization that tackles the spread and promotion of industries using 3D data. I asked Mr. Tatsuya Soma to representative of the purpose of the event.
"3D printers are now very popular machines in Japan's manufacturing, but generally speaking about manufacturing, the image of" craftsmanship "by hand is strong and this is not surprisingly known Of course the craftsmen's work is wonderful, but in a way it is a rare case so that it can be respected.We feel the experience of so-called ordinary manufacturing, that is, the design and production of mass-produced goods to all participants I want to do it."
Everyone can easily create 3D objects using 3D data and 3D printers. By widely noticing it, Mr. Soma continues to expand the base of manufacturing regardless of professional or amateur.
"For example, everyone knows" print "on paper, and it is widely used for creative activities of amateurs.Comike (Comic Market) is the best thing. Similarly if you create even three dimensional objects , Even if you do not have a 3D printer, vendors such as "DMM.make" and "Tokyo Risumatic" will act on behalf of the producer.The creation of three-dimensional objects which had been high in hurd is now very easy I hope that more people can use it and create unexpected and interesting things."
If 3D printers become popular, it seems to be a threat to plastic model makers, but Tamiya is cooperative with this event rather than providing machines and places.
"Because designing the mini 4WD body by yourself is a dream of old fans. Also, as the current mini 4WD popularity centered on thirties and forty generations, as a theme for parent-child learning manufacturing I think that it is very suitable.I would like to learn advanced technology called 3D data & 3D printer through Tamiya's Mini 4WD and experience the pleasure of making more people even more. "(Mr. Tamiya Sales Department Public Relations Miwa Mr. Iseko)
Unfortunately at this stage it is not allowed to participate in the official race with the original body. However, it seems interesting to create a class that uses the original body by providing regulation (such as having to attach specific body parts) to the body shape.
The 3D printer used this day is a small personal type called "AFINIA H480". The price is about 200,000 yen cheaper than I thought, the software to create 3D data is not so expensive as about 15,000 yen. Also, if the PC also has Windows 7 or later OS installed, it can program without problem.
Participants first create 3D data of the mini 4WD body. Because elementary school student is a target course, we will not make data from our place. It is the flow of combining pre-modeled template body with preference detail and parts and outputting it with 3-dimensional printer.
Many children touched Mini 4WD for the first time, some of them also made creative bodies that stacked three rear wings.
When finished data is transferred to the printer, it finally starts printing. We will shape the mini 4WD body by laminating slender ABS resin while melting with a heater. Even if it is set to a relatively rough lamination pitch, it will take about an hour and a half to complete . Children are preparing mini 4WD chassis during this time to test with large circuit, but when releasing the machine to the course, most children were absorbed in running the body and forgetting about the body.
Along with the possibilities of 3D printers, it has been reaffirmed about the universal appeal of mini 4WDs that exceed generations.

Source in Japanese language:
Nikkei Trendy