Provided by: Minabe College Editorial Department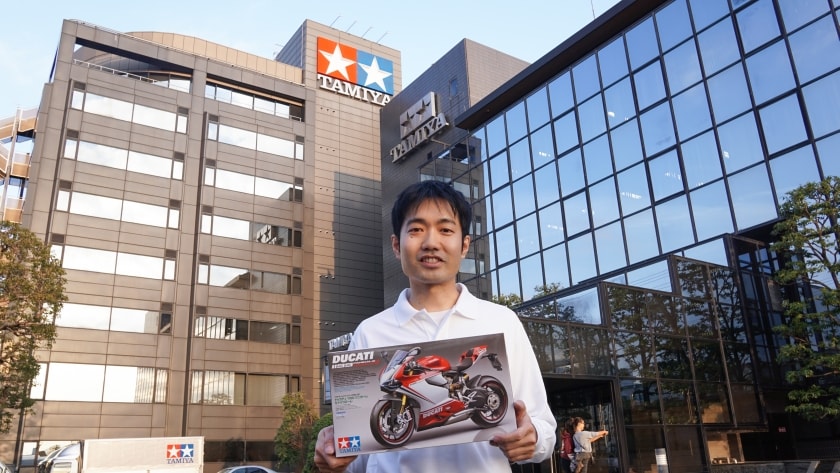 Do you know the work called Mold Tool? It is a task to make a mold which becomes the basis for producing a large quantity of exactly the same things such as machines and automobile parts. Molds are used not only in automobiles but also in empty cans, various equipment and materials, etc. in a wide range of industries. Because each product must not have a difference, very much technology is required for its production.
This time I talked to Keisuke Sano belonging to the mold section of Tamiya Co., Ltd. about the appeal of work and the chance to get into work.
To summarise this article
Even a small mistake by newcomers makes veterans aware. It is absolutely not allowed to pull out hands!
An experience of making plastic models as a child is useful
Not only knowledge and skills, but also the feeling that it wants to be extremely important is important!
High technology is required for small model die
Q1. Please let me know the job overview and the schedule of the day.
We manufacture molds for producing our own products such as plastic models, radio controllers and mini 4WDs. Molds are necessary for mass production of high quality products and are essential for manufacturing industry. Especially since the mold which I handle is many small models such as cars and airplanes, very high accuracy is required. Manufacture of molds is very important, since the production of molds is directly linked to the quality of products.
07:30 Working 08:00 Starting in the morning 12: 00 Lunch break 13 : 00 Starting in the afternoon 17 : 00 Quitting work
Q2. What is fun and rewarding for work?
Manufacturing molds to produce various products by processing what was a mass of iron will be the process of creating hands "hand" by themselves, so it will be involved in such work I feel pleasure and joy. Since "Tamiya's model" is also evaluated as the world's highest quality, we are proud of making molds that produce that product. And when you witness the moment when you pour the material into the mold and become the shape of the product, you get a particularly great sense of accomplishment.
Also, die making is done using a wide variety of machines while considering efficient methods, but it requires extensive knowledge and experience. Learning from past failures and experiences, I feel challenging and enjoyable to absorb as knowledge.
Q3. Is there anything tough to do at work / feel hard?
The mold is made through many processes. In recent years the speed of development has increased and there are many jobs with short delivery times, so making one mistake makes a big inconvenience to the process before and after, making the production schedule inevitable. It is a severe job that does not allow deception as it remains visible in the form of a mold.
Even a very small mistake that you do not notice as a new die molder, you will immediately know if you see a veteran mold tool. I also often failed when I was a newcomer. Even though I thought "I do not notice!", You are still seeing it (bitter smile).
At present, more than half of Tamiya products are produced in our own factory in the Philippines. Since we are also making molds in the Philippines, it is necessary for the mold staff to transfer abroad and convey the technology in order to make better products. Without deep knowledge and abundant experiences, I can not teach and I can not earn the trust of local employees. Although there are serious aspects, I try to absorb the skills of the seniors on a daily basis to become an ideal technician and I am studying.
Studying machining and drawing, getting employed to Tamiya
Q4. What kind of opportunities and circumstances did you get this job?
Originally I liked manufacturing, so high school entered business high school, hoped to learn machine machining and drafting and take advantage of it.
I was a local industrial high school and I was familiar with a lot of seniors who are active in Tamiya employment. I did not want to make a mold from the beginning, but in my recruitment form I came to the school there was a mold part of Tamiya famous for mini 4WD and plastic model which I was playing since I was a little, so I applied for it .
Q5. What did you learn to get to this job?
In industrial high school he entered mechanical department and gained basic knowledge of industrial such as machine processing and drawing.
After joining the company, I taught a lot of things to veteran mold workers. Although I was scolded for a few years after joining the company and it seemed to be frustrated, but now when I think about it, again, my seniors are very grateful that everyone is saying the right thing.
Q6. Do you feel that the dream that you held when you were a high school student led to your current job?
Since I was thinking that I wanted to get a job that could make things, the dream I had when I was a high school student has led to my present. The foundation of making things that I learned from my experiences at school and experiences playing with mini 4WD and plastic model when I was small was very useful.
Q7. What kind of person do you think is suitable for the mold maker?
As a proverb of saying "I love what I love", I think that those who like to make something are suitable. Also, because there are many precise work, it is easy for skilled people to use their abilities.
Technical aspects can be trained as much as you enter the company. Learning something special in high school does not overwhelmingly become advantageous. Rather than that, I think that I like models, I think that it is important to feel something extreme.
Tamiya is a company that is made up of the passion of people who love models and likes it and the high technology that is regarded as the top level in the world. The mold maker is also a gathering of people who like monozukuri and like model making. If you have a strong belief that you do not give up even a little harder, you will surely be a good mold maker.
Q8. Please give me a message for high school students.
When you graduate from high school you will make a big choice about the way you will go in the future. It will be selected by asking advice from various people, but first I would like you to choose your own will to do the most.
And, even if you encounter difficulties or fall into a pinch do not turn backwards, I think that you want to try hard on the road that you chose. Even if that way is slightly different from what I first imagined, if it is the way I chose with my own will, I should be able to hold on!
The lawn on the other side may seem blue and it may actually be blue. There may be things that really does not go well on the road you choose. I do not want you to give up easily, but I think that it may be good to redo the way after doing what you should do.
In order to become a mold worker, you should learn about industries and machinery. In general, getting employed to mold manufacturers and parts processing manufacturers is a shortcut to die molding. Having a national qualification "Mold making skill" makes it advantageous for employment. Also, knowledge of mathematics and computers may be required, so if you want to aim for a die-caster, let's learn thoroughly from now.
Profile: Tamiya Co., Ltd. Mold Manufacturing Division Keisuke Sano
Source in Japanese language: Shinro No Mikata