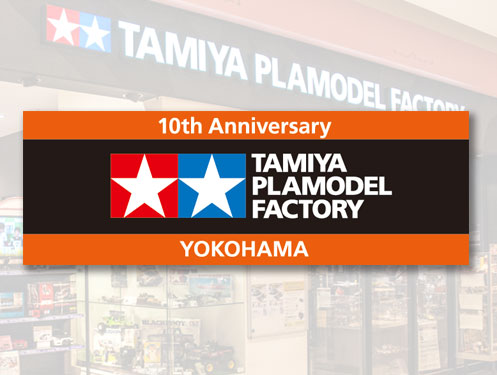 On the coming March 27th, Tamiya Plastic Model Factory Torresa Yokohama store will celebrate its 10th anniversary ☆
In accordance with this day, we will release special 10th anniversary goods.
① 10th anniversary embroidered apron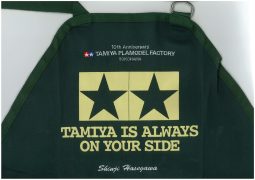 It is a special apron embroidered on the 10th anniversary logo. We prepared two kinds of green and white.


You can also put your name in the apron ☆ (Advance reservation is required)
Green limited 30 pieces: 2,268 yen (tax included)
White limited 20 images: 2,052 yen (tax included)
(Only those who make advance reservation can enter the name, separately receive 324 yen.)
Reservations including each color and name are accepted.
② Plastic model factory special tool case
Release this tool case that you can rent with Plastic model factory ☆
Improvement makes it easier to use ~
① nipper, ② craft cutter, ③ modelers knife, ④ modeler's knife blade, ⑤ tweezers, ⑥ crown tweezers,
⑦ Basic file set, ⑧ tweezers pliers, ⑨ decal scissors, ⑩ pin vise, ⑪ drill blade set
Eleven types of tools are included. (Each tool is sold separately.)
Limited 30 pieces: 5,400 yen (tax included)
Reservations are accepted
③ Mini 4WD Limited Special Pack
It is a set full of limited items of mini 4WD.
Various 3,240 yen (including tax) has become.
· Mini 4WD MS pack
Contents:
Emperor (MS) Black SP
AO.1034 Mini 4WD Slide Damper Spring Set
Lightweight 2-stage aluminum roller
Aluminum bearing roller with 17 mm plaque (x 2
HG carbon multiple reinforcement plate
Special plating body

· Mini 4WD MA Pack
Fiesta Jaunes Black SP
MA fluorescent color chassis set (Orange)
Lightweight 2-stage aluminum roller
Aluminum bearing roller with 17 mm plaque x 2
HG carbon multiple reinforcement plate
Super hard low tire with carbon wheel & logo
· Mini 4WD FM-A pack
Laudieble
Super X hollow lightweight propeller shaft
GP.317 Radio 4-drive power dash motor
Lightweight 2-stage aluminum roller
Aluminum bearing roller with 17 mm plaque x 2
HG carbon multiple reinforcement plate
Super hard low tire with carbon wheel & logo
④ Plastic model 10 type tank pack
· 1/35 10 Tank Pack
It is a set of plastic model and adhesive, paint ☆
A profitable set of 4,320 yen (tax included)!
MM Ground Self Defense Force 10 type tank
Tamiya Modeling Brush Basic Set
Tamiya cement (small)
Acrylic mini X-20A solvent
Acrylic Mini XF-72 Brown
Acrylic Mini XF-73 deep green color
Acrylic Mini XF-84 Dark Iron
Acrylic Mini XF-85 Rubber Black
· 1/48 10 Type Tank Pack
It is a set of plastic model and adhesive, paint ☆
Here is also a 3,780 yen (tax included) and a great deals!
1/48 Ground SDF 10 Type Tank
1/48 Ground Self Defense Force Light Armored Vehicle
Tamiya Modeling Brush Basic Set
Tamiya cement (small)
Acrylic mini X-20A solvent
Acrylic Mini XF-72 Brown
Acrylic Mini XF-73 deep green color
Acrylic mini XF-74 OD color
Acrylic Mini XF-84 Dark Iron
Acrylic Mini XF-85 Rubber Black
Source: Tamiya Plamodel Factory