A profitable bus tour that you can see and experience the world's largest all-weather RC car circuit!
Dr. Fumito Taki's birth parent "Dr. Taki" will guide you as a navigator!
Over 70,000 people visiting hobby every year Big event "Shizuoka Hobby Show". In conjunction with this event, we planned a bus tour that you can experience the "Tamiya Kakegawa Circuit" which was renewed as the world's largest all-weather RC circuit in June last year. In the morning we enjoyed each hobby show venue and departed to Kakegawa circuit by charter bus from noon. Light talk of Tamiya RC car's creator "Dr. Taki"? Lunch time in the car while listening. After arriving at the circuit, there are plenty of contents such as a tour of the facility and powerful engine RC car race, an experience traveling society where the RC car can actually be steered, special sale corner of the RC kit etc. Participants also have big souvenirs. Recommended tour for those who want to see the Tamiya Kakegawa Circuit.
Topic 1
Tamiya RC car's birth parent "Dr. Taki" accompanies it! We will navigate everyone.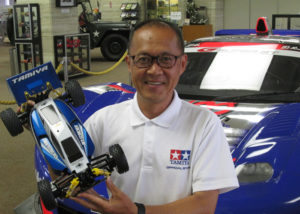 Tamiya's first electric R / C car, "1/12 Porsche Turbo RSR 934 Racing" that appeared in 1976, was developed, and Dr. Taki Watanabe joined the bus and told everyone that it changed the flow of the RC car so far I will navigate. Mini talk show will be held by Dr. Taki on the bus. In addition to the fun of circuit driving and the charm of RC race, development confidential story of RC car may jump out. On the way to Kakegawa Circuit you can have a good time while eating lunch.
Topic 2
Watch a powerful engine RC car race! Please enjoy speed and sound!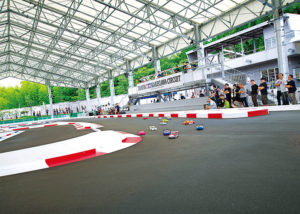 The on-road circuit boasting the largest size in Japan is capable of running not only electric but also engine RC cars. On the day of the tour, we are holding an engine RC car race at the circuit. Exhaust notes that are powerful only of engines, and machines that run long straights at high speed are abundant. Can you see the refueling scene just like a real car race?
Topic 3
Electric & Engine RC Car Experience Running Meetings! Let's experience running on a large circuit!

On the circuit day, we prepared an RC car for experiencing driving. Choose one from three plans to suit your wishes and challenge control. For the first experience of RC car, Tamiya staff will teach you how to control so it is safe. Please enjoy running experiences on a big course that you can not normally experience.
Topic 4
There is also a special sales corner of the RC car kit.
The special sales corner which the RC car kit can purchase at a great price is also opened at the venue. Please use it if you find a machine you like for future circuit running.
Schedule
May 14, 2017 (Sunday)
※ For details, I will contact you again after I participate.
11:45 minutes: Twin Messe Shizuoka (Shizuoka Hobby Show venue) Collection
12:00 Depart for the Tamiya Kakegawa circuit by bus
Lunch at Dinner · Dr. Taki Mini Talk Show
13:30 Kakegawa Circuit Closing
Facility Tour & Engine RC Race watching
RC car experience trip meeting
14:30 Kakegawa Circuit departing 14:45 Departure
: Kakegawa station arrival
15:45 Shizuoka station arrival
16:00 Twin Messe Shizuoka arrival dissolved
* Schedule will be schedule. If there is no applicant, Kakegawa station, Shizuoka station will not go through.
Deadline / Capacity May 8, 2017 (Monday) Until 12 o'clock Capacity 30 people
* There are cases where lottery will be taken for a large number of applicants.
※ We will contact you by e-mail before May 9 (Tue) on whether to participate.
* Cancellation after May 8 (Monday) can not be accepted for the convenience of preparation, so please make sure to confirm the schedule beforehand and apply.
Targets
Those who have never been to the Tamiya Kakegawa Circuit * Those who are under junior high school students should accompany their parents.
About application method
Application from the homepage → You can enter from here.
Please fill in the necessary items and send it.
※ Application deadline is May 12, 2017 (Monday) until 12 o'clock
The meeting place
Twin Messe Shizuoka
〒 422 – 8006 Suruga Ward Shizuoka City Shinkin 3 – chome 1 – 10
TEL 054 – 285 – 3111 (Representative) Access here
※ Here are the Shizuoka hobby shows held, so the surrounding roads and parking lots are very crowded To do. Please take a moment to visit us or visit us by public transportation such as the station from Shizuoka station . There is no change in the departure time of the bus, so please be forewarned.
* If you wish to visit Tamiya Kakegawa Circuit directly by private car etc., please list in the contact column.
Participation fee
Free (Including souvenirs for those who participate)
* Souvenirs will be targeted for elementary school students and above.
Notes
※ Please pay attention to your health at your own risk. Especially on the day of the event, please stop participating if you feel sick. Also, if you feel any abnormalities during participation, please do not overdo it, please stop participating promptly.
※ I will pay attention to safety management during the event, but please be sure to bring a copy of insurance certificate for your situation (Please bring it yourself during the event).
* The pattern of the event is taken with still images, movies, etc. It may be published on each media related to Tamiya, such as printed matter and website. Please acknowledge your participation.
※ To prevent theft, please be sure to wear valuables.
※ Although the organizer will pay attention to accident prevention, we are not responsible for accidents, theft, injury or other damage.
※ If you can not follow the instructions of the staff, we may ask you to leave. Please note.
Contact
Tamiya Grand Prix Team 054 – 283 – 0002
Monday – Friday 8: 00-12: 00 13: 00-17: 00 ※ Saturdays, Sundays, Public Holidays, Holiday