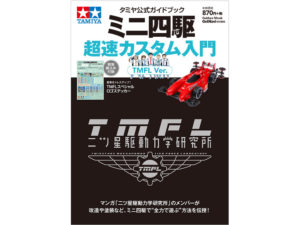 Gakken Mook GetNavi special editing
Tamiya official guide book
Mini four-wheel drive super-fast custom introductory TMFL Ver.
Item No: 63652 2016 December 15 (Thursday) Release 940 yen (base price of 870 yen)
A5 size 148 issue Page: Gakken plus
"Popular Mini 4WD manga "Nitsuharu Driving Mechanical Research Institute" (also known as TMFL) which is also published in Korokoro Aniki (Shogakkan) and "Monthly GetNavi (Gakken)". Mini 4WD "Play with full power" Draw real people in real life, I am collecting empathy from many racers. Director Odawara who is led by TMFL publicizes remodeling techniques of machines and dressing up greatly! Add commentary of live-action to manga drawing down all pages, you can master custom art of TMFL flow. In addition, the TMFL special logo sticker is perfect for pasting on a machine. It is a bibble of mini 4 racer that we want to align with "Super fast tuning introduction augmented revised edition", "super fast dressup introduction".
Contents
All pages draw down! "Nitsu star driving dynamics laboratory" Special Edition
– surprise of gimmick large public! TMFL members machine gallery
representing the-world of your own! Ondawara director custom machine gravure
indispensable to a custom-car! Four wheel drive mini tool large public commitment
Special filing Appendix
TMFL special logo sticker
(optimal TMFL, Tamiyarogo of course, TMFL specification sponsor mark, Tanitarogo, to dress up like Tsubamesanjo tool manufacturer's logo)