Tamiya TT-02D Mitsubishi Lancer Evolution X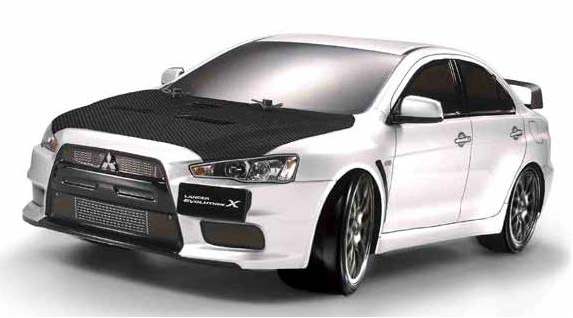 The great body of the Mitsubishi Lancer Evolution X is now associated with the TT-02D chassis Drift!
The TT-02D Drift is the special version of the popular frame start TT-02 4×4 transmission shafts.
As such, it is compatible with many options for TT-02.
Tamiya TT-02D Mitsubishi Lancer Evolution X – Technical Specifications :
TT-02D chassis developed specifically for the practice of drift.
hydraulic dampers, all bearings, motor Sport Tuned, aluminum engine radiator,
wire wheels and tires 24mm Drift-Spec.
polycarbonate body, faithful replica of the original.
Mirrors and rear spoiler reported.
LEDs for headlights and taillights included (Export kits only)
decorative stickers included with carbon solids for the hood and spoiler.