Item No : 95313 November 26, 2016 (Saturday) Release ¥ 11,448 (base price of 10,600 yen) combination course of size were: 216cm × 120cm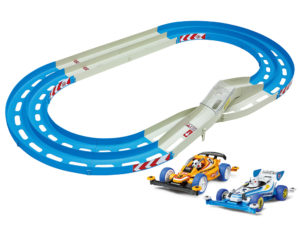 Cute finished car with circuit set to play
Two lanes of the four wheel drive mini certified course, to the Oval home circuit three-dimensional lane change type, set the finished vehicles of four wheel drive mini Shirokumakko and four wheel drive mini panda. You can play as soon as assembling the course. Course the corner part is light blue, finishing straight and lane change part in beige, stand out well cute two of four wheel drive mini color. The lane change unit also comes with a transparent cover to prevent jumping out of the machine, used in conjunction with section 14. Expansion of the circuit in combination with your hand of course is also possible. Two of finished vehicles is assembling the chassis and body, marking also applied, Shirokumakko driver, panda driver also Zumi paint. Of course, it can also be enjoyed settings and tune up in the wealth of the grade-up parts.
Circuit Basic Specifications 
● combination course of size were: 216cm × 120cm ● course width: 11.5cm ● fence height: 5cm ● course length: about 10m ● corners with two laps is light blue, straight or lane change part handy inset is with the red and white sticker affixed to beige course ● assembly and disassembly is
Purchase separately
● 4x AA batteries