Item No: 63651 2016 November 15 (Tuesday) Release 620 yen (base price of 574 yen)
A5 size  
Publisher Shogakukan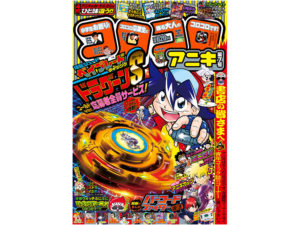 Large adult Colo comic! Colo Aniki No. 7
Strained was Tetsuhiro cartoon newly written by the teacher "Bakuso Brothers Let's & Go !! return Racers" became the adult "J" is finally here! Up-and-coming manga artist Hiroyuki Takei teacher draw latest "Hyper dash! Yonkuro" the biggest enemy of the mystery is clearly! four wheel drive mini team "TMFL Nitsu star driving dynamics laboratory" is also included.
⇒ "Colo Aniki" official site is here.
Cartoon published title
● "Hyper Dash! Yonkuro" (Hiroyuki Takei original / Tokuda Zaurus)
● "Bakuso Brothers Let's & Go !! return Racers" (palanquin was Tetsuhiro)
● "TMFL / Nitsu star driving dynamics Institute "(Kentaro Hayashi)
●" Beyblade Rising "(Takao Aoki)
●" Pokemon "(hole Kosaku Kubo)
●" ark of Y "(original / Tenju Seimaru animation / crested leopard HS)
●" fierce warrior! Goto-kun "(Oda door)
●" Colo age "(Toyota Minoru)
●" WoT Minamotobun platoon Senki "(Kobayashi Minamotobun)
●" bar code Fighter "(Toshihiro Ono)
●" 198X Memories "(Kazuo Inoue)
● "Colo inaugural legend" (Nomura Jimbo)
● "sweet gonna! man Shingo" (Moo. Nentaira)
● "death .tv" (Kanedakazuya)
● "Duel Masters Overlord Den apt !!" (Seijin Fujisaki)
● "Go Go! Gojira' !! Matsui kun" (Junji Kawai)
● "Future card Buddyfight dark game Iden" (Masaki Yoshida)
● "Den Dji Yara to Lehman wicked" (Kazutoshi Soyama)
Aniki Special Appendix
large card Appendix
● Pokemon card game "Pikachu fly in the sky"
● Duel Masters "Spiral Gate" Bay All Chara Ver.
● Buddy Fight "Daredevil" Salamander Dragon ""
● Wikurosu "Maboroshiryu Borushakku" Aniki limited Ver.
Luxury Digital Appendix
● specter watch Punipuni "Den Dji Yara to Rinyan"
● Puzzle & Dragons limited serial code "high pre-Dora"
※ expiration date of the serial code of the appendix is April 14, 2017 23 until 59 minutes
Previous Colo Aniki information is here