Scale Models
★ 1/24 FXX K
★ 1/24 FXX K Photo-Etched Parts Set
★ 1/24 FXX K Carbon Pattern Decal Set
★ 1/100 Fuji Dream Airlines Embraer 175
★ 1/35 U.S. Tank Destroyer M10 (Mid Production)
★ 1/48 Japan Ground Self Defense Force Type 10 Tank
★ 1/35 German Field Maintenance Team & Equipment Set

R/C Models
★ 1/10 R/C Plasma Edge II (TT-02B)
★ 1/14 R/C Team Hahn Racing MAN TGS (TT-01 Type-E)
★ 1/10 R/C Mercedes-Benz G 320 Cabrio (MF-01X)
★ 1/10 R/C TA07 PRO Chassis Kit
★ 1/10 R/C TRF419X Chassis Kit
★ 1/10 R/C TB EVO. 6 MS
★ 1/10 Glow-Engine R/C TG10-Mk.2FN Chassis Kit
★ 1/10 R/C M-05 Ver.II R Chassis Kit
★ TT-02 Semi-Assembled Chassis (Tentative)
Mini 4WD & For Kids
★ Raikiri (MA Chassis) Japan Cup 2016
★ Hyper-Dash 3 Motor J-Cup 2016
★ Hyper-Dash Motor PRO J-Cup 2016
★ Dash-5 Dancing Doll Premium (Super-II Chassis)
★ Powerchamp RS
★ HG Carbon Reinforcing Plate for 13/19mm Roller (1.5mm)
★ HG Carbon Wide Front Plate (1.5mm)
★ HG Carbon Wide Rear Plate (1.5mm)
★ Thunder Shot Clear Body Set (Polycarbonate)
★ A-Spoke Wheels for Low-Profile Tires (Silver Plated)
★ Friction Powered Snail
★ Swimming Dolphin
Tools & Paints
★ Modeler's Knife (Fluorescent Orange)
★ Hard Coated File PRO (Half-Round 5mm width)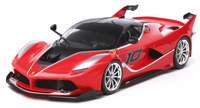 ■ 1/24 Ferrari FXX K
production volume Ferrari of circuit racing-only model is said to be only 30 cars or so, FXX K is appeared in 1/24. Complex modeling and characteristic rear spoiler of the front-end, large diffuser, of course, reproduce the widening has been body realistic. Such as bucket seats and center console of the left-right asymmetry, such as to surround the head, and in-room reminiscent of a racing car is a three-dimensional feeling enough finish. ★ Length: 204mm. ★ equipped with a slick tire on a sharp 10-spoke wheels. Side of the logo are available in the mark. ★ left and right doors and rear cowl can be opened. Also make Gotae enough V-type 12-cylinder engine ★.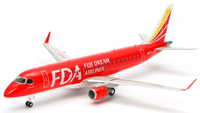 ■ 1/100 Fuji Dream Airlines Embraer 175
Brazilian state-of-the-art small-sized passenger jet that Embraer has been the development of, Embraer 175 appeared in the 1/100 scale assembly kit. It was modeled without leaving the beautiful style. Cockpit interior, such as seats and instrument panel also three-dimensional realism finish. Fuji Dream Airlines set the large-format decals that can be reproduced by selecting a colorful aircraft from Unit 1 (FDA) has been operating up to 10 Units. ★ Length: 315mm. ★ modeled in a tarmac state that issued the front legs and the main landing gear. ★ fuselage top and bottom of the antenna of any kind a sharp finish. ★ window of the cockpit is reproduced in the transparent parts. ★ also available weights to put inside the nose.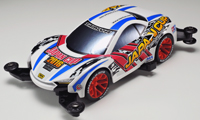 ★ Raikiri Japan Cup 2016 (MA chassis)
is the emergence Memorial model for the summer of the Japan Cup. It finished the popularity of Raikiri to white base of the pace car style. MA chassis having a high strength polycarbonate ABS resin. Battery holder and A parts is black made of low-friction resin, such as the gear cover. The super-hard low-height tire was printing the Japan Cup logo "JAPAN CUP 2016 TAMIYA" in white. Exclusively designed sticker, that contains the Japan Cup logo ★. ★ wheel, three-dimensional design is impressive Y-spoke type (red). ★ gear ratio is 3.5: 1. ★ motorized.
image※ The photograph is an image of being developed.
It is different from the product specifications.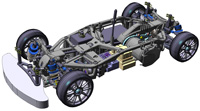 ■ 1/10 RC TA07 PRO chassis kit
※ The photograph is an image of being developed.
It is different from the product specifications.
Is the "TA" series long-awaited new appeared. In order to exert the optimum roll and pitch stiffness, characteristic composite type chassis is a combination of the upper frame to a narrow type of Lower Deck. Drive system is a highly efficient single belt 4WD. In addition, basic mounting position of the motor can be selected three places in the only re-adjustment of the belt tension, to accommodate a variety of course layouts and settings. ★ TRF419 legs around and around Giyadefu, steering Ackerman, adopted a servo mount of the type cantilever. ★ standard equipment high-performance parts such as TRF damper and universal shaft.
Hobby Show limited sale items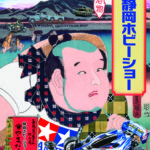 Hobby Show venue, in the Tamiya sale corner stocks charm full of goods. Please come and visit us. Tamiya open house ※ are also sold at the venue. Image is "rice cake with kinako Tamiya package (2016 Shizuoka Hobby Show)"
Self-Defense Forces vehicle is coming !!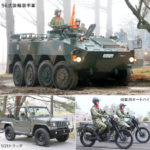 Only the !! usually the force of the Self-Defense Forces vehicle is coming to the Twin Messe Shizuoka is less opportunity to see, do not miss this chance!
★ Date and time: May 14 (Saturday), 15 days (day)
★ Location: Twin Messe Shizuoka first small exhibition hall Self-Defense Forces public relations corner before
cooperation: the Self-Defense Forces Shizuoka local cooperation headquarters / Ground Self-Defense Force first Armored Education Corps / Maritime Self-Defense Force Yokosuka district Headquarters recruitment support team