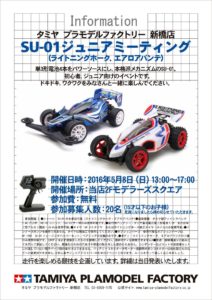 SU-01 of the orthodox mechanisms that four AA batteries and the power source (Lightning Hawk, Aero Avante). Let's run the My machine in Modeler's Square!Beginner, because it is an event for the Junior pounding in the competition to enjoy the feel free to travel, exciting! Have a good time. ※ competition content will be announced at a later date.
★ ☆ Dates: May 8 (Sunday)
★ ☆ 13 o'clock start (12:30 start accepting) 17 pm scheduled end
★ ☆ Venue: Tamiya plastic model factory Shimbashi 2F Modeler's Square
★ ☆ Entry: Pre-application (Free )
★ ☆ We receive by telephone or 2F Modelers Square counter.
★ ☆ ※ Application is April 15 (Friday) will be accepted from.
★ ☆ ※ Tamiya plastic model factory Shimbashi tel: 03-6809-1175
★ ☆ Wanted persons: 20 people (15 years of age children)
★ ☆ Deadline: will be closed Narimashitara to capacity.
Join Regulations ★ chassis: SU-01 only can participate (Lightning Hawk Aero Avante) ★ transceiver: Tamiya Fine specs 2.4G propoxycarbonyl, TRE-01 unit, only TSU-03 servo is available. ★ for traveling Battery: Tamiya rechargeable AA batteries 1.2V or AA alkaline battery 1.5V only available. ★ Tire: OP.215 tire or Lightning Hawk genuine tire wheel only available. ★ you can not use the inner sponge. Tire, please use with no processing. ★ Optional parts: available optional parts OP.1687 SU-01 training bumper set, only the replacement of the bearings. ★ Body: Lightning Hawk, you can use only two of Aero Avante. (Please use the one in which the body is always painted transparent body can not be used.) ★ remodeling: Please join conduct assembly instructions Street. Removal of drilling and parts for weight reduction will not be accepted. You can not retrofit kits and electronic parts kind that is not included with the transmitter set, such as a condenser. Battery connector and Giboshi connector for motor connection can not be changed to, such as those manufactured by other companies. ※ will be an event for beginners and junior drivers. Let's run happily observe the rules.※ The use of the outlet of Modeler's Square (2F event floor) in the can not. Also bring in food, please refrain.
★ pattern of events are shooting still images, videos, etc., such as print and home page, it may Tamiya will be published in each media involved. On your note, please join us. ★ organizers will pay the best attention to accident prevention, but the responsibility in the case of damage, such as accidents, theft or injury has occurred it can not assume. ★ If you do not follow the instructions of the staff, there is also be asked to exit. Please note.