Makoto Ueda, military, regardless of comics, animation, history, the genre until the science fiction stuff, illustrations and precision images, colorful children's illustrations, to the cartoon by line drawing, and has published a variety of works in a wide range of techniques. In this exhibition, a variety of activities of Ueda, will introduce along with the charm of the original unique you do not know in print.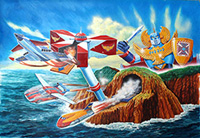 ★ Venue: Ferukeru Museum (Shizuoka City Shimizu-ku)
★ Dates: April 23, 2016 (Saturday) to June 12 (Sunday) Monday Closed 9:30 ~ 16:30
★ Admission: general and college students 400 yen / middle and high school students 300 yen / elementary school students 200 yen group discount (20 or more 20% off) ※ Saturday as "Children's Day", "Marine Day" is elementary and junior high school students free If you bring ※ disabilities notebook, etc. is free, it will be the one person half those of their companions.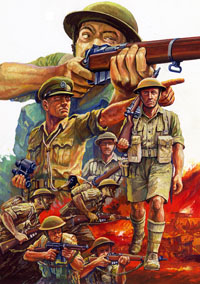 ★ Events held
– April 29 (holiday): Let's make the glass picture!
– May 14 (Saturday): box art making
, May 28 (Saturday): The 20th history lecture
, June 4 (Saturday): The 18th Shimizu Minato vaudeville Contact Ferukeru Museum (Foundation Shimizu port museum) Yubinbango424-0943 Shizuoka City Shimizu-ku, a port town 2-8-11 telephone number 054-352-8060 Http://Www.Suzuyo.Co.Jp/suzuyo/verkehr/