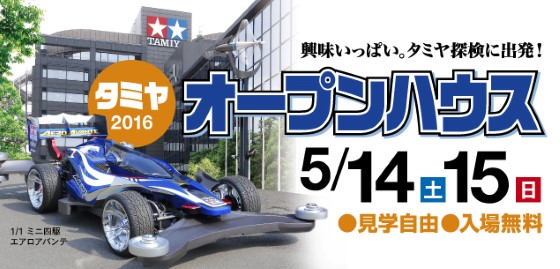 ★ On both days 9:00 to 16:30
★ In the tour point professional staff of each department will answer questions of everyone.
★ Break is available the main building fifth floor cafeteria. Also responsible for the sale of snacks.
★ Guidance of the venue have been made ​​on the second floor of the reception.
★ Tamiya access map to the open house
★ Guidance of the 55th Shizuoka Hobby Show (Tamiya HP) in preparation
Tamiya headquarters building is welcome. We also look forward to your visit of everyone in a variety of vehicle exhibition this year. image History Museum and showrooms, etc., you can visit freely. Image Design section and, planning section will be happy to explain staff of full-time.
Visit point
Let's go to see the "1/1 mini four-wheel drive Aero Avante"!
"When you become a mini four-wheel drive is a real car …." Everyone once if the fan is only one machine in the world that realizes the dreams that have fantasies about. In Hobby Show period, during the exhibition to Tamiya headquarters showroom! Please have a look at this opportunity. ※ See here for 1/1 mini four-wheel drive vehicle projects.
3F other
Office Tour
visited the office usually can not be seen easily. Professional staff of each department, we will explain clearly!
Main Building 1F
Injection molding machine demonstration & mold factory tour
can be seen of the mold can process and plastic model of a possible rise situation up close.
Exhibition the 2006 model year NSX-GT (2009 years color)
headquarters 2F showroom
Make the vehicle exhibition of NSX-GT, which was active in the SUPER GT Championship. It performs a number of name game, is a machine that has a lot of fans. Please taste plenty of atmosphere of Japan premier race.
※ cooperation: (Ltd.) Team Kunimitsu race Division
Exhibition Daihatsu COPEN
headquarters front entrance
"fun I car" was made ​​in such a concept, Daihatsu Copen. Also appeared as an item of Tamiya of four wheel drive mini series. Exhibition this vehicle in the open house. Pretty, and certainly please see the sporty vehicle.
※ cooperation: Shizuoka Daihatsu Sales Co., Ltd. Kakegawa shop
East Building 2F
Let's make Suites decoration! (Surcharge)
made ​​even, why not try to make a lifelike candy fun Suites Decoration can decorate? You can enjoy many variations in their preferences.
Time 9:15 to 16:30 (15:30 reception end), at any time at the reception venue
for ⇒ more information please click here.
Headquarters 2F showroom
doll remodeling contest exhibition
exhibition the 42nd doll remodeling contest excellent work. Subject is a contest that applicants from the topic of celebrities, characters, historical figures and historical background also added a wide range of age groups.
Head Office 5F · rooftop
RC Car experience running meetings and "Try! Tamiya RC", enjoy the running of the new RC car "Star unit Aero Avante"!
Try to experience the fun to operate touch the RC! Tamiya RC, also carried the experience run meeting of Tamiya latest RC car "Star unit Aero Avante". And affordable speed, that can be easily operated, okay with women and small children. Of course you are an advanced user match race also will be held.
Main Building 2F
fun-filled work square
Let's play with the remote control robot! Challenge to the game in the popularity of Lobo craft series and tools series that was including the Mechanical Blowfish or the remote control Boxing Fighter!
Main building 5F · indoor
the four wheel drive mini Workshop held (surcharge)
!! Let playing to create a mini four-wheel drive kit was purchased on the spot at the day of sale corner, etc. (do from time to time accept.)
Completed is the machine is capable of running on a dedicated circuit. In the assembly, we will staff is allowed to gently lecture. ※ traveling in the circuit I will limit it to the machine that was assembled at the Workshop.
※ There is no installation of four wheel drive mini-free driving course.
Sales Corner
Main building 5F, Main Building 2F, East Building 5F
lastic model and RC car, mini four-wheel drive, tool kit, original goods, of course, also limited product that can not be put into the hands only in the event venue will be sold. ※ was our popular 2015, outlet sales of the product, but does not this year. Please note,.
Tamiya headquarters / Tamiya Circuit / Hobby Show venue
weekend hobby Zammai enjoyed in the Tri! Tamiya RC tour 2016 spring parent-child !!
and TRF (Tamiya Racing Factory) staff, and assembly experience of RC car, traveling in the Tamiya circuit, I was planning to "try !! Tamiya RC tour 2016 spring" of Hobby Zammai over the Shizuoka Hobby show venue and Tamiya headquarters in a dedicated bus.
Enjoy the pros and cons, "the world capital of Shizuoka model" in parent and child, please enjoy the RC hobby.