Tamiya Yoshio, May 15, 1905 – November 2, 1988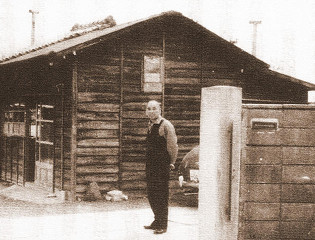 1905 Shizuoka Prefecture Abe-gun Toyoda village (current Shizuoka Suruga-ku, born in).
1923 Shizuoka Municipal Commercial School (now Shizuoka Commercial High School ) graduation. To help the family business of the tea industry, to learn the tea technology.
1924 and employment in the automobile repair shop.
1925 track cargo transportation industry and taxi approved the acquisition of industry. It opened automobile transportation industry a "Tamiya car company."
1926 approved the acquisition of vans automobile industry.
1927 opened a "Tamiya bus". Ikeda from Shizuoka Station, Fawn, do service to Otani direction.
1935 Tamiya car firm, heavy trucks introduced.
1939 Co. Joint lorry establishment.
1942 Tamiya bus, Shizuoka electric railway ( Shizuoka Railway current through the ShizuTetsu just line and integrated into). Joint lorry, Shizuoka lorry is integrated into. Withdrawal from the automotive industry.
1944 Sanwa industrial establishment. We do parts manufacture of military aircraft.
1944 draft card , but has arrived, because they were injured right foot just before, it will fail in the physical examination, it can not be enlisted.
1945 Shizuoka air raid by, all of the business facilities turn into ashes.
1946 Tamiya Shoji joint-stock company founded, I begin the lumber industry.
1947 Tamiya Shoji, providing a wooden model department.
1951 factory leakage burned down in a fire caused by.
1953 Tamiya Shoji, abolished the lumber industry, wooden model department and the allowance for scooter becomes industry of business categories.
1955 's first of the moving model, wooden medium-sized tank released. To become a popular commodity.
1956 Release of wooden battleship model.
1960 plastic model production start. Initially not selling it had launched a battleship, was prepared while parallel with the wooden model.
1961 " Panther tanks "becomes the first hit product after plastic model migration. This plastic model also starts selling in the wake.
1962 to be independent of the plastic forming department, founded the Tamiya Plastic Industrial Co., Ltd. It became president.
1962 plastic injection molding machine introduced.
1964 provide a mold manufacturing sector.
1965 high-performance slot car to develop, sell.
1968 Tamiya plastics industry, complete the new plant.
1969 Tamiya plastics industry, it changed its name to the "Corporation Tamiya model".
1973 Tamiya Shoji, headquarters and set factory completed.
1974 Tamiya was appointed to the model of the president.
1975 Tamiya model, radio control tank M4 released, and advance to the engine model industry.
1976 Tamiya model, radio control car Porsche 934 launched the turbo.
1976 Shizuoka model teaching material was appointed to the cooperative president.
Awarded the 1976 Isao five, etc. Sacred Treasure.
1978 Tamiya Plastic Co., Ltd. founded. He became chairman.
1980 Tamiya model, new building completed.
1984 Corporation Tamiya establishment. He became chairman.
1985 Tamiya Shoji extension.
1988 died.
Tamiya Yoshio autobiography: of more than 80 years Ayumi (Tamiya Shoji 1987 not for sale)