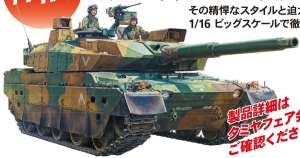 – State-of-the-art Type 10 has also appeared in the display model!
– Great power of the kit overall length 59cm! ! Thorough reproduce the fearless style and powerful in 1/6 big scale.
– Deployed from 2013 as a state-of-the-art tanks of Ground Self-Defense Force has been started [Type 10]. 1/35 appearance popular 10 expression also in the scale in 1/16 scale display specifications of powerful!
– Based on thorough vehicle coverage, fearless style that reproduces the latest type of Type 10, called C3, of course, reproduction of big scale unique also have been incorporated throughout.
– Punching metal mesh of aluminum gun barrel improve the texture and turret rear basket, light guard mesh, engine deck reproduced in etching parts, such as the top of the mesh.
– Suspension of texture by linking movable track and elasticity resin side skirts also enough.
– Of the body throughout slip mold or small handle acids, also details expressions such as M2 heavy machine gun to be mounted to the turret top is a attractions.