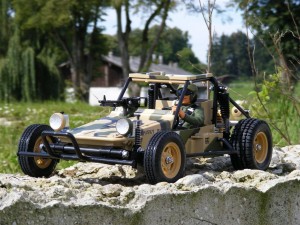 As the Tamiya Fast Attack Vehicle 2011 kit has been out for a while now and to honour the historical importance of this 1980´s icon, the team of Tamiyablog decided to give the FAV a short review of the 2011 release kit.
I personally have to say that i never owned a Fast Attack Vehicle back in the so called "good old days".  So this was a special moment, and the build of the car a great experience.
Tamiya did some small changes to the car as on most re-release versions of old classics.  When you open the kit box, you see no blister packs like on the classic FAV kit.  The whole rollcage is molded in black now, which i think the car benefits from. It´s now  easier  to build "civilian" versions of the buggy and the black cage looks good in every way. The E-Parts are changed to Wild One specification, which mainly means gearbox and front trailing arms. Drive shafts and wheel axles are the same dogbone style type as used on the Tamiya Frog and Subaru Brat re-releases before.
Something really new are the decals on this FAV 2011 kit.
Now everyone can do  a nice camouflage paint scheme, even without owning an airbrush.
The included stickers give a very authentic look. The semigloss surface of the decals fits perfectly to the TS46 Light Sand colour, that Tamiya recommends for the FAV.
If you cut out the stickers nicely, without leaving too much clear, you won't be disappointed with the result.
Our car is equipped with full ball bearings. (8 pieces of the standard Tamiya 1150 bearings are included as a bonus in the kits of the international first batch version). If you want a full set of bearings for your car, you will need additional two 1150 and three 850 bearings.
Furthermore we switched the rear standard friction dampers to custom made black anodized  oil dampers of the Tamiya Frog and Subaru Brat re-releases which helps the buggy a lot to perform better.
And the "old" Tamiya Black Sport Tuned motor powers the FAV to attack a little bit faster. It even looks good.
All in all, the team of Tamiyablog is very happy with this new Tamiya classic re-release. It brings this wonderful vintage buggy to a new life. Now everyone can own one again.
Stay tuned for more "variations" of the Tamiya FAV 2011 here on Tamiyablog.
Thanks for watching !